The May 2023 issue of Aircraft Interiors International is a must-read for professionals in the cabin, IFEC and passenger experience sectors. Here's what you can enjoy in the May issue of the magazine, which is Key Media Partner of Aircraft Interiors Expo and Official Magazine of APEX.
Cover Story: Sustainability standards
Many brands claim to be green, but are they really? A set of quantifiable and objective standards could  be coming that would help customers choose – and companies promote – truly sustainable aircraft interiors
Lufthansa Allegris
Björn Becker, head of future intercontinental experience programmes at Lufthansa, explains the €2.5 billion Allegris cabin project, and the decision to offer seven types of business-class design trends to watch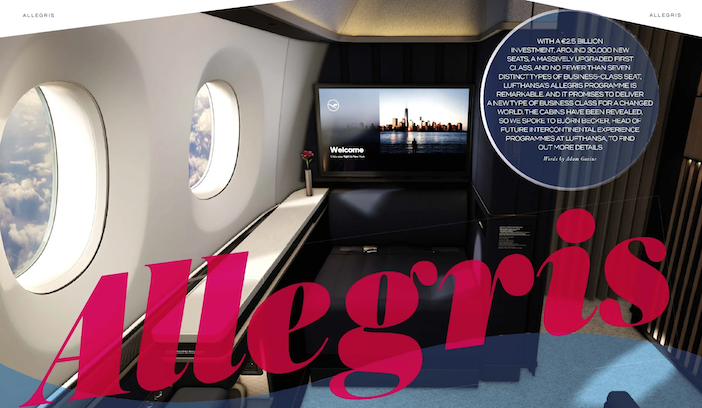 Cabin design trends
Consumer tastes and expectations are fast evolving, from tech to well-being, sustainability to bleisure. Experts explore the trends that will drive the passenger experience this decade, and how airlines should develop their brands in response

Inclusive design
Organisations such as the US DOT are legislating for more inclusive air travel experiences through measures such as the Airline Passengers With Disabilities Bill of Rights. We look at how airlines can get ahead and make the inflight experience better for passengers with impaired visibility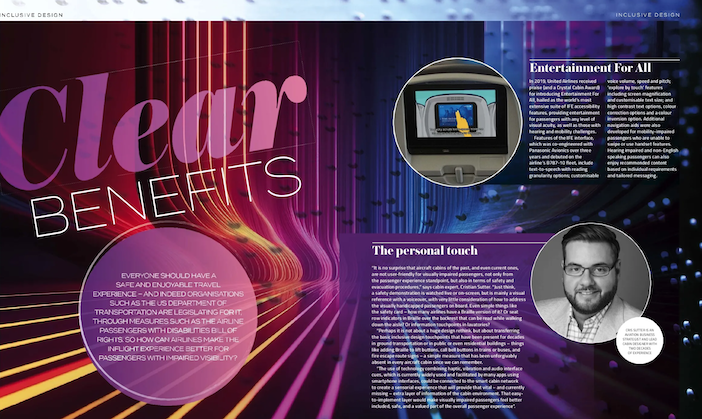 Aircraft Interiors Expo 2023
As Key Media Partner of the world's largest cabin event, Aircraft Interiors International brings you advance highlights of the exciting launches scheduled for the event in June. There will be innovations introduced for every part of the cabin and the inflight passenger experience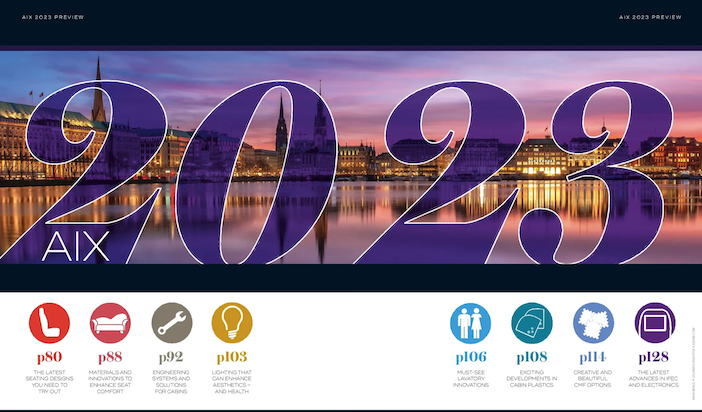 Regulars
Flick through the issue to see the latest ideas, thoughts and developments concerning the cabin space:
Column: Blake Emery
The cabin and differentiation expert discusses PRM accessibility, and why these passengers' needs cannot be treated as a design afterthought
Column: Kate Webster
Tangerine's head of CMX considers the importance of cabin design in improving the air travel experience for partially sighted passengers
Column: Joe Leader
The CEO of APEX announces APEX Greener,  a newly launched database of sustainability ratings for inflight products
Industry statistics
Our roundup of the latest key figures from the passenger experience sector
Sustainable thinking
A team from Central Saint Martins has created green cabin concepts for FlyZero
Design Brief: the luxury automotive world
How does Bentley's luxury Airline Seat Specification compare with business class?
Retrospection
We look back 17 years, when Virgin Atlantic's ideas to upgrade its premium economy seats had a sustainability focus somewhat ahead of their time
Products and services
The latest product news from our advertisers