Portuguese carrier, Azores Airlines, is fitting new aircraft cabin mood lighting systems to five Airbus A321 NEO aircraft (including LRs), with lighting cycles designed to express the natural beauty of the Azores islands through a blue and green palette.
The liTeMood system from STG Aerospace has been fitted, a full-colour plug-and-play configurable lighting solution. The lighting profiles were created specifically to Azores Airlines requirements and are accompanied by the sounds of nature from the Azores, to create a sense of the Azores islands before arriving.
Graça Silva, head of brand, marketing and communication at Azores Airlines said of the systems, "We wanted to capture the essence of the Azores landscape in our cabin lighting experience – the dramatic landscapes, the surrounding Atlantic Ocean, green forests and hedgerows of blue hydrangeas that encapsulate our region.
"The liTeMood system allows us to do just that, recreating the colours and emotions of the Azores, so our passengers can experience them on board with the accompanying sounds, before their feet have even touched the ground."
Azores Airlines has already fitted the first liTeMood system, which is now flying, with the rest of the fleet to follow.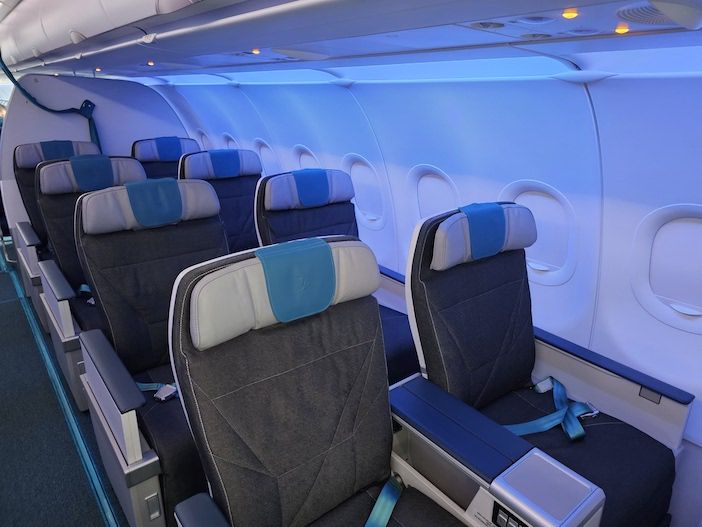 "Azores leveraged the industry downtime to innovate and completely re-invent its whole passenger experience. STG is proud to be part of this innovative process," added Pierre Michard, director of sales & programmes at STG Aerospace. "The light scenes were jointly created with Azores onboard the first aircraft and the STG customer suite in Wales."