Muirhead has unveiled its latest trends collection for aviation leather, developed by its in-house design team based on industry insights from market intelligence agencies, and drawing inspiration from cross-industry material and fashion developments. The theme is 'ReWILDing', which champions the importance of biophilic design principles that showcase the connection between nature and human well-being, reflecting the industry trends towards sustainability and circularity.
The team at the Scottish leather supplier has translated the prevailing industry trends into three aesthetic design directions for the ReWILDing collection, helping customers make informed choices when it comes to finding the perfect colours, materials and finishes (CMF) for the genuine leathers used in their aircraft interiors. The collection also emphasises the role of sustainable manufacturing processes – as well as the use of long-lasting, reusable materials – in minimising the impact on the natural environment.
Each design direction takes inspiration from one of Scotland's unique and distinctive habitats:
• Mountains & Moorlands. Muirhead says of this aspect: 'With romantic undertones conveyed through a hazy colour palette of ethereal hues and pigments, this holistic approach promotes healing, connection, and creativity. Designed for a world where health and well-being are paramount, it invokes a sense of relaxation and offers an escape from the everyday, by blending reality with the imaginary.'
• Wetlands. This direction draws inspiration from the principles of biomimicry to tell a story of balance and contrast. Its earthly, grounded tones evoke an earth-bound narrative, which neatly captures the growing interest in natural products and highlights the traditional craft of upcycling rawhides – a natural by-product of the food industry – into aesthetic and durable materials.
• Grasslands. With a highly energised palette and dynamic contrast, this direction is inspired by various aspects of nature. The nuanced brights represent recycled and reclaimed materials, challenging the waste culture and encouraging visible rejuvenation. The mood is lively and bold, embracing change and transformation – while the use of natural hues promotes a sense of grounding and connection with the environment.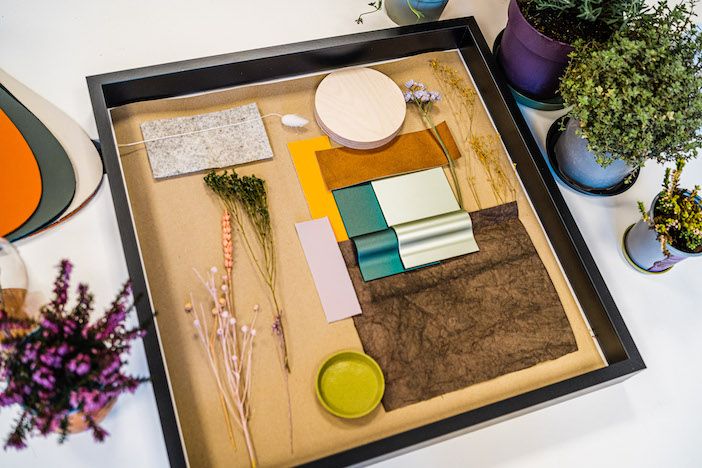 Debra Choong, design manager at Muirhead and the Scottish Leather Group, said of the collection: "Every day, our in-house design experts work closely with airlines and manufacturers to co-create the perfect leather for their needs. To guide them through this process, we offer fresh insight around the latest cross-industry design and material trends, and translate these into conceptual designs to further inspire, challenge, and excite our customers.
"Our ReWILDing concept is a seamless blend of contemporary ideas, such as biophilic design, and further inspiration from our own surroundings. Not only have we pioneered circular leather manufacturing by recovering energy and by-products from process waste and end-of-life leather, but we're also proud to be surrounded by Scotland's epic landscapes and pristine wilderness. With that, it's no surprise sustainability and Scottish nature were both integral to Muirhead's design directions this year.
"At its core, ReWILDing is about restoring natural ecosystems with the reintroduction of native species. We have further distilled this into three new design directions, which respond to the challenges of the 21st century – ensuring our valued customers can stay ahead of the curve and that the designs we create today remain relevant for the next decade."
Visitors to Aircraft Interiors Expo (AIX) 2023 in Hamburg this June can see and touch the collection at Muirhead's stand (6E95), which will feature an interactive Design Garden studio. The studio will entice visitors with an interactive, multisensory experience, designed to showcase the lifecycle of the lowest carbon leather and its effect on the design process – from raw materials to end-of-life recycling.
There is substance behind the collection, as Muirhead has full control of its manufacturing process, from natural raw material sourcing to finished product, exemplified by its pioneering Thermal Energy and Ultrafiltration plants.