Lighting can make aircraft interiors an airy and pleasant place to be, or it can make them drab and claustrophobic. Here are just some of the lighting technologies presented at Aircraft Interiors Expo to make sure the latter doesn't happen.
Collins Aerospace launches μLED reading light
Collins Aerospace is bringing μLED (micro-LED) technology to aircraft interiors, with a reading light that boasts a longer service life (up to 40,000h longer than traditional lights) and lower weight, as well as makes it possible to integrate reading and dome lights with the cabin lighting.
The μLED reading lights can easily be dimmed and can adapt to different applications from a large spot, small target, nonstandard and non-uniform shapes, as well as multi-passenger applications.
It also has the potential to double as a dome light, with full-color options, to illuminate a row of tray tables and the passenger floor area, eliminating the need for sidewall lighting. The elimination of multiple lighting elements not only drives down weight, but it also results in significant cost savings.
Safran uses edge lighting for flexible cabin illumination
Safran is debuting a new concept for general cabin illumination, using edge lighting, a technology familiar from TVs.
The polycarbonate panels can be evenly lit to create a pleasant soft light throughout the cabin. They are also divided up into two-inch segments to allow them to display customizable patterns in a range of RGBW colors. This allows for a heightened sense of space
The LED technology can produce the same standards of lighting as traditional lighting, but with less power consumption. Alternatively, it can be made more powerful with the same energy consumption as normal lighting.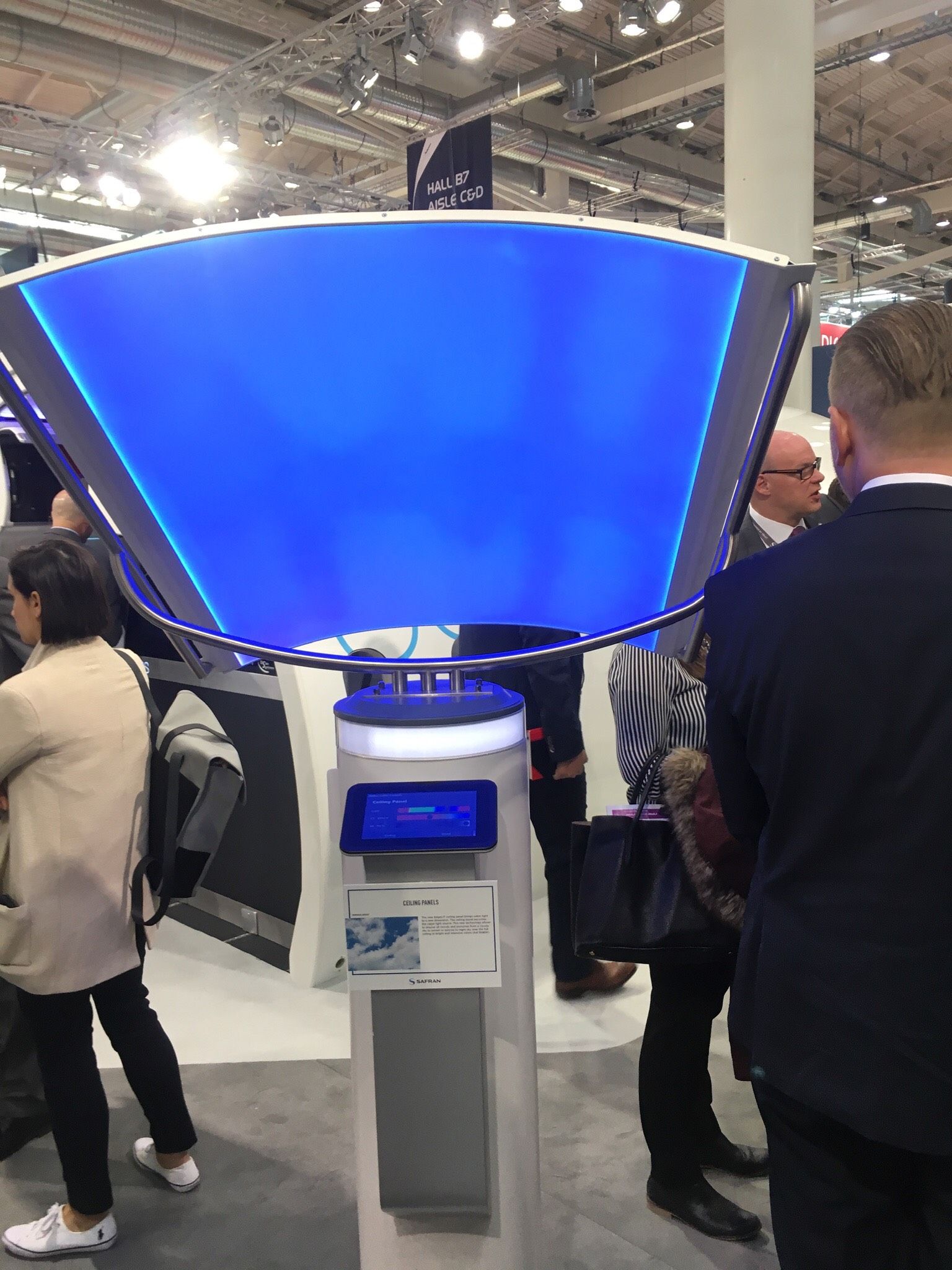 Another lighting innovation from Safran is lighting integrated into the lavatory mirror. Using a sandblasted film, different patterns can be created to suit the airline (including no smoking and 'return to seat' icons). These patterns can be illuminated in different colors. As the light source is inside the mirror glass, rather than behind it, it takes up less space than conventional systems.
STG Aerospace launches blue photoluminescent signage
Said to be the world's first blue photoluminescent aircraft signage, saf-Tsign blu is designed for emergency, informational and other signs, making them emit blue light, but with minimal maintenance and operational costs.
Dr Sean O'Kell, STG Aerospace business unit director, said: "We're really excited to be launching the world's first flexible blue-glowing aircraft signage and cabin marking option. It's not something you can announce every day."
The technology builds on STG Aerospace's proven, saf-Tsign range of non-powered photoluminescent signage, available for all aircraft types, adding a blue hue in instead of the traditional green-glowing signage.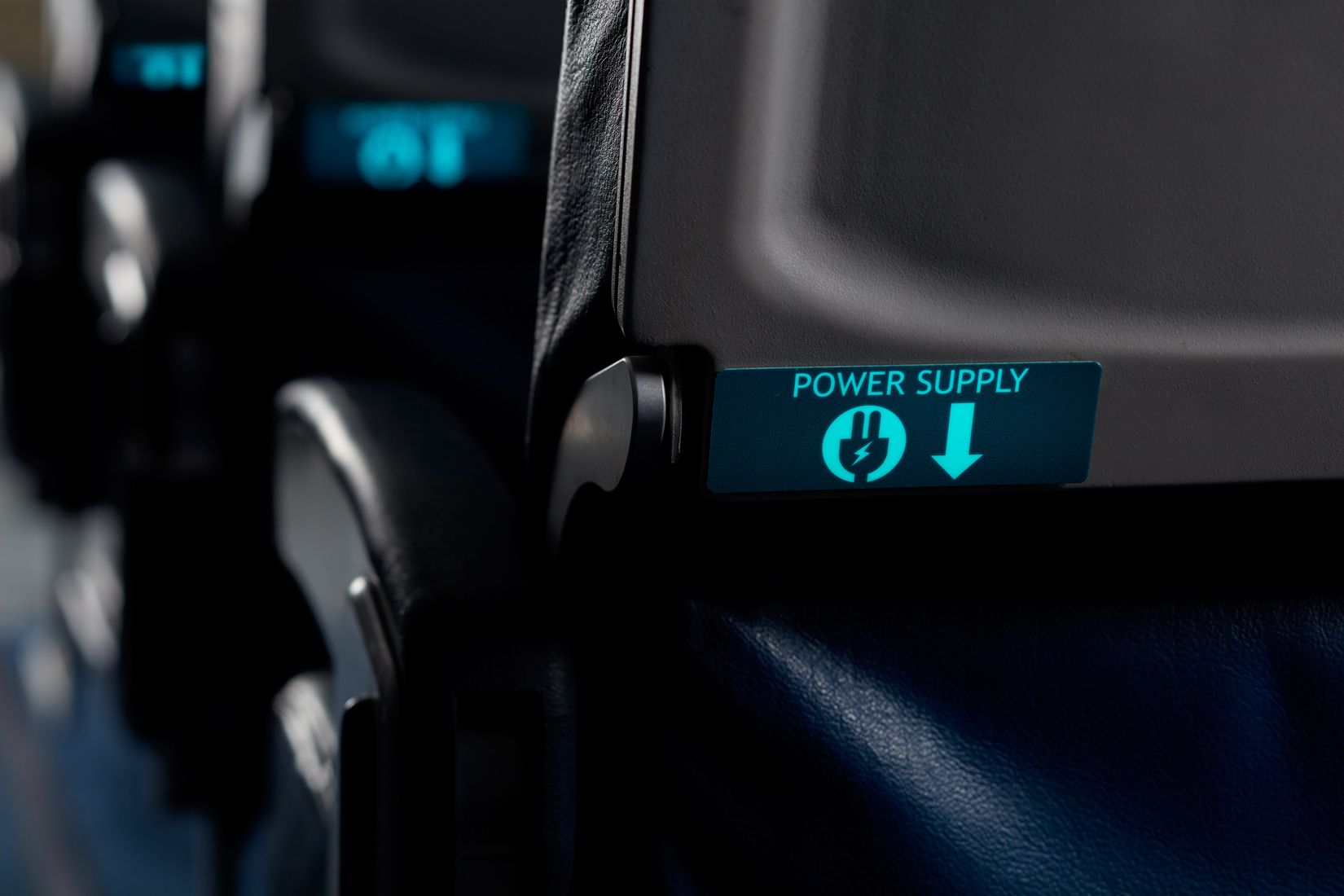 In addition to presenting the photoluminescent signage, STG has also announced a major LED lighting deal with TAP Air Portugal. It will be supplying its LED lighting system, liTeMood, to the Portuguese national flag carrier.
Joel Fragata, head of in-flight & on-ground product at TAP Portugal commented: "Not only does the STG Aerospace liTeMood system enhance and brighten the interior of our Airbus A330 fleet, it has been the perfect lighting product to harmonize our existing cabins with our new A330neo aircraft.
Another new customer for the liTeMood retrofit LED lighting system is South Korean low-cost carrier (LCC), which has already completed installations across its fleet of Boeing 737-800 aircraft.
STG Aerospace also announced that Turkish Airlines, has commenced a retrofit program, installing the liTeMood LED system across its Boeing 737-800 fleet, as it looks to harmonize its cabin interiors with the latest LED-installed aircraft being delivered by Boeing.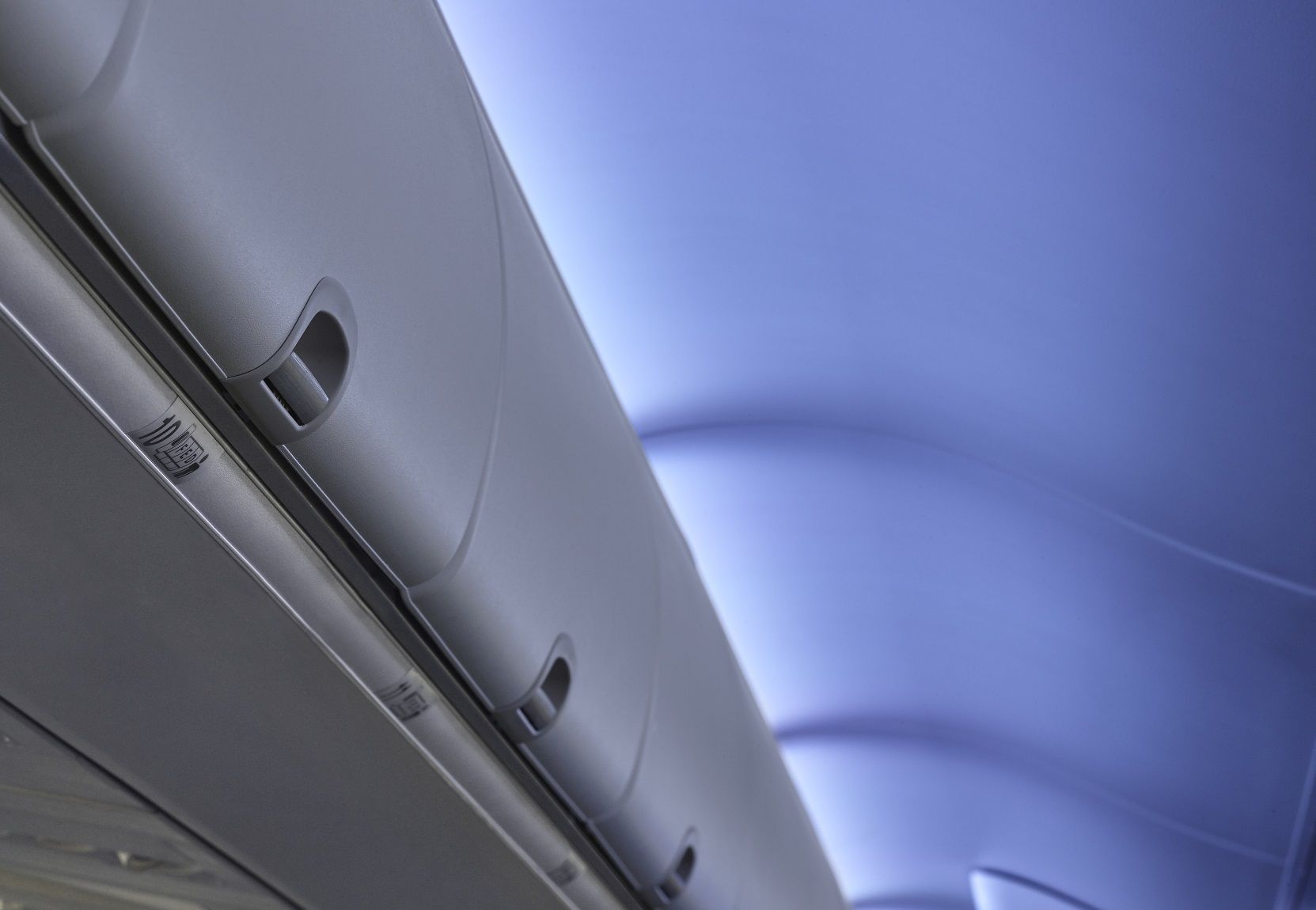 Marcus Williams, STG's director of global sales, stated, "With its quick and simple installation process of under eight hours, liTeMood is an easy and affordable way for Turkish Airlines to replace fluorescent lighting with the latest LED technology. liTeMood will narrow the gap in cabin appearance between their legacy aircraft and those installed with the latest Boeing Sky Interior (BSI)."
The full liTeMood product range is on display inside a full-size cabin simulator at Aircraft Interiors Expo.
Jetlite to reduce jet-lag with better lighting
Together with Silver Atena, Jetlite is developing a controller to automate cabin lighting. Based on the company's 'Human-Centric Lighting', it uses an algorithm that takes into account flight parameters to calculate optimal cabin lighting scenarios for each flight.
The cabin crew can start the entire lighting program easily with one click through a user-friendly interface on the flight attendant panel (FAP). The program runs automatically throughout the rest of the flight.
Lighting with tight curves
Technology group Schott is showing HelioCurve, which enables flexible designs and new functional features in various cabin situations. The flexible RGBW (red, green, blue, white) LED light can be curved to narrow angle to allow for new designs and functional improvements of various cabin features, such as seat pockets, aisles, armrests, and on curved surfaces.
HelioCurve can be installed in exceptionally small spaces as its light homogeneity illuminates surfaces without the need for a bulky cover or diffuser The company's intelligent Multi-Light-Controller enables power leveling as well as aging and temperature compensation for HelioCurve. As is the case with all members of the Schott 'Helio' family, HelioCurve also works in holistic mood lighting scenarios.
In addition, Schott is showing its Opal and Sapphire series of in-seat reading lights, which boasts a slim and compact design, as well as touch activation and a flexible rotation mechanism.