Airbus Corporate Jets and Eutelsat Oneweb are jointly developing a satellite connectivity solution called ACJ Connect Link. The companies signed an agreement at the NBAA-BACE event this week to develop the satellite connectivity solution for the Airbus Corporate Jets (ACJ) family of aircraft, starting with the ACJ 220, the luxury VIP version of the A220 narrowbody aircraft.
Chadi Saade, acting president of Airbus Corporate Jets, said, "We will develop a solution so that no matter where you are flying you have an internet connection 10-times faster [than current Ka/Ku solutions] using a smaller antenna. It will provide unrivalled satellite connectivity."
The main development from the partnership will be an antenna tailored for ACJ aircraft. Eutelsat Oneweb's technology uses electronic arrays to track satellites, providing higher connection speeds. This approach also enables the profile of the antenna to be reduced so that it is flatter than existing pod-like mechanical receivers, making them more aerodynamic.
The antenna will be ready within months, and will be available as an option on ACJ aircraft, according to Seadle.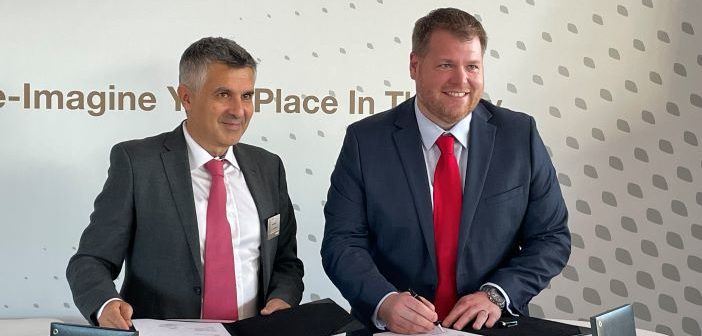 Jason Sperry, head of business aviation at Eutelsat OneWeb said, "The low latency and higher speed that is inherent in OneWeb's latest generation Low Earth Orbit (LEO) network will facilitate a broad range of applications for passenger productivity and entertainment that to date have been out of reach while inflight."
Eutelsat OneWeb's service uses a constellation of hundreds of LEO satellites to provide high-speed, low latency global coverage. This is enabled by the satellites' lower position compared to geostationary satellites, and the large number of the satellites in orbit. The company says the connection speed allows multiple devices to be used onboard simultaneously, even if each is using services such as high quality streaming, live TV or video conferencing.
OneWeb's LEO network has a total usable capacity of over 1.1Tbps, with each of the 648 satellites able to deliver 7.2 Gbps and hundreds of Mbps to individual aircraft.