Buzz has expanded its travel amenities and wellness portfolio with the acquisition of the Recliner sleepwear brand.
Rebecca Smith, founder, and CEO of Recliner, has been successful in the sleepwear sector, through the application of functional design and sustainable materials. The brand's unconventional prints and original fabrics have proved popular with a global audience since the company's launch in 2015.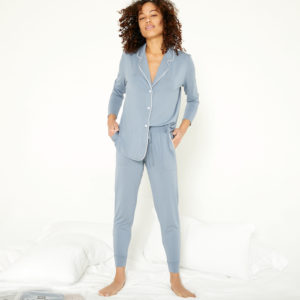 As part of the acquisition, Rebecca Smith will take on a strategic role to develop new products in the wellness category for both Recliner and Buzz. "I'm excited to be a part of this new chapter with Buzz. I've long admired Buzz's energy, innovation, and collaborative spirit," said Smith. She has previous experience of collaborating with Buzz, having created an exclusive Recliner range for American Airlines, a Buzz client, in 2022. "The timing is perfect to come together and reimagine what Recliner can be at scale," added Smith.
The partnership will pave the way for a wider collection of sleep and wellness products curated for the travel market, and marks a strategic step towards achieving Buzz's ambitions in the global travel industry.