Recaro Aircraft Seating (RAS) has appointed Chris Buckner as director of product management – a strong recruit as Bucker was previously director of onboard product at Delta Air Lines and is well versed in customer comfort and satisfaction. In this role, Buckner will play a pivotal role in leading the development of new seating solutions by being responsible for the long-term product strategy, the product roadmap and product lifecycle.
Buckner has more than 12 years of experience in the aviation industry, both on the airline and manufacturing side. The last 8.5 years were spent at Delta, and prior to that he held positions at Rockwell Collins as a systems engineering lead in government systems and as an engineer in performance engineering at Northwest Airlines. For this role he will be heading across the Atlantic to be based at RAS's Schwäbisch Hall headquarters in Germany, where he will report to CEO, Dr Mark Hiller.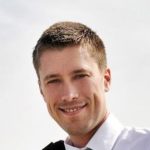 "Over the last couple of years, I've had a great experience working with Recaro as a partner and I've always admired how well the company has done," stated Buckner. "After almost a decade at Delta Air Lines, I was ready for a change and had a strong interest in diving into the supplier-side of the business."
So what makes Buckner tick? See our interview with him HERE.
Buckner holds a Bachelors degree in aerospace engineering from the University of Minnesota and a Master's in Business Administration from the University of Iowa. During his studies, he spent one year at the Technische Universität Hamburg (TUHH). Chris is originally from Minnesota and he and his wife, who is from Germany, recently relocated to Schwäbisch Hall with their daughter. Chris is also fluent in German.