According to a new research report by the market research and strategy consulting firm, Global Market Insights, the aircraft soft goods market is expected to enjoy a CAGR exceeding 3% from 2018 to 2024 as operators invest in improvements in cabin interiors with the aim of enhancing aesthetics and passenger comfort. According to the firm, the commercial aircraft sector will contribute over 85% of the overall revenue share in 2017; growth that can be credited to the expansion of overall aerospace industry and increasing demands for greater comfort levels from passengers. Meanwhile the regional jet segment will witness a CAGR of more than 6.5% from 2018 to 2024, according to the report, owing to increasing regional flight frequency and the increasing use of lightweight upholstery products in these aircraft.
According to the report, titled Aircraft Soft Goods Market, by Aircraft, OEM activities relating to reducing weight in cabin interiors will drive the product demand and industry growth, as will moves to reduce noise and dampen vibrations during flight. The increasing number of air passengers and consequent growth in international and domestic airline fleets (global airplane deliveries increased from 1,714 in 2016 to 1,740 in 2017, according to the report) will increase the use of upholstery such as carpets, seat covers and curtains.
Seat covers will witness a CAGR of around 3.5% until 2024 owing to an increasing trend towards upgrading seats and support covers in commercial airplanes. In addition, demand for luxurious cabin interiors in business and first class, including installation of superior carpets, will support the aircraft soft good market size over the forecast timeframe, with carpets having a substantial share of the market. The cabin dividing curtain sector is also projected to see "considerable growth" for both commercial airplanes and business jets.
Report findings about cabin materials
The aircraft interiors refurbishment market will also grow, say the findings, with a focus on upgrading business and economy class cabins, ensuring the safety of passengers and improving cabin aesthetics. Adoption of new materials including blended fabric and replacement of leather with synthetic products offering improved surface texture and reduced cost and weight will boost the aircraft soft goods market between the forecast period of 2018 to 2024.
Nylon/wool blend fabric will contribute over 70% of the overall material-based aircraft soft goods market share by 2024. This can be attributed to better material properties such as higher durability, water and wrinkle resistance, and insulation. Nylon fabrics can be blended with other materials including polyester to further enhance the comfort and material elasticity.
The firm has also found that synthetic leather materials are growing at a fast pace owing to their reduced cost and improved wear resistance compared with natural leather. However, the tear and puncture resistance properties in natural leather will growth in that sector over the next seven years. Further, polyester fabrics will witness a healthy growth due to their durability and chemical resistance properties, which in turn boost the aircraft soft goods market share from 2018 to 2024.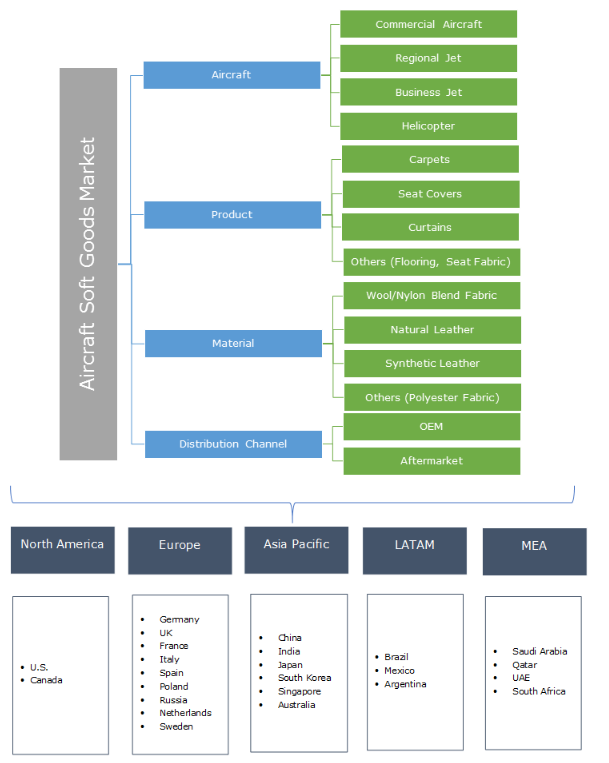 The wider picture
OEMs will exhibit a CAGR of more than 3% between now and 2024 owing to product installations made after airplane assembly, according to Global Market Insights. This industry growth can be attributed to long-term supply contracts between companies, and the aftermarket segment will witness robust growth with a rise in refurbishment activities and replacement of worn-out goods with new, more advanced ones.
The North American aircraft soft goods market has a major market share and is projected to exceed US$300 million by 2024 with the presence of well-established airplane manufacturers including Boeing and Bombardier, says the report. The Asia Pacific region will witness "significant" gains, with growth in the commercial aerospace sector and an increase in overhaul activities in worn-out airplanes. The European industry share is forecast for substantial growth owing to the increase in passenger traffic.
Major players in the aircraft soft goods market identified for the report include Anker, Tapis Corporation, Spectra Interior Products, RAMM Aerospace, Mohawk Group, Lantal Textile AG, InTech Aerospace, Hong Kong Aircraft Engg (HAECO), F-list, Fellfab, E-Leather, Desso Group, Botany Weaving Mills, Aircraft Interior Sol., Aircraft Interior Products, AeroFoams, and Aero Floor. Companies are increasing their product landscape to boost aircraft soft goods market share. For instance, in March 2018, Lantal Textile AG launched TEC leather, developed for thermal and cleanability benefits.