Bomhoff, which has experience in aviation interiors dating back to 1952, has set up a new subsidiary, Bomhoff Limited, which is due to begin operations at a newly renovated facility in Tucson, Arizona. Bomhoff Limited will offer bespoke and limited-production composite-based furniture and components to OEMs and completion centres.
The Tucson site, a former cash vault for a national bank, sits on three acres just north of Tucson International Airport. The facility has multiple features suited for aerospace, including an R&D lab, cleanroom, composite shop and a full paint booth.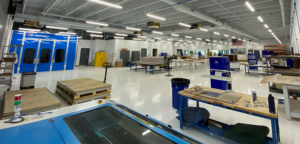 "It has always been my goal to be involved with the very best artisans whose passion is to fabricate exceptional quality furnishings," said Russ Bomhoff, president of Bomhoff Limited. "There are many aircraft around the world that are still flying with our original furnishings. That's the quality we're looking to replicate.
"Our company's goal is to provide innovative solutions for the designers and organisations who seek a working partner that has the vision, technical abilities and eagerness to turn the most challenging ideas into reality."