Air France has received the Diamond Award in the APEX Health Safety powered by SimpliFlying awards, which recognise airlines' efforts at implementing the strictest health and safety measures. The Diamond Award, the top rating in the awards, was given following a complete audit of the airline's 'Air France Protect' health and safety measures.
The awards were established by APEX (the Airline Passenger Experience Association) in response to the Covid-19 pandemic, to encourage airlines to take a proactive role in the resumption of safe travel, and to create a common standard for passenger health and safety. Air France was recognised for offering its customers a safe travel experience by implementing the strictest health measures both on the ground and on board, as well as a fully flexible commercial policy and travel insurance cover for epidemic-related risks.
Fabien Pelous, SVP of customer experience at Air France said, "This new distinction is a source of pride and an honour for all the Air France teams who are mobilised on a daily basis to ensure the health and safety and well-being of our customers at this unprecedented time. It is also a great sign of confidence for our customers who continue to choose us for safe travel."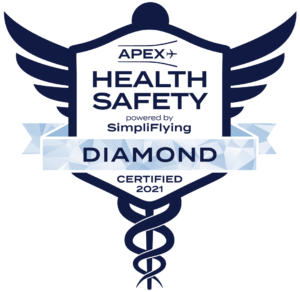 SimpliFlying, an aviation strategy company, is the external auditor for the airline evaluations, verifying, validating and certifying the health safety steps that each airline is taking to ensure a Covid-safe travel experience.
Shashank Nigam, CEO of SimpliFlying, said: "Air France has set up a solid strategy to battle the Covid-19 virus on their own field. Health safety measures such as improved ventilation in closed spaces and constantly adapted onboard service make passengers feel comfortable without compromising safety throughout the whole journey with an airline. The hospital-grade measures of Air France make this airline a safety leader in the pandemic world."