Results from a survey titled 'Future of Aircraft Interiors' suggest that the area in which the aviation industry needs to improve most is the comfort levels onboard aircraft. According to the survey findings, gathered by RedCabin, an organiser of transport-focused events, 78% of respondents also indicated that improving the ability to sleep onboard was of vital importance for the sector.
The survey was conducted at The Aircraft Cabin Innovation Summit 2023 in Hamburg in March, an event hosted by Airbus, in order to gain opinions from industry leaders. The findings also include a number of predictions for the future of air travel, including how the passenger experience will continue to evolve.
RedCabin has not disclosed how many respondents took part in the survey, but has shared further results from it, including:
48% of respondents said that passenger seating needs the most innovation
30% of respondents believe that improving comfort should be front of mind in enhancing the inflight experience
Only 17% opted for better onboard connectivity to make the most of the time travelling

Hygiene
Maintaining and exceeding hygiene standards remains a critical consideration post pandemic. This was reflected in the responses received, with 69% of respondents stating that more needs to be done to improve on cleanliness in aircraft cabins.
Suggestions for improvements to hygiene included using antimicrobial materials (38%), installing self-cleaning bathrooms (17%) and taking additional steps to prevent viral transmission (15%).
Sustainability
Sustainability in the aircraft cabin remains an important issue within the industry, with 65% of respondents predicting significant improvements to cabin sustainability in the next 2-5 years. 40% of respondents then forecast that there would be an 'increased use of lightweight materials'. 30% of survey participants said they felt that establishing sustainable partnerships was important to them in order to develop 'green' alliances and to collaborate openly on best-practice approaches to innovation.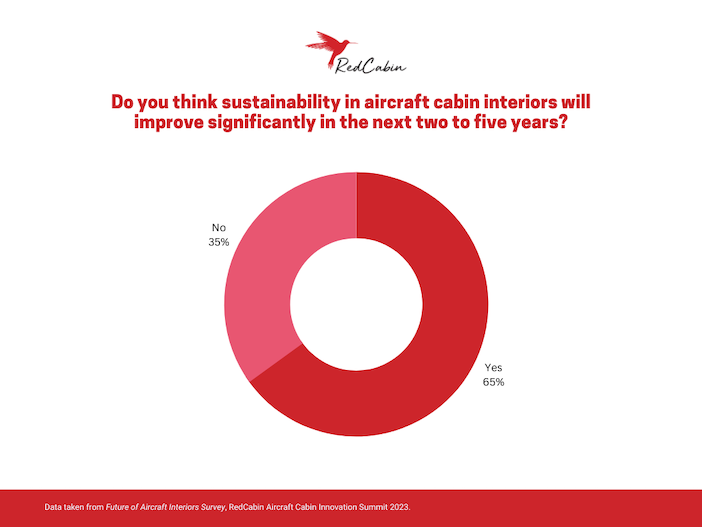 Commenting on the survey results, Monica Wick, founder and CEO at RedCabin said: "Aircraft interiors play a pivotal role in creating an enjoyable passenger experience. Our research reinforces the value that the aviation industry places on developing next-generation products that are comfortable, sustainable  and hygienic.
"The passenger experience remains at the forefront of the aviation agenda. We are on the cusp of a new generation of aviation innovation with sustainability a key consideration, alongside passenger comfort and control."
The next Aircraft Cabin Innovation Summit takes place in Seattle, USA from 12-14 September 2023 – and will be hosted by Teague.
You can find more information about the Summit on the RedCabin website.