Independent aftermarket aviation maintenance and completions firm, Fokker Services Group, has broken ground on a new widebody aircraft hangar, working with modular architecture expert, Gaptek.
The hangar, located at Business Park Aviolanda, the Netherlands, will be 87m long, 86m wide and 27m tall, large enough to accommodate aircraft such as the Airbus A330, Airbus A350 and Boeing 777, and will be equipped with floor heating and cooling systems.
This hangar is part of a larger expansion plan at Fokker Services, which includes hiring new colleagues, a second new widebody hangar, and extending workshop spaces at its other facilities around the world.
"This new hangar is the latest development in our company-wide growth plan," said Roland van Dijk, co-CEO of Fokker Services Group. "As the markets for widebody maintenance and VIP completions continue to grow, this modern hangar extension allows us to support new and existing customers for the years to come."
With planning, development and preparations finalised, Gaptek has started the modular hangar construction on site, which will take 12-14 weeks to complete. The design is based on a lightweight system patented by Gaptek, designed to be fast to assemble and disassemble, and easy to relocate. The aluminium construction is designed to reduce CO2 emissions by up to 21% compared with conventional steel structures.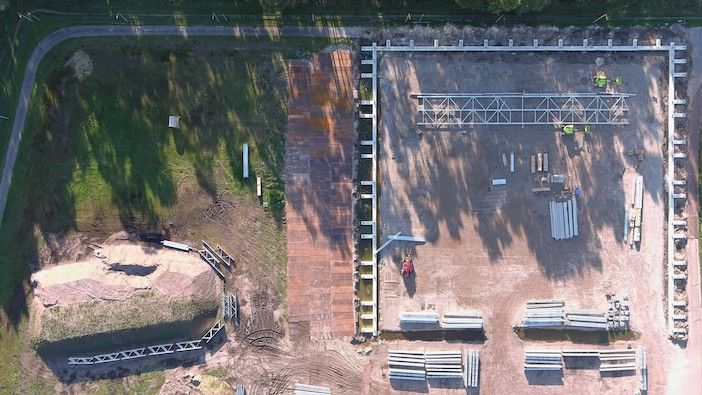 "Since the beginning, one of the most important values for Gaptek is to provide more sustainable and cost-efficient solutions," said Tomas Felius, founding member and president of Gaptek. "Our technology, initially engineered to provide solutions for military defence, is now more advanced and permits us to provide turnkey facilities that can adapt to the actual civil aviation market needs, such as fast deployment, low environmental impact, capability to be easily adapted and relocated while maintaining the CE quality and to comply with IBC and local regulations. This project is an important milestone in the international markets expansion for Gaptek."