UK-based low-cost leisure airline, Jet2.com, has opened a Retail Operations Centre, the first centre of its kind in the UK aviation industry, which is intended to benefit the service, efficiency and security of its inflight retail services.
During Summer 2022, airlines faced supplier disruptions that were affecting inflight retail services. Thus Jet2.com took the decision to take control over its most critical in-flight retail operations, with the new centre developed to enhance stability and customer service, and to enable sales growth.
The 150,000 square foot facility, located in Middlewich, Cheshire, will be used to stock, manage and distribute millions of inflight retail products. The products being managed include drinks and non-perishable food that can be either pre-ordered or purchased via the airline's in-flight menu, as well as products that can be bought from the onboard shop, such as fragrances, beauty products, gifts and duty-free items.
The Retail Operations Centre is the first of its kind in the UK, as no other UK airline has taken its in-flight retail operations in-house at such as scale. During a typical year, it is expected that more than 25 million items will flow through the centre before being loaded onto the airline's growing fleet of aircraft.
Each day, items will be securely stored, picked and loaded onto thousands of bar carts, with each cart being securely screened in just six minutes by passing through one of four Cart X-Ray Scanners that have been installed at the centre. The bar carts will then be distributed to Jet2.com's UK airport bases by a fleet of Jet2.com and Jet2holidays branded trailers.
Given the nature of the operation, the Retail Operations Centre has been through a strict security process to ensure that it complies with relevant regulations, and it has been approved by the UK Civil Aviation Authority (CAA).
As a result of the opening, 300 new jobs have been created at the centre, including positions in shift operations, warehouse operations, security and inventory control. Staff will work across two shifts at the centre to ensure it supports Jet2.com's flying programme around the clock.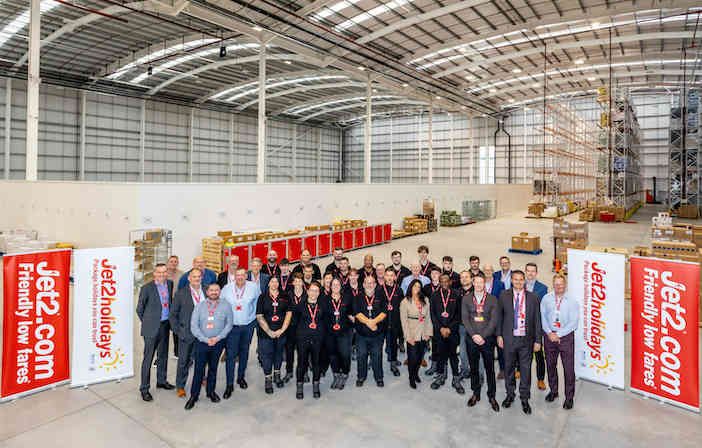 Distribution from the facility to UK airport bases will be provided by Wincanton Logistics, whilst the company will use Gate Gourmet as its new last-mile provider, to load catering airside. 
The airline has promoted John Davis to the new position of Director of Retail to lead this area of the business, reporting to Adam Mulroy, Commercial & Revenue Director.