The World Travel Catering & Onboard Services Expo (WTCE) returns to Hamburg on 14-16 June to celebrate its 10-year anniversary and the post-pandemic bounceback
After a couple of years of pandemic-related issues, the World Travel Catering & Onboard Services Expo (WTCE) is returning to Hamburg Messe from 14-16 June 2022 as an in-person event. The event will focus on accelerating the post-pandemic recovery of aviation and enhancing the overall passenger travel experience.
WTCE, a free-to-attend event, will bring together brands from across the inflight catering, onboard and passenger comfort industries (more than 250 suppliers, including over 75 first-time exhibitors) and match them with buyers from international airlines, rail companies and cruise lines.
As well as being its first face-to-face event since the start of the Covid-19 pandemic, WTCE is also celebrating its 10th anniversary this year, and the team behind the show has lined up initiatives to mark this milestone. But first, let's look at the main show floor activity…
Key themes for WTCE this year include sustainability and wellness, passenger personalisation, and generating ancillary revenue. Visitors can sample the latest innovations, learn from industry experts and attend learning sessions and demonstrations. Many businesses put new product development on hold during the pandemic, but have now developed new products and services, due to be launched at the event.
With more than 250 suppliers on the show floor, there will be a lot to see, with over 60 businesses that will be familiar to previous visitors as they have exhibited at the show every year since it began in 2012: companies including Monte Vibiano, Meiko, Frankenburg and Linstol. 2022 also sees more than 75 companies make their WTCE debut, such as GreenMouse, Cocktailmenot, International, Landgarten and SATS Catering.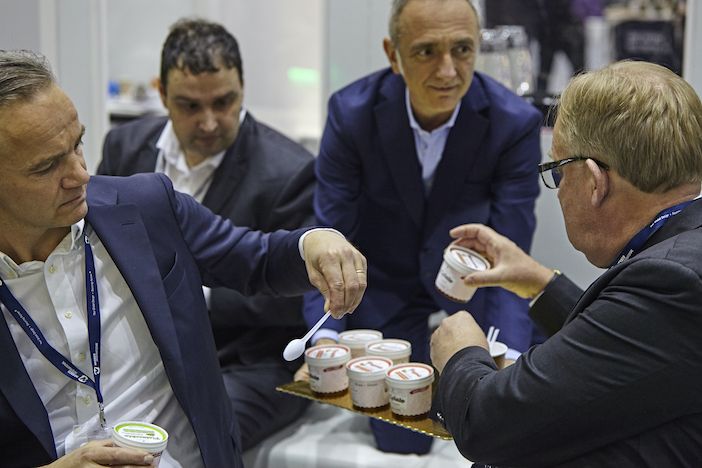 A Linstol spokesperson explained their long affiliation with the show: "WTCE is the largest show in our industry, and it gives us the opportunity to have meaningful face-to-face contact with existing airline partners and connect with people that have new roles/positions. WTCE has helped us grow our business by providing the ideal platform to showcase new products, new partnerships and innovations. Every year our team agrees that we had a better show than the previous year, and all the effort we put into the show is 200% worth it."
Matt Crane, CEO of Monty's Bakehouse added: "WTCE is without doubt the most important fixture in our calendar, offering the chance to bring exciting new concepts to market and share new ideas and ways of thinking."
Food and drink is always a big part of the show, and more than 70 exhibitors will be showcasing their latest innovations in line with consumer trends. These include confectionery products such as Playin Choc, a chocolate free of dairy, nut and gluten, which also uses sustainably and ethically sourced ingredients and is packaged without plastic. The choccy theme continues with luxury chocolate company, Canonica, as well as Lily O'Brien's premium chocolates with innovative flavour profiles.
Additionally, Love Corn will be highlighting a crunchy low-sugar snack made with minimal ingredients, NibNibs will introduce visitors to its bite-sized sweet and savoury snacks, while SMiZE Cream, a premium ice cream brand founded by American TV personality Tyra Banks, will give attendees the chance to experience 'luxe-meets-fun' desserts for airlines.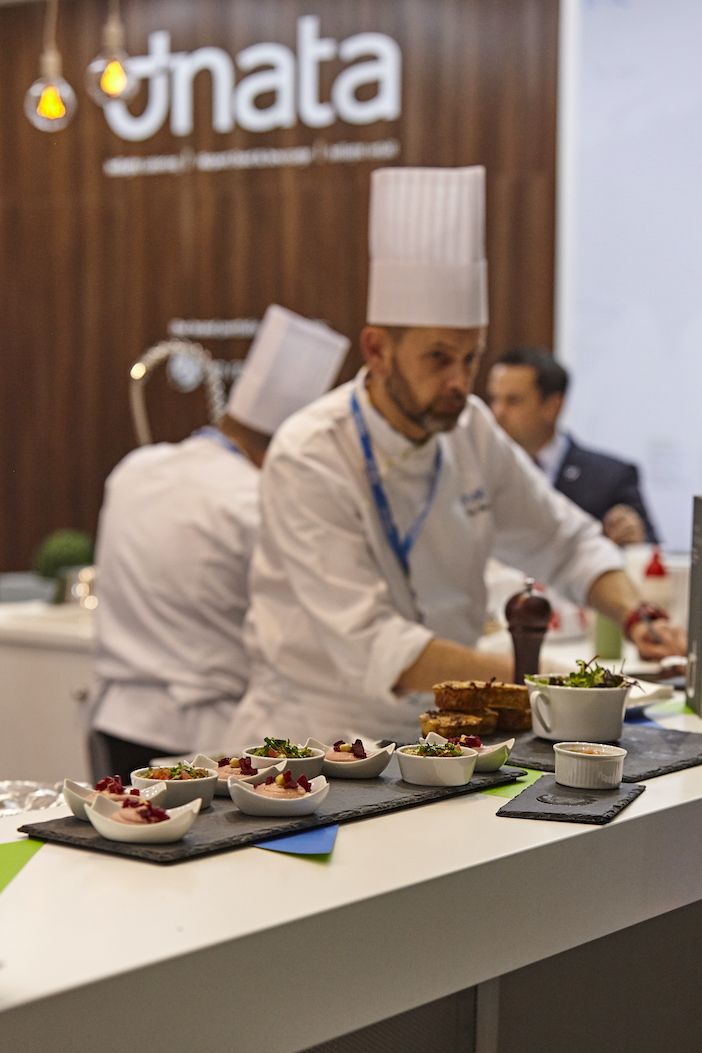 There will also be several exhibitors specialising in coffee, which should be of particular interest to visitors since the pandemic period saw a 500% increase in people drinking the beverage. Canigo Coffee will bring its new line of soluble premium Fairtrade coffee packed in sachets, whilst Blaser Café will share its coffee solutions, and Coffee Planet will bring its 100% Arabica coffee beans to the show floor – all must-sees for those looking to tap into this upward trend. Meanhile SkyTender Solutions will be showing its inflight beverage maker, which can dispense drinks from popular brands such as Nestle, Bucher, Coca-Cola, Pepsi and more.
A particularly busy stand will be LSG Group, the airline catering giant, which will be showcasing its food and service experiences. Kevin Lowe, head of culinary at Alpha LSG said: "If you want to see something new and exciting, you have to attend WTCE. It's very rare that you get this calibre of food and drink and onboard products in one place, so it's definitely worth the trip."
Visitors can also view a large selection of products from a broader range of categories including packaging, passenger comfort and wellbeing, food service equipment, hygiene, onboard retail and logistics.
For example, Coolike will be showcasing its biodegradable guest amenity towels and hand and surface disinfectants, Wessco will highlight its range of luxury in-flight products, while Qikfresh will be demonstrating its new mouthwash powder, a water-free, alcohol-free mouthwash that comes in single-use 2g sachets for dental care on-the-go.
Educational opportunities
Alongside the show floor, the Taste of Travel programme will offer three days of seminars, presentations and live demonstrations. The sessions, which are curated by industry experts and tailored to the changing needs of the sector, will help visitors understand how they can flex their businesses in order to see strong upwards growth post-pandemic.
From chef demonstrations that cover the latest dietary trends and flavour innovations, to education around sustainability concepts that help operators tackle waste and packaging concerns, a line-up of expert advisors and consultants will lead sessions on the trends shaping the industry.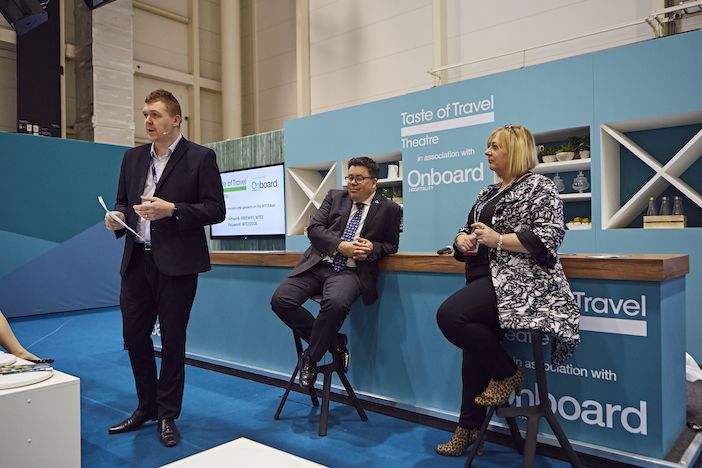 On day one of the show, visitors can enjoy a session led by Marc Warde, owner of Niche, London's first truly gluten-free restaurant, on The Future of Special Meals, including a live meat-free cooking demonstration from chef Steve Walpole. Discussions around new onboard catering models and concepts will also see culinary experts share their knowledge on the food trends influencing the industry.
New sustainability initiatives will also be a key topic at the Taste of Travel Theatre, with insights from a line-up of panellists that will include Marc Starke, VP communication, marketing and digital transformation at Newrest, Anne De Hauw of IN Air Travel Experience, Bill Carrejo, director of sustainable operations at Linstol and Matt Crane of Aviation Sustainability Forum.
On the topic of sustainability, visitors will also have the opportunity to join sessions covering consumer attitudes to plastic onboard, the true price of real sustainability, improving the supply chain while cutting waste and increasing revenue streams, and the role of sustainability in the recruiting/retaining process. A session covering the urgent need for global collaboration  will look at why global standardisation and collaboration are essential to achieve more sustainable inflight service.
Celebrating a decade of WTCE
The organisers WTCE are marking the event's 10-year anniversary, with a host of initiatives to encourage the industry to join in with the celebration of a decade of innovation and successes.
The Onboard Icons competition will spotlight the industry's most influential people and recognise the contributions made by individuals in the sector over the last decade. Results from the public nomination and voting process will be announced live at show in the Taste of Travel Theatre on Tuesday 14 June.
Furthermore, in the lead up to this year's exhibition, WTCE has partnered with Foodcase to create a research report into sustainability onboard aircraft. The report will include the latest data on what airlines are doing to minimise waste and reduce the use of single-use plastics, as well as commentary that highlights what onboard catering suppliers believe airlines need to do, and why. With sustainability being a key discussion point for the 10th year of WTCE, the report will drive awareness of the issues, which is set to be of particular interest to airlines looking to gain insight from the businesses leading sustainable innovations.
Additionally, a showcase of 10 of the 60+ companies who have exhibited at WTCE since 2012 will be celebrated, with each of the businesses' achievements shared, as a way to inspire others in the next 10 years to come.
WTCE's event director, Polly Magraw commented: "We're thrilled that we'll be reuniting back at the Hamburg Messe for WTCE once again after a three-year break, and I'm sure the industry is equally as keen to meet old contacts and create new relationships at the event.  We are particularly excited to celebrate WTCE's 10th anniversary and share some of the industry's fantastic successes from the past decade, while looking ahead to the next 10 years. Although it has been a tough couple of years for the aviation and travel industry, we're looking forward to celebrating and supporting our visitors and exhibitors with a programme packed with opportunities to learn, discover and build sustainable businesses for the future."
Personalise your visit
The WTCE organisers have launched an online show planning tool, designed to enable visitors and exhibitors to make the most of their time at the event, discover new contacts and arrange meetings in advance of arriving in Hamburg. The WTCE Connect tool will help attendees create new relationships, meet the right people and find the products most suited to their needs ahead of the exhibition, with a personalised schedule to help plan their time at the show. Attendees will need to pre-register for the event to gain access to the platform: simply fill in a registration questionnaire and the tool will match responses to relevant products, services and exhibitors.
All visitors and exhibitors will also be invited to the free-to-attend Drinks Reception, a perfect opportunity for individuals to celebrate the 10th anniversary and to network with other attendees. Sponsored by Heineken, the event will take place late afternoon on Wednesday 15th June at the Taste of Travel Theatre as the show comes to a close, providing another chance for attendees to meet new contacts and discuss opportunities.