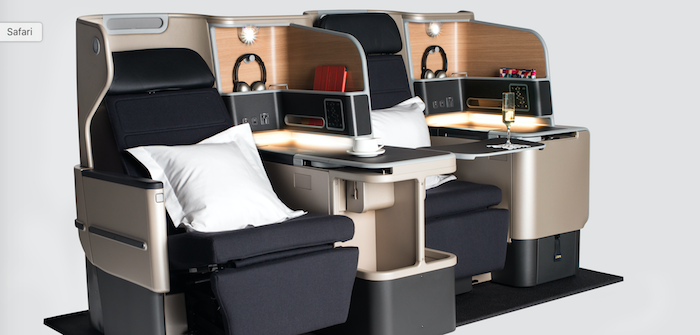 Qantas has unveiled the final design of new 'Business Suites' to feature on its fleet of 28 A330s, to be progressively introduced from later this year. The suites are customized versions of the Vantage XL seat, manufactured by Thompson Aero Seating and designed in collaboration with Marc Newson. Pending final CASA certification, the seats will be the first to allow customers to recline in their seat (up to 7in/25° international and 5in/21° domestic) all the way from take-off to landing.
The Suites, configured 1-2-1, offer fully-flat beds and direct aisle access, and have been altered to take into account the results of ergonomic trials and inflight monitoring tests conducted by Qantas with a panel of experts and customers.
"We've listened to what matters most to our customers and done extensive ergonomic trials to deliver the highest levels of comfort, privacy and intuitive design," stated Alan Joyce, Qantas Group CEO. "There's enough space to eat while continuing to work, which is something our business customers said was very important to them, and plenty of storage room to keep the range of electronic devices that people now travel with.
"A key point of difference from all other carriers is that the seat can be in recline and fitted with the mattress from take-off right through to landing. With many business passengers enjoying a meal in the lounge prior to traveling, this means more time to rest and sleep," he added.
Qantas' creative designer, Marc Newson, said that intelligent design and functionality were the guiding principles behind the new A330 Business Suites: "The design was based on a real understanding of what Qantas customers needed on longer domestic flights and overnight international flights from Asia, with practicality, comfort, privacy and style in mind to create a relaxing environment to work, dine or sleep".
The economy cabins on all international A330s will be fitted with a next-generation model of the Recaro seat fitted to the airline's A380s and refurbished B747s, and the economy seats on Qantas' domestic A330-200s will also be refreshed.
Customers in both cabins on the international A330 aircraft will be able to enjoy the latest Panasonic eX3 inflight entertainment system (which is being progressively introduced from December 2014), with larger seatback touchscreens (16in in business) in addition to Q Streaming technology, enabling them to stream content from an onboard library directly to their own devices.
Domestic business class customers on A330 aircraft will also enjoy the same Panasonic eX3 system, while economy customers will have an individual IFE experience through either seatback touchscreens or devices provided by Qantas in every seat.
The work to refresh the aircraft interiors – which will take about one month for each – will start at Qantas' heavy maintenance facility in Brisbane in November. The first of the domestic refurbished A330 aircraft will take to the skies in late December from the east coast to Perth, and the first international A330 will commence flying in January 2015.
Qantas has also announced the construction of a new domestic business lounge in Perth, which is due to open in the third quarter of 2015.