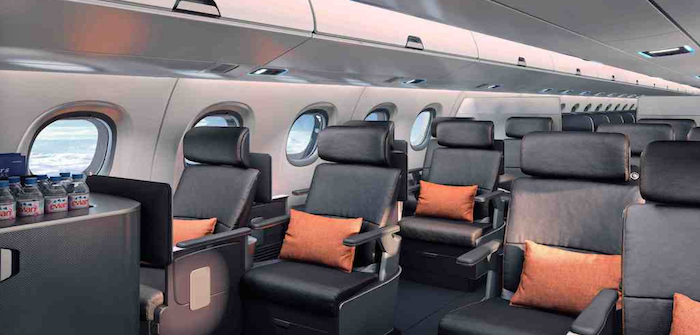 At Farnborough International Airshow 2014, Embraer has given select guests a tour of its slick new E-Jet E2 single-aisle cabin mockup, designed in conjunction with design studio Priestmangoode. The cabin not only looks good with its clean and contemporary aesthetic, but it also offers features which enhance the passenger experience, as well as a flexibility that improves efficiency and maintenance for airlines and leasing companies. We will be running an in-depth story in the September issue of Aircraft Interiors International, but for now these are the basic details, as released by Embraer and Priestmangoode.
Part of Priestmangoode's brief was to design a cabin with a clear differentiation from its narrow-body competitors, and a clean-sheet approach was taken for everything from the sidewall panels, ceiling panels and overhead bins, to the PSUs, oxygen masks, cabin illumination, IFE integration, seating, galley and lavatory. Depending on customer preference, the cabin can be configured to include economy, premium economy and first class (2-1 or a staggered 2-2). By putting all seats on the same seat tracks, the cabin can also be reconfigured – to accommodate for economy seats, for example – very quickly, aided by a clever PSU system, which can also be slid up and down the cabin. The personal PSUs (fitted throughout the cabin) also enable each passenger to control the light and air at their seat without disturbing the passenger next to them, giving a feeling of personal space.
The sleek overhead bins have been styled to create a seamless integration between bin and ceiling for a cleaner, more spacious looking cabin. The design goes much deeper though, as stowage space has been maximised so that each passenger can fit a standard carry-on bag (wheels-first) into the overhead bins. Because there are no legs between the seats, passengers can also fit large items under the seat in front of them.
At the rear of the cabin, the modern-looking lavatory designs were inspired by contemporary hotels, according to Priestmangoode. The design includes acoustic curtains for passengers with reduced mobility (PRM) privacy, integrated hand rails in the internal walls and high quality materials such as a tile-effect splashback. The mirror has been pushed back, maximising space and removing areas that would otherwise be dirt traps. Priestmangoode also designed bespoke bathroom fittings, as well as details such as bin handles and galley latches, to help create a consistent feel throughout the aircraft.
Paul Priestman, director of Priestmangoode stated, "We have a long-standing relationship with Embraer, and this project has cemented a fruitful partnership between our companies. Embraer is continuously investing in its fleet, research and development and shows great design leadership, and commitment to the passenger experience and long term sustainability."