At the upcoming Dubai Airshow on 14-18 November, Lufthansa Technik AG plans to present further details of its Explorer widebody VIP aircraft cabin concept. The company gave a sneak preview of the concept with a nautical-themed scheme at the Monaco Yacht Show in September, and further details and ideas will be revealed in the UAE, including technology features that can be installed today.
The Explorer design concept is based on the trend for superyacht owners wanting the ability to be transported almost anywhere at any time, and once there for the yacht to serve as a hotel and base camp for leisure activities and excursions. Translating these wishes into aviation, Lufthansa Technik chose the Airbus A330 as the equivalent platform, having both a long range and sufficient space for novel cabin ideas.
"In yacht building, multifunctional exploration vessels have now become a class in their own right. And many owners of such vessels also call an aircraft their own," explained Wieland Timm, head of sales for VIP & special mission aircraft services at Lufthansa Technik.
"For this fast-growing target group of VIP world explorers, we have therefore now created a flying platform for the first time. Unlike a yacht, however, our Explorer aircraft allows passengers to travel to the other side of the globe within hours and set up their own individual base camp for further activities. This opens up completely new possibilities for explorers."
Large-scale cabin projections
The most striking feature of the Explorer cabin concept is the large-scale integrated projection system for virtual content, which extends from the window belt to almost the entire cabin ceiling in the multifunctional lounge area. Although similar features have often been seen in design studies, Lufthansa Technik had not found a suitable technology to implement them in a way that is both aesthetically convincing and certifiable. However, the company has been working with Diehl Aerospace, Diehl Aviation and Thales to develop the technology that can realise large-scale virtual cabin elements.
Lufthansa Technik's design team adopted Diehl's projection technology into the Explorer design and tailored it specifically to the use in the VIP cabin. The small, lightweight and passively cooled projectors have been integrated into the cabin sidewall and ceiling elements, which can generate large-scale virtual scenarios. The content of the projections can be configured to individual customer tastes – from seascapes to the galaxy or whatever they enjoy – via a software solution developed by Diehl.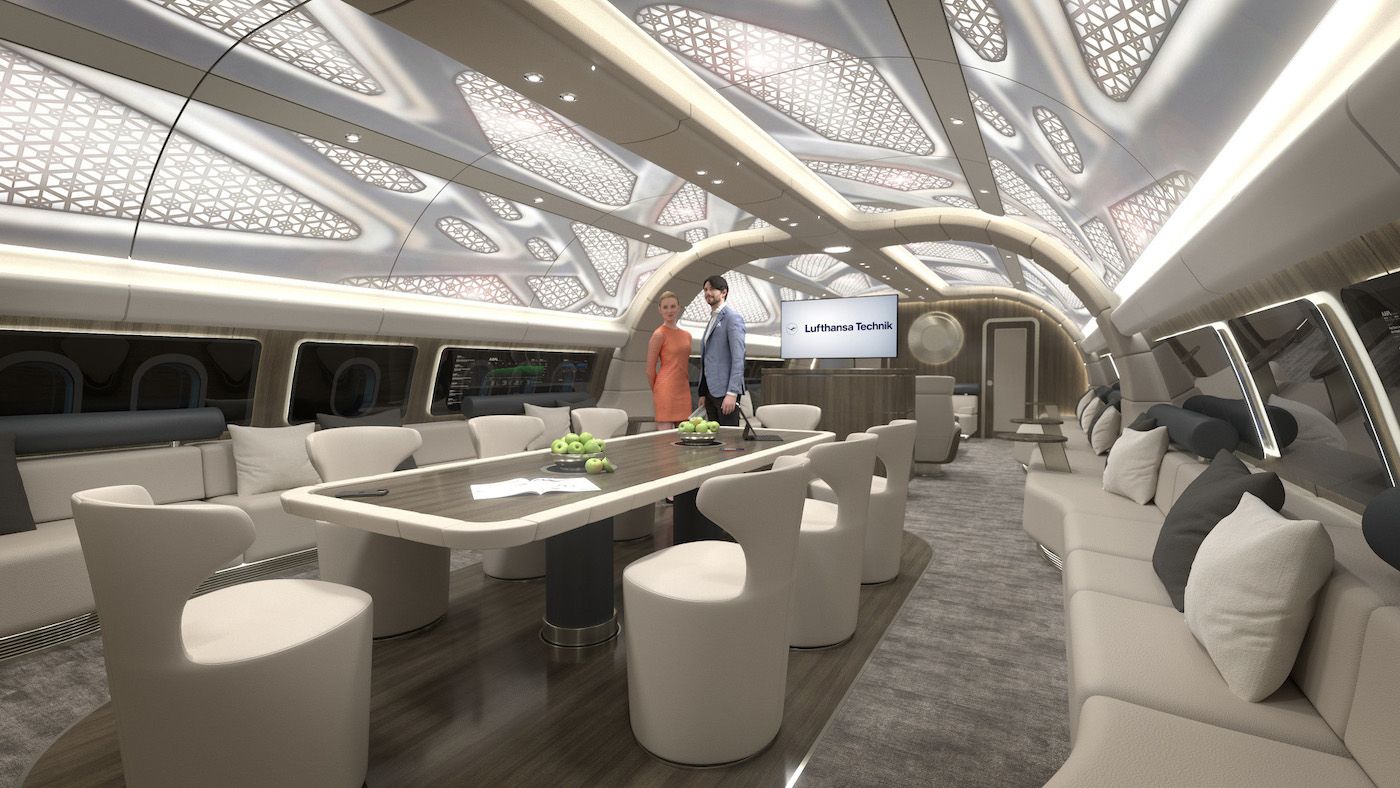 "By integrating the unique projection system from Diehl, we have created an interior that exploits the technology`s full potential for a VIP cabin," said Michael Bork, Lufthansa Technik's aircraft interior architect in VIP & special mission aircraft services. "It is optimised under technical and aesthetic aspects to provide an adequate framework for bringing a variety of atmospheres and virtual worlds to life, changing the overall look of the cabin using a fingertip."
The first teaser shown in Monaco featured an animated underwater theme. Lufthansa Technik's design team has gone beyond this for the Explorer cabin, with projections ranging from virtual day and night skies to architectural forms and even a flying discotheque. Guests may also want to relax onboard, so the design team has also created an aesthetically pleasing idle state, with inactive projectors.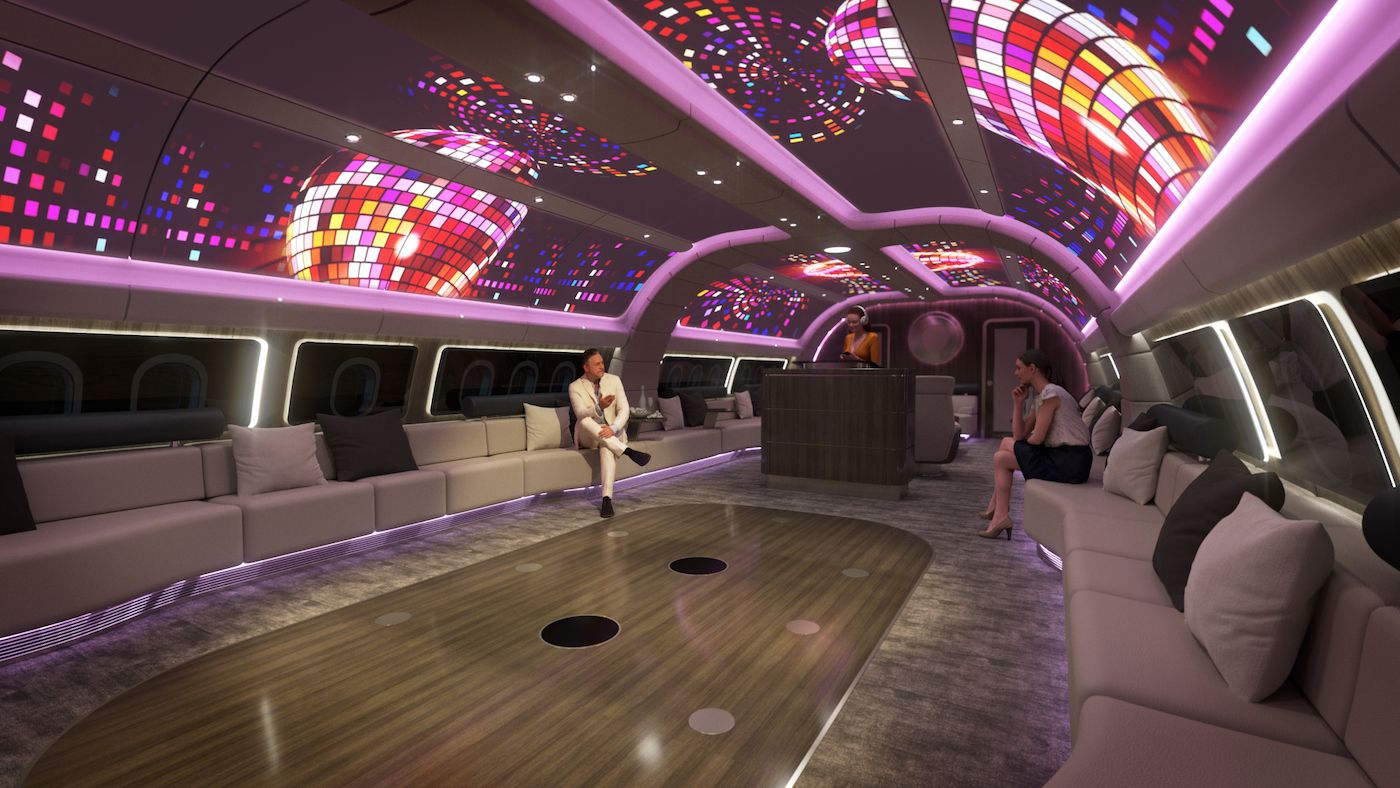 "When designing an Airbus A330 as a versatile Explorer tool – whether for private owners or also for charter agencies for this type of travel – we paid particular attention to feasibility. Therefore, our experts have already developed detailed implementation proposals for many technical features and innovations," added Jan Grube, sales director for VIP & special mission aircraft services. "A great example is the cooperation with Diehl on large-scale projections. Here we
were able to fulfil a long-held wish, so we are very grateful for this outstanding cooperation."
A 'retractable veranda'
Explorer passengers can also make new discoveries in the real world, as the floor in the forward fuselage area can extend several meters outward from the parked aircraft to form a spacious veranda.
The main deck cargo hatch on the Airbus A330 freighter, which is now also available as a retrofit solution for passenger versions of the aircraft, opens up the Explorer interior to its surroundings, and passengers can enjoy the view from the platform.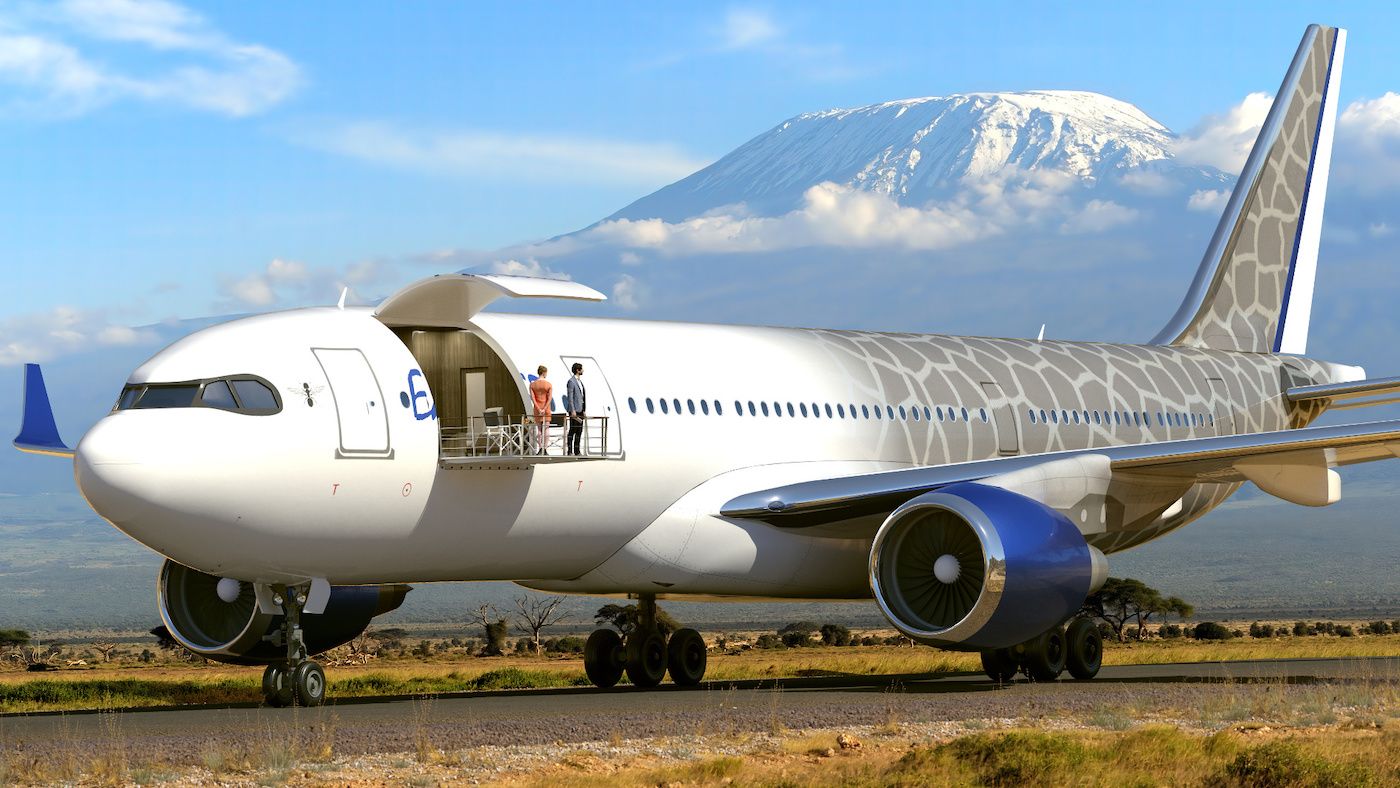 Here, too, the Explorer concept is based on superyacht design, as these craft can have a similar type of retractable element to give their passengers even more direct contact with the environment. At a height of around 4m above the apron, Explorer passengers can take in a unique view of their surroundings and of the airport, which can act as a base camp – especially as vehicles can be carried in the hold.
A lounge for car enthusiasts
On the subject of vehicles, VIPs usually have an impressive fleet. Rather than just being hidden in the hold, these cars can be attractively presented to passengers from the Mobility Lounge, found in the aft section of the lower deck, and which can be viewed through a glass floor from the main deck. This special area is being designed in cooperation with Brabus, a manufacturer of high-performance and luxury automobiles, best known for its work on making the fastest Mercedes-Benz models even faster. Passengers can access the Mobility Lounge via a staircase from the main deck, even during flight to admire the styling, or even just to vacuum the carpets.
Lufthansa Technik's engineering and design teams have also been working to incorporate multifunctional areas, to maximise use of the cabin. Thus, in addition to the 'typical' VIP spaces such as bedrooms and guest rooms, bathrooms, offices, dining and conference areas, there are also some new design ideas.
For example, there is a multifunctional room in the rear of the aircraft, which could be a gym space for example, designed to meet the needs of world explorers who want to indulge in fitness and wellness on long-haul flights. For emergencies, this space could be converted into a flying hospital room.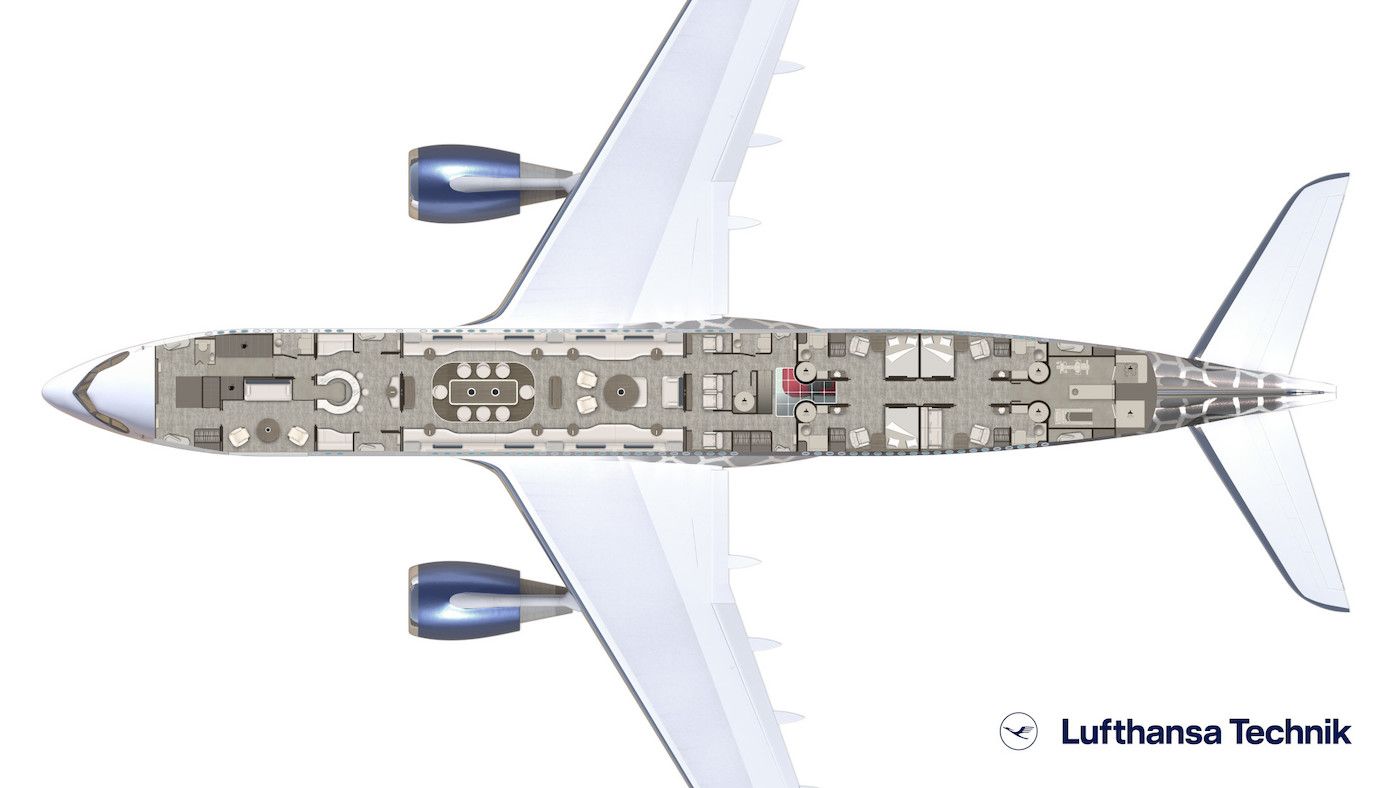 The design configuration being showcased by Lufthansa Technik's in Dubai is designed for up to 12 VIP passengers, perhaps as it opens up the most space for amazing features and designs. However, further modular variants for up to 47 passengers are also possible, which can include, for example, a much more individual owner's module with a master bedroom, bathroom and office, or larger areas for the crew or entourage.
The flexible design concepts also provide inspiration for Lufthansa Technik's team, with the Explorer serving as an 'ideas laboratory' to further develop and present other ideas and technology concepts.
If you are attending Dubai Airshow next week, an animated film and extensive illustrations showing the current stage of the concept's development will be shown by Lufthansa Technik at booth #1250. Diehl´s experts will also be available at booth #849 to answer questions regarding the projection technology for the virtual ceiling content.