Four ex-lease aircraft joining an airline wouldn't usually spark significant interest, but in the case of Virgin Atlantic, taking on four ex-Air Berlin A330-200s is proving an interesting project. When these aircraft join the airline's fleet in November, they will not only help resolve operational issues relating to problems with the Trent 1000 engines powering its Dreamliner fleet – they will also present an opportunity for the airline to explore new ideas for Upper Class cabin design ahead of the introduction of its A350s in 2019.
To get the full story, we spoke to Daniel Kerzner, Virgin Atlantic's vice president of customer experience. Asked what drew the airline to the Air Berlin aircraft in particular, given a wide range of leasing options, he explained, "The aircraft have certain attributes that, for us, were really important. The economy cabins have a very consistent and very solid, good economy seat product. The aircraft's business class seats are all lie-flat and all have aisle access – attributes that our customers are looking for. The aircraft also come with wi-fi installed, which complements the rest of our fleet. Those attributes are what made these aircraft in particular attractive to us."
The business class seats in question are Air Berlin's Solstys seat from Stelia Aerospace, a popular model flying with several other airlines around the world. However, while Virgin Atlantic has opted to retain this model for its operations, it is not retaining those specific seats. The A330-200 project is not a mere matter of refurbishing seats in the airline's trim and finish: the airline has ordered new, mildly customized versions from Stelia, with modifications including additional table and stowage space. Given the airline has existing bespoke Upper Class seat designs for the A330, why has it not opted to fit them?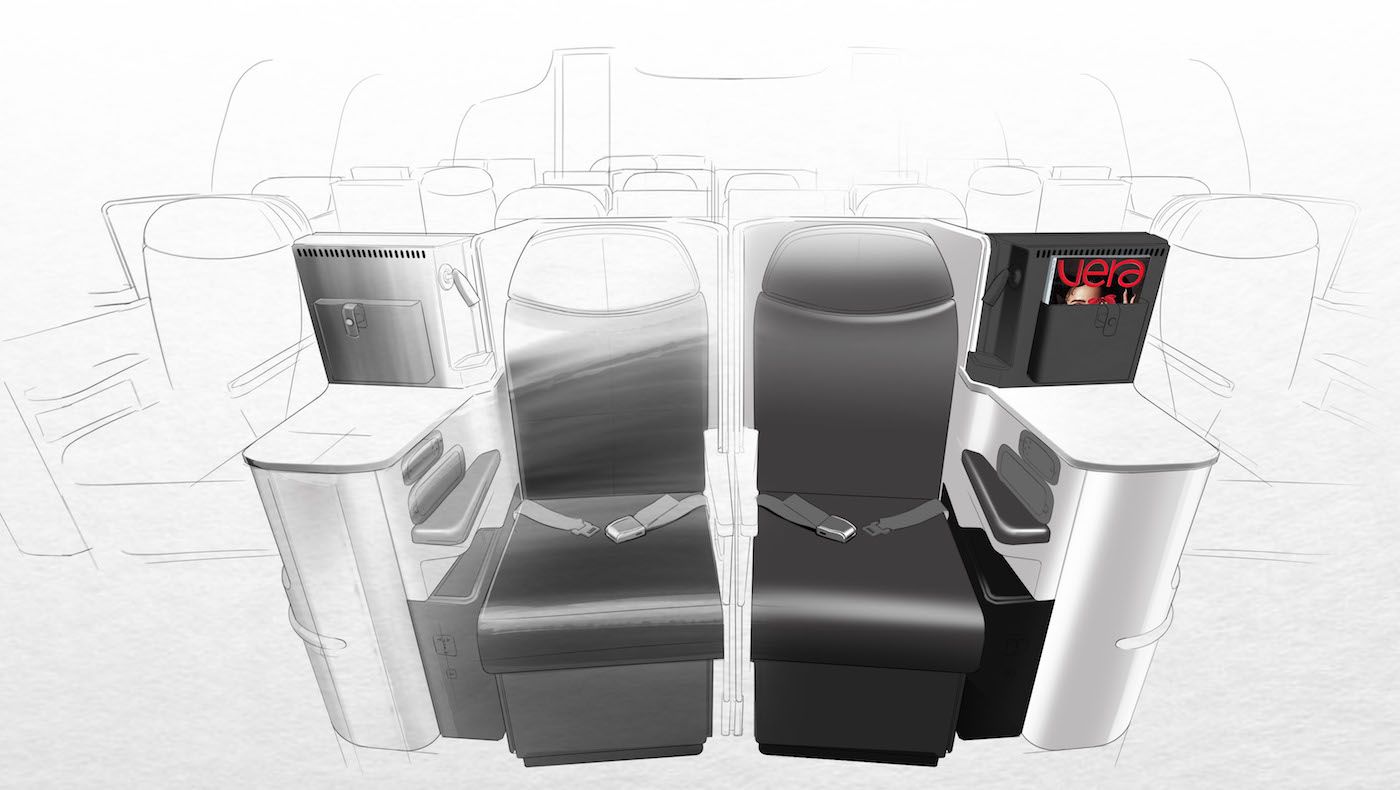 "The decision was based on what we could put on board the fastest that would to give our customers the best experience that we could," explained Kerzner. "And of course there are various limitations for seat production in terms of the speed to market. If we think about our A350 seats [Kerzner would not reveal details yet, but watch this space], those seats are a multi-year process in terms of development, design and certification in advance of launching later next year."
"From my standpoint, given the options that are available to us for this aircraft, [Solstys] was the absolute best seat on the market that we could put on the aircraft. It's a combination of timing, and working with a vendor that we haven't had the opportunity to work with before.
"It was an opportunity to put a best-in-class seat on it that is that is consistent with the overall [Virgin Atlantic] experience across the fleet. You might have a preference if you've experienced one seat over the other but I think overall, from a customer perspective, they'll just see it as a really great premium seat that's consistent with the rest of our product."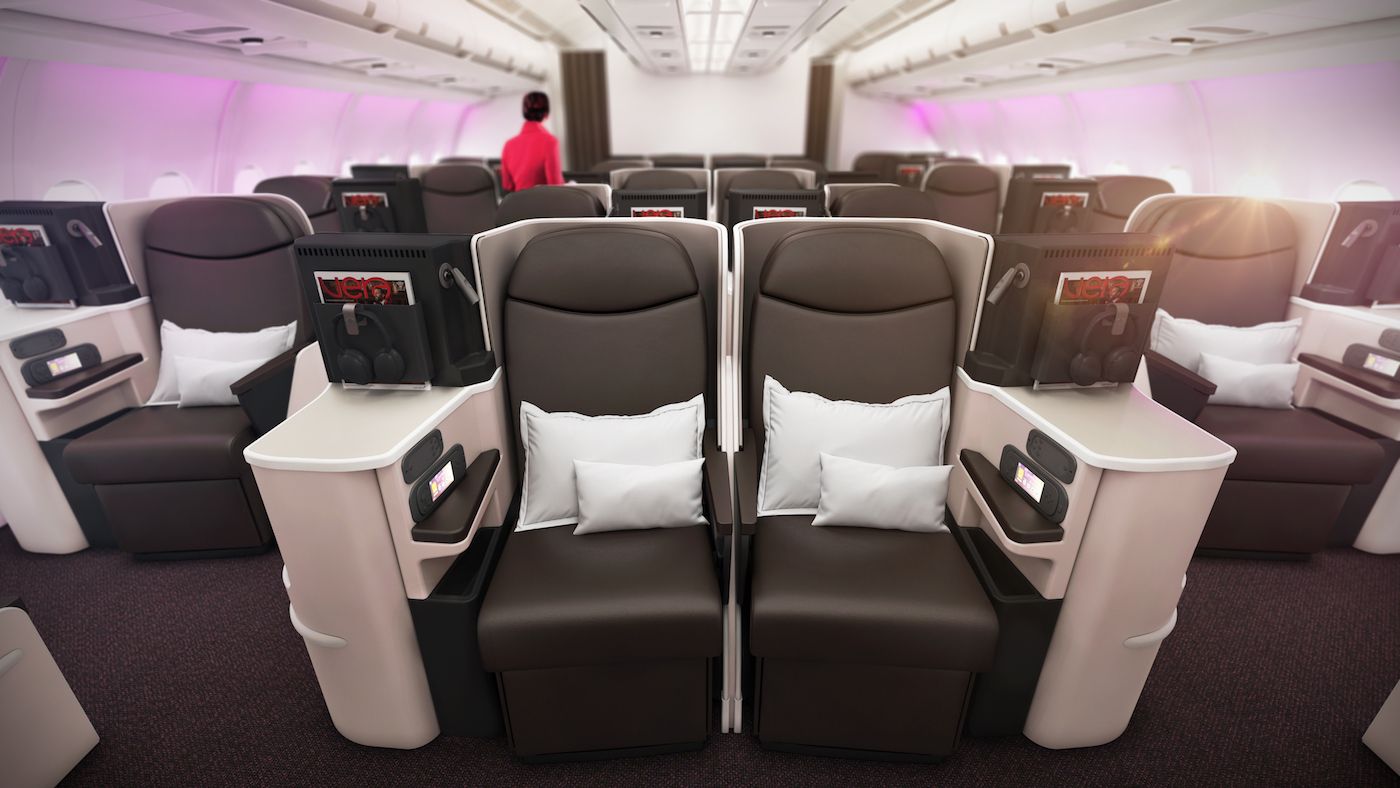 Never a brand to shy away from an opportunity to inject a little cheekiness into its product marketing, Virgin Atlantic has some fun names for the various seat types created by the Solstys LOPA, namely Love Suites (the three doubles with central paired seats, which can form double beds – see diagram below), Corner Suites (window seats) and Freedom Suites (aisle seats).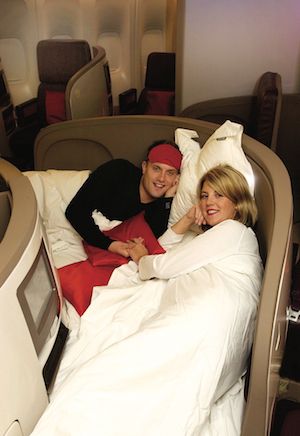 The Love Suites are being introduced at a time when double beds in business class are becoming popular, with Singapore Airlines, Qatar Airways and others introducing twin product. However, Virgin Atlantic was well ahead of the curve with this trend, having introduced the commercial airline industry's first double bed in 2004 when it fitted four pairs of double Upper Class Suites on two of its Boeing 747-400 aircraft. The suites, located in the center herringbone section, remained separate until cabin crew were requested to create the double space. They then unclipped the middle partition to create a 2 sq.m space, which could be used as a double seating area, or a sleeping space with the beds deployed.
The double suites being launched this year also help solve an inconsistency of these A330-200s compared with the rest of the Virgin Atlantic fleet: the lack of an onboard bar. Kerzner states that bars will remain a part of the Virgin Atlantic Upper Class experience for the foreseeable future, but fitting a bar to these particular aircraft was simply not feasible in a short timescale. However, couples traveling together can enjoy each other's company more easily in these suites than the herringbone suites on the rest of the fleet, reducing the need for a social space. There will also be a greater proportion of couples traveling on these particular aircraft, as they will predominantly be used on leisure routes.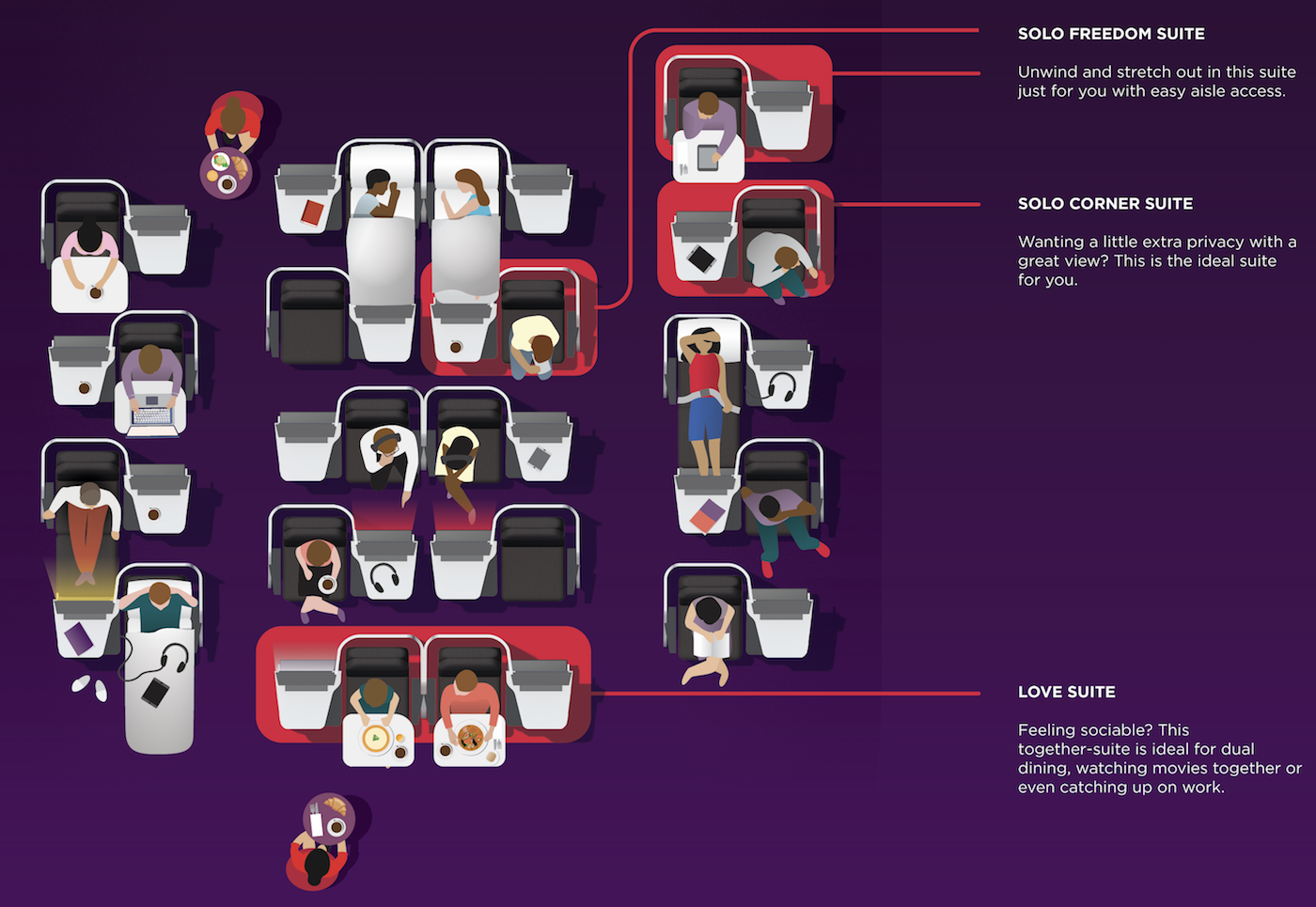 Premium economy
The biggest change to the A330-200 interiors is that they will go from two class to three class, with a dedicated 35-seat premium economy cabin being retrofitted. Again, the airline's existing seat, a customized Zodiac Reverb model (details here) has not been used, with the airline instead opting to fit the PC01 from ZIM Flugsitz, a seat that has been well received by customers including Singapore Airlines. Seat pitch in premium economy remains 38in across the entire fleet, and customers also enjoy a bespoke food and drink offering.
"It's the first time we have flown ZIM seats and we are really excited to have this opportunity to try that seat. It's consistent with our other premium seats in terms of features, look and feel, and it's a top of the line premium seat that we're very excited about," stated Kerzner.
You can read more about Daniel Kerzner's plans for the future inflight experience in the September issue of Aircraft Interiors International.
You can also see how an Air Berlin A330 becomes a Virgin Atlantic A330 in this video.
Update on April 24, 2019: MRO service provider, SR Technics has announced that it has completed the complex cabin refurbishment of the four Airbus 330-200s for Virgin Atlantic Airways in record time, including a customized trolley stowage unit, and fitting business class and premium economy seating, including IFE. Despite the tight deadline and the fact that the project took place during the busy holiday season, all four aircraft were delivered on schedule between December 2018 and January 2019.
"This has been a very successful retrofit program for Virgin Atlantic to improve our customer proposition on these aircraft," said Rick Daniels, head of cabin product & maintenance at Virgin Atlantic. "The contribution of SR Technics in delivering the full integration package, including the STC was paramount to that success. They achieved this in extremely challenging timeframes to a very high standard, and on cost. They led the program working cohesively in conjunction with Virgin Atlantic, the vendors and OEMs."