Amid growing pressure to improve the air passenger experience for wheelchair users (indeed representatives from Rights on Flights met President Biden this week to discuss the Assisted Air Travel Act, United Airlines has announced new technologies and policies to improve the travel experience for customers who use a wheelchair. The measures, expected to launch in early 2024, include a digital filter on the united.com website that helps users to determine which aircraft can accommodate particular sizes of chair.
Customers will be able to enter the unique dimensions of their personal wheelchair as part of a flight search. The search results will then prioritise flight options on aircraft with cargo hold doors large enough to accommodate that particular size of wheelchair. The sizes of cargo hold doors varies between aircraft types, so some aircraft are better able than others to handle larger wheelchairs, such as motorised models, which must travel upright.
Collecting this information about wheelchairs ahead of a flight also helps the airline's teams handle them with due care and attention. It should be noted that this initiative could benefit many people, as United carried around 150,000 wheelchairs in 2022.
In parallel, United also offers a fare rebate if a customer is unable to take their preferred flight because their wheelchair will not fit through the aircraft's cargo door. If that customer has to select a United flight with a higher-fare in order to accommodate their wheelchair, they may seek a refund of the fare difference – provided the second-choice flight is on the same day and between the same origin and destination. Customers seeking a refund of the fare difference will need to follow United's process, including completing a short form after their journey. United says it will then "promptly ensure" they receive the difference in fare after a review process.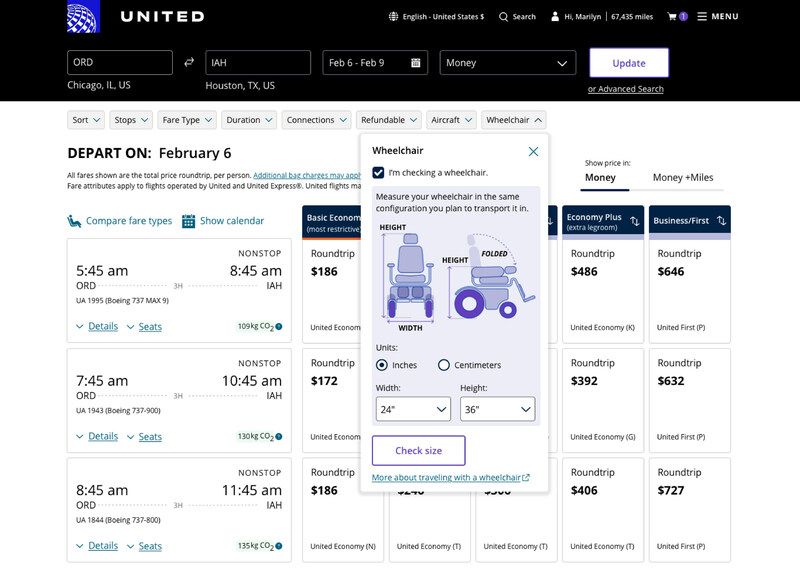 An improved airport experience
In further good news for PRM travellers with United, the airline intends to begin a six-month pilot programme at George Bush Houston Intercontinental Airport later this year, which will explore ways to better accommodate customers in the event that their wheelchair is damaged or delayed while traveling. The programme will focus on the timeframe between a customer's arrival and when United returns the wheelchair or provides an appropriate wheelchair on loan if the original is damaged.
United will collaborate with its Accessible Travel Advisory Board to explore several initiatives aimed at improving the airport experience during that timeframe, including providing specialised seating onsite and reimbursing the customer for transportation expenses should they choose to wait at a location other than the airport.
In September, United entered an agreement with the US Department of Transportation to deliver these initiatives through a mutual commitment to increase accessibility and improve the travel experience for customers who require the use of a wheelchair.
United's other recent measures to improve accessibility include:
New mobile technology for ramp agents that indicates when a wheelchair is on a flight, to help ensure they are prepared to receive and load the chair. The technology also inhibits ramp agents from closing out a flight until they acknowledge that they have loaded all wheelchairs.
In August, United became the first US airline to add Braille to aircraft interiors, helping millions of travellers with visual disabilities navigate the cabin independently and more easily. United expects to outfit its entire mainline fleet with Braille by the end of 2026.
The United mobile app was recently redesigned to make it easier to use for people with visual disabilities, through the use of increased colour contrast, more space between graphics, and reordering how information is displayed and announced to better integrate with screen reader technologies such as VoiceOver and TalkBack.
United's latest seatback IFE screens offer a range of accessible features such as closed captioning, text-to-speech controls, magnification, explore-by-touch capabilities, audio-described movies, and adjustable and high-contrast text and colour correction. As part of United Next, the airline's growth plan, the carrier expects to take delivery of about 700 new narrowbody and widebody aircraft by the end of 2032, all of which will include the latest in seatback screen entertainment options.
Through Bridge, United's business resource group for people of all abilities, employees help create a workplace environment where all can strive to achieve their maximum potential.
Such initiatives have been recognised; indeed this year, for the eighth-straight year, United was named a Best Place to Work for Disability Inclusion and earned a top score on the Disability Equality Index benchmarking tool, a joint initiative of the American Association of People with Disabilities and Disability:IN, to advance the inclusion of people with disabilities.