Australia's national carrier, Qantas has confirmed an order for 12 Airbus A350-1000s to enable non-stop flights to Australia from any other city in the world, including key destinations such as New York and London, from late 2025.
Qantas enjoyed strong demand for its direct Perth to London flights when they began in 2017, and CEO Alan Joyce says that with regard to such flights, "all signs point to that demand increasing post-Covid". He also notes that while the Perth-London route is the longest route on the airline's network, it also has the highest customer satisfaction.
The incoming A350s will have a total seat count of 238, which is the lowest of any A350-1000 currently in service, bringing dual benefits of enabling more passenger space and reducing weight to maximise range to 8,700nm (16,100km). An extra fuel tank will also be added to the aircraft.
While these direct flights will cut up to four hours off total travel time compared with one-stop options, passengers will be spending up to 20 hours in the aircraft, so the cabin designs require even more attention than usual. Qantas has shared its preliminary concepts for the A350 cabins, including luxurious first-class suites with a separate bed, recliner lounge chair and personal wardrobe. The separate bed and seat help comfort and variety during a long flight, with the seat providing a great option for working or watching the huge IFE display.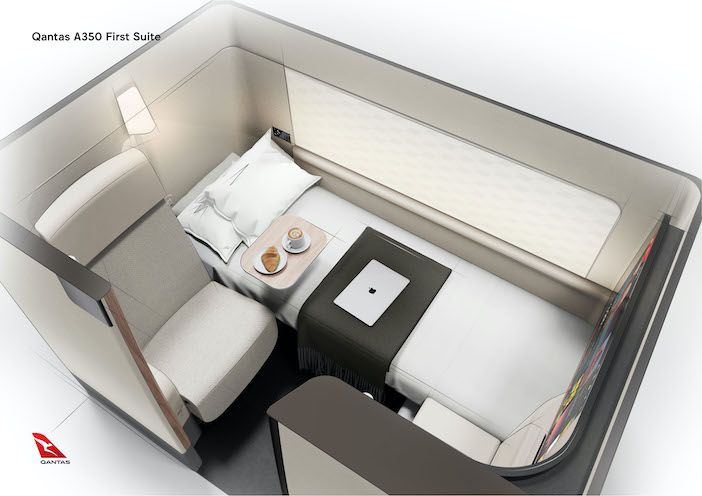 The A350s will also include next-generation business-class suites, new premium economy seats at a 40in pitch, and new economy seats at a 33in pitch. More than 40% of the cabin is planned to be dedicated to premium seating.
Qantas says the cabin interior and service designs are influenced by medical and scientific research carried out on three Project Sunrise research flights from New York and London to Sydney in 2019 using Boeing 787-9s.  A notable outcome is the dedicated Wellbeing Zone located in the centre of the aircraft (between premium economy and economy), where passengers can move and stretch (videos on digital displays can provide guidance) and access a self-service snack station. Unlike some social spaces such as Virgin Atlantic's A350 Loft, there is no seating in this zone, but then passengers will likely be keener to stand or move) on such long flights.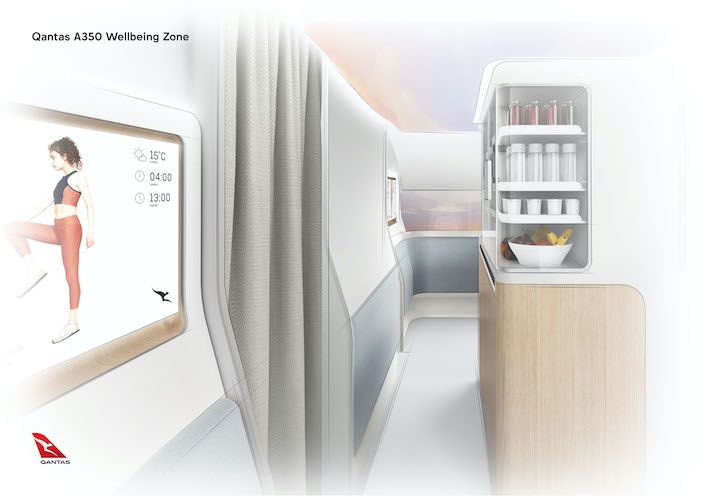 "The Qantas A350 travel experience will be truly exceptional, particularly across the premium cabins," said Qantas Group CEO, Alan Joyce. "Our First and Business Class seats will set a new benchmark for premium long-haul travel."
Narrowbody orders
In other news, Qantas has also announced the renewal of its narrowbody jets as part of Project Winton, a modernisation programme for its domestic fleet, with firm orders placed for 20 Airbus A321XLRs and 20 A220-300s as its Boeing 737s and 717s are gradually retired.
The new aircraft will be used by the Qantas Group on domestic services across Australia, which can extend to over five hours. In addition, the A321XLR offers the range capability for flights from Australia to South East Asia, enabling the Qantas Group to open up new direct routes. The A220 and A321XLR fleets will both be powered by Pratt & Whitney GTF engines.
This agreement is in addition to the existing order for 109 A320neo Family aircraft, which includes the A321XLR for the Qantas Group low-cost subsidiary, Jetstar.
"The A320s and A220s will become the backbone of our domestic fleet for the next 20 years, helping to keep this country moving. Their range and economics will make new direct routes possible," Alan Joyce. "The Board's decision to greenlight what is the largest aircraft order in Australian aviation is a clear vote of confidence in the future of Qantas."