Norwegian Air's departure from the transatlantic market, represents a great opportunity for JetBlue to realise its ambition of entering this lucrative sector, particularly the New York to London route – the busiest city pair in the world. There is strong competition among the cross-pond carriers, but JetBlue plans to stand out and "shake up" the transatlantic market when it launches flights from NYC and Boston to London later this year with the A321LR, both through its upgraded Mint Studio business class based on Thompson's VantageSOLO platform, and a just-revealed enhanced economy class offer.
"We know all too well the pain points of international flying – the dreaded centre section, the 'choice' of assembly-line chicken or beef, and the lack of connectivity," said Jayne O'Brien, JetBlue's head of marketing and loyalty. "JetBlue is ready to change all that".
The airline has worked on several inflight experience initiatives for its A321LRs, but let's consider the main act first: the cabin. JetBlue is launch customer for VantageSOLO, and also the global launch partner for the all-new Airspace by Airbus cabin interior for the A321LR, designed to bring the narrow-body inflight experience more in line with that of twin-aisle cabins. This aim is achieved through features such as larger overhead bins, customised LED mood lighting to reduce jetlag, and enhanced personal space and comfort.
For example, the redesigned sidewalls of the Airspace cabin open up additional shoulder room, with the sense of space further enhanced by the larger window bezels. Some individual JetBlue touches have been designed in partnership with Airbus, including a 'glowing ceiling' with a pattern designed by JetBlue, a redesigned entryway with bright lights and residential finishes, and subway tile patterns in the four lavatories – after all, JetBlue prides itself on being New York's 'Hometown Airline'.
The 114 basic economy seats (the Collins Meridian model) will have 32in of legroom, and a generous 18.4in width. An extra spend gives access to the four rows of 'Even More Space' seats, which are the same seats but with up to 6in of additional legroom.
The dimensions of the passenger envelope are generous for economy class, with comfort further enhanced through contoured seatbacks for additional space at knee level, and adjustable headrests, all trimmed in Tapis Ultraleather, a soft and breathable vegan leather material. Customer convenience has also been considered, with 10.1in IFE displays, custom-designed seatback storage with mesh pockets, and in-seat power with AC and USB-C ports.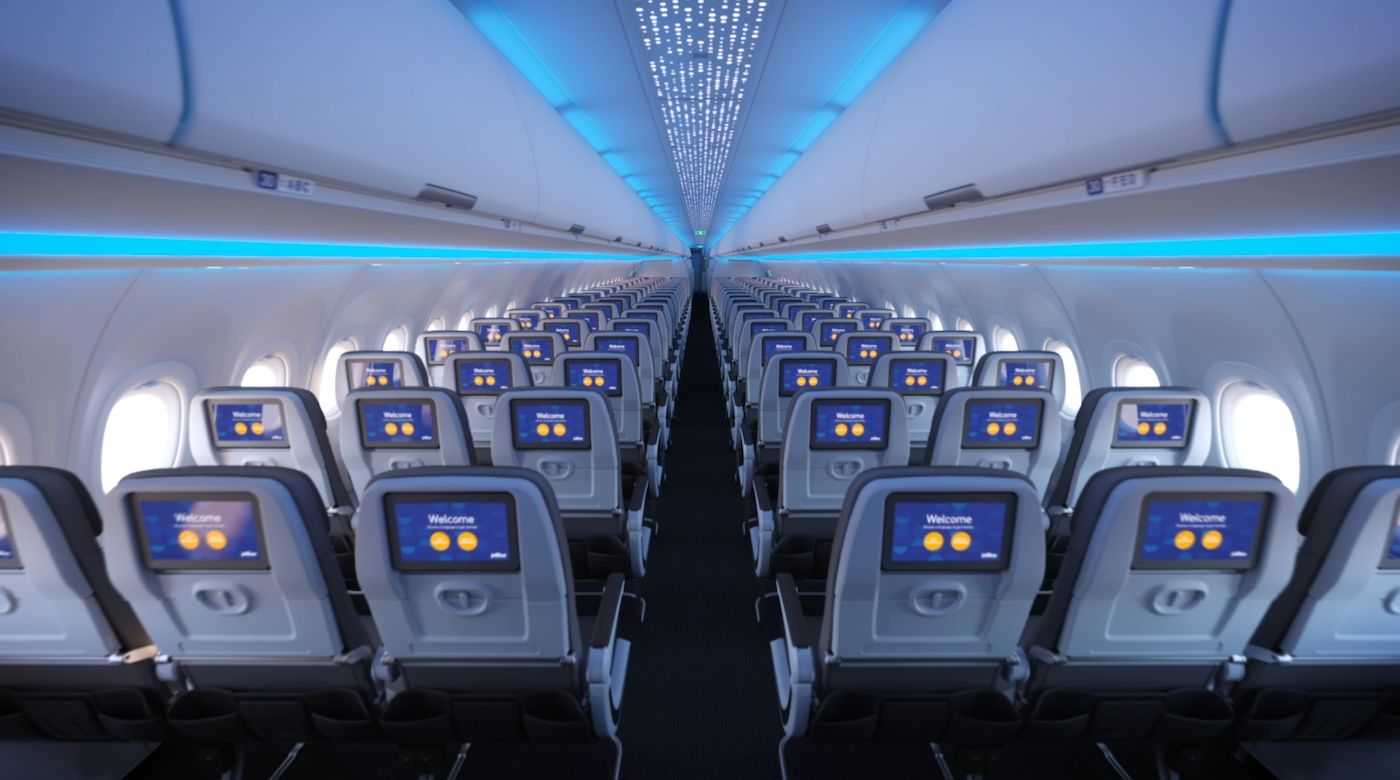 Hungry for more?
All these comfort and design features should put passengers in coach in the mood for some great inflight service, and the JetBlue team has come up with some fresh ideas. The airline has partnered with Dig, an American chain of restaurants that sources healthy ingredients locally and sustainably, from farms close to each restaurant. The scheme – 'Dig X JetBlue' – introduces a 'build-your-own' inflight dining concept which allows customers to customise their own meal, selecting options via the seatback screen. This may sound like an expensive inflight purchase option, but it is actually JetBlue's first complimentary meal service in economy class.
The menu will feature fresh and seasonal proteins, vegetables and grains sourced in part from minority and women-run farms, as well as Dig Acres, Dig's own farm in Chester, upstate New York. Flyers begin by choosing one of three main selections, including a protein or vegetable that comes with a base, and two out of three hot and chilled side options. Example main menu items include a roasted chicken thigh over a base of brown rice with herbs and spiced eggplant over coconut cauliflower quinoa. That may sound pretty hearty, but two sides can be added, such as mac and cheese or a mixed heirloom tomato salad. For morning departures, the menu will include a mix of sweet and savoury breakfast dishes, including a mixed-berry bread pudding and citrus salad with honey. Continuing the healthy theme, the meals will be served in reusable containers, with cutlery made from a natural polymer.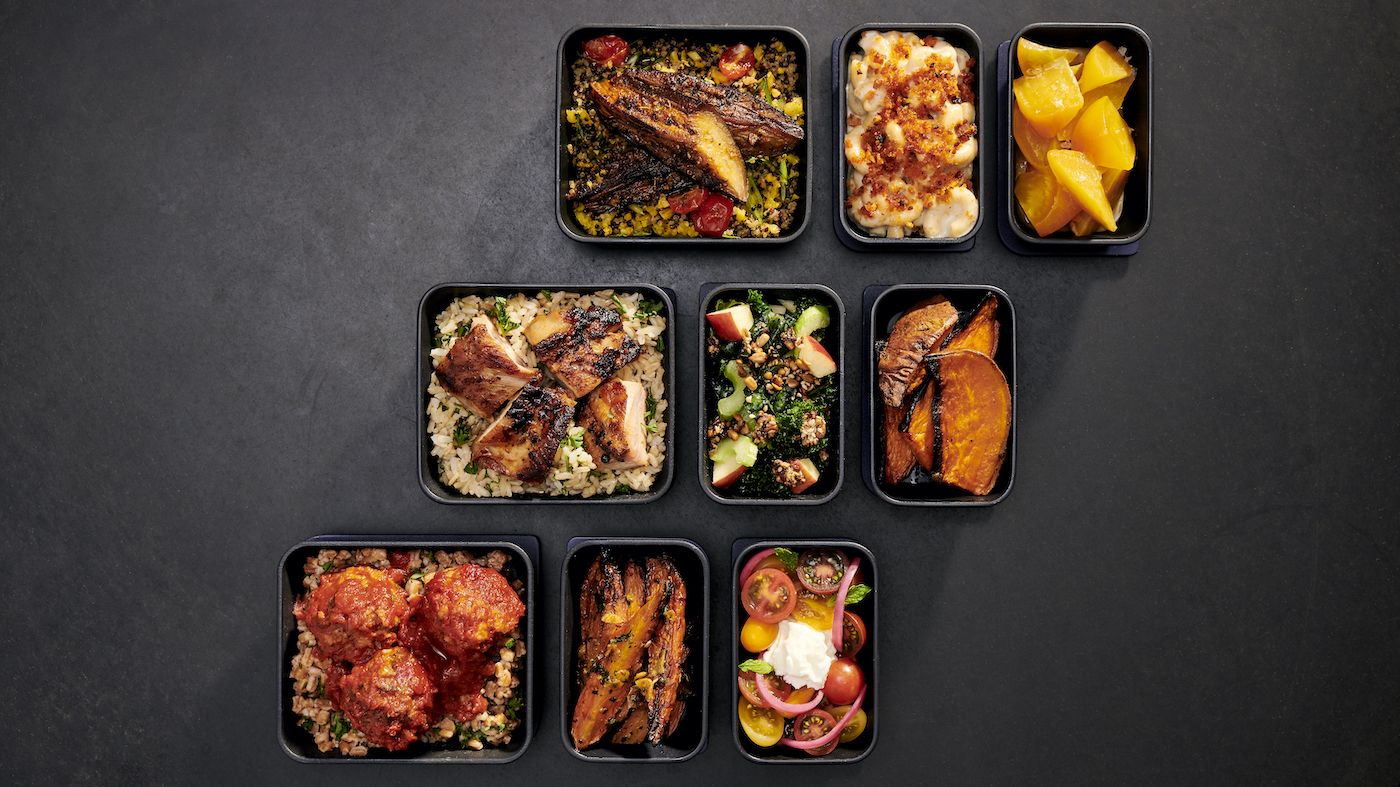 Still hungry? Economy passengers can also access the onboard pantry and help themselves from the snack basket, order a dessert, and wash it down with complimentary soft drinks, coffee, tea, beer, wine and other alcoholic options.
"Great food doesn't have to be limited to the premium cabin, and our customers in core also deserve a dining experience that is thoughtfully prepared and offers choices," said Jayne O'Brien. "Dig has earned a big following in New York, Boston and Philadelphia, where customers love the fresh ingredients and customisable concept. We wanted customers in the air to have the same freedom to design their own meal, just like they would if they were dining at a Dig restaurant."
Keeping connected
Flyers can Instagram their meal, stream IFE content or catch up with work via the Thales Avant IFEC systems with ViaSat-2 connectivity. Like the meals, JetBlue will offer the service free of charge, with unlimited high-speed wi-fi on all transatlantic flights, from gate to gate.
Customers can watch a range of live international TV channels (including the Sport 24 live sports channel), on the 10.1in, 1080P high-definition seatback screen at every seat, as well as a 3D flight map and a library of on-demand content such as full seasons of shows, hundreds of movies, and premium content from HBO and Showtime. They can also connect their own devices with the displays, for use as a remote or gaming controller, or to create a multi-screen entertainment experience.
Details on fares, schedules and which London airport will be served will be announced at a later date.