Emirates has taken the limelight at Dubai Airshow 2023 with huge orders for aircraft and aircraft cabin hardware.
The UAE airline has placed an order for an additional 95 widebody aircraft, bringing its total to 295 aircraft. The order, for 55 Boeing 777-9s, 35 B777-8s (with GE-9X engines) and an expansion of its previous order for 30 Boeing 787-9s – increasing its commitment by five aircraft (a total of 15 B787-10s and 20 B787-8s. The orders, worth an additional US$52 billion (approximately AED 191 billion), have been placed to support Emirates' growth plans and to help it maintain a modern and efficient fleet.
His Highness Sheikh Ahmed bin Saeed Al Maktoum, chairman and chief executive of Emirates Airline, explained at the signing that these additional aircraft will enable Emirates to connect more cities to Dubai, supporting Dubai's D33 economic agenda which aims to double the size of Dubai's economy by 2033. The aircraft will help add 400 cities to Dubai's foreign trade map over the next decade. He stated that he expects Emirates' fleet to grow to around 350 aircraft by the early 2030s.
The first 777-9 from the previous order is expected to join Emirates' fleet in 2025. The additional orders mean that Emirates will continue to receive deliveries of new B777-9s until 2035. With the new order, Emirates also becomes the number one customer of the B777-8, with the first aircraft expected to be delivered in 2030. The new B777-9s and -8s will replace Emirates' decommissioned B777-300s.
Emirates has also awarded a series of contracts awarded to Safran, worth over US$1.2 billion combined. This includes a US$1 billion deal (list price value) for latest-generation seating for its new fleet of Airbus A350s and B777-9s, and for provision of seats in Emirates' current B777-300 and A380 cabin retrofit programme.
The agreement includes business, premium economy and economy class seats for Emirates' A350s, and business, premium economy and economy class seats for the B777X-9s.
The deal also represents a significant export order for a French company, and is part of Emirates' ongoing investment into France and Europe.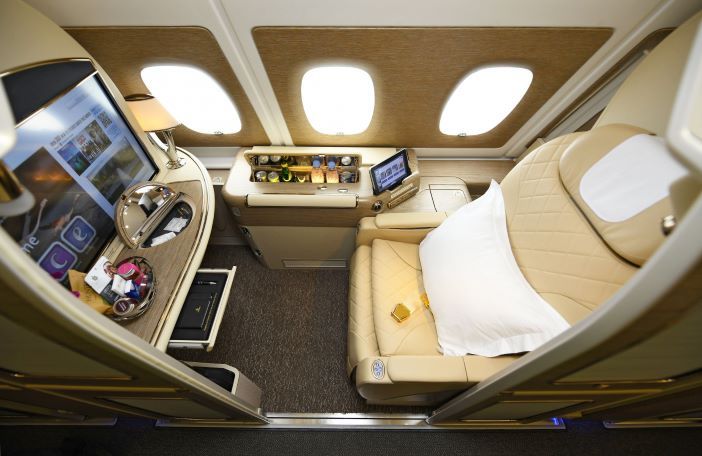 Sir Tim Clark, president of Emirates Airline, said of the seating contract: "Safran is a key partner for Emirates and we're working closely to reimagine and elevate our future cabins with smart design and the latest technologies. These have been decisive factors in our selection of seat types, which will be customised for Emirates. Today's announcement is significant not only because it cements the partnership between Emirates and Safran, but also because it supports aviation manufacturing and the wider value chain in France and across Europe."
More Safran interiors hardware
In addition to seats, Safran Cabin will be providing galley shipsets to Emirates. The galleys, both for Emirates' A350 and B777-9 fleets, will come equipped with GEMini galley evacuation modules and the latest NUVO galley inserts.
Safran Passenger Innovations will be providing its RAVE AeroConnect Ka-band systems to Emirates, which enable connectivity across multiple providers and frequencies. 50 of the airline's A350, 60 A380 and 50 B777X-9 aircraft will be equipped with Safran's agnostic satcom connectivity systems.
"The continuation of our 30-year partnership underscores Safran's commitment to innovative solutions for aircraft interiors, critical aircraft equipment and services to ensure the best possible passenger experience," said Safran CEO, Olivier Andriès. "Today's agreements set the stage for Safran's continued growth along with our customer, a leader in the global market. More than ever, we are looking ahead to the future."
MRO agreements
In addition to the seating retrofit contracts, Emirates has signed up for retrofit MRO work. Safran Landing Systems will perform exclusive services to Emirates for nose landing gear overhauls for the A380 fleet. Safran Landing Systems' network, which includes facilities in Singapore and France, will provide Emirates with support services covering the A380 landing systems lifecycle.
Safran Landing Systems will be supplying high-performance wheels and carbon brakes for the Emirates A350 fleet. These lightweight brakes feature a unique design that provides effective cooling for shorter turnaround times (TAT) and increased fleet availability.
Furthermore, Emirates has signed a 10-year service agreement with Safran Aerosystems, covering repair and maintenance for Boeing 777 safety and cabin systems components. Safran Aerosystems' Middle East facility is located near Al-Maktoum Airport in Dubai, and will deliver maintenance services that will enhance Emirates' operational efficiency.