As Singapore Airlines reveals the latest narrowbody business class cabins for its Boeing 737-8 fleet, AVIC Cabin Systems (ACS) has shared details of its partnership in the project. SIA's B737-8 aircraft will have 154 seats in two classes: 10 in business class and 144 in economy.
Singapore Airlines has invested around S$230 million on the development, design, and installation of the new cabin products, aiming to raise the standard for short- and medium-haul travel onboard its narrowbody aircraft.
Lee Lik Hsin, Singapore Airlines' executive VP commercial stated, "This significant investment demonstrates Singapore Airlines' commitment to maintaining our leadership position in the airline industry. As air travel recovers, our customers can continue to enjoy world-class products and award-winning service across our fleets."
Two ACS aircraft cabin brands have closely coordinated with each other on this project, with Thompson Aero Seating installing its Vantage fully-flat seating while AIM Altitude has provided the accompanying front-row monuments.
Lee Lik Hsin said, "This is the culmination of three years of innovation and hard work, involving extensive customer research and close partnerships with designers and suppliers. As a result, we can now offer customers a premium travel experience across our entire full-service network, no matter how long or short their journey."
The Vantage business class seating platform has a unique layout, a forward-facing configuration with alternating rows of double and single seats (2-2, 1-1, 2-2). This layout maximises seating density in the cabin while offering the expected levels of passenger comfort. The single seats (12B and 12J) provide extra privacy, while the double seats are great for passengers travelling together. A nice touch is that the armrests on the aisle-side double seats can be lowered to allow easy access for customers requiring extra aid.
The 10 business class seats on each aircraft have a 44in seat pitch, seat width of up to 22in, and a 76in fully flat bed.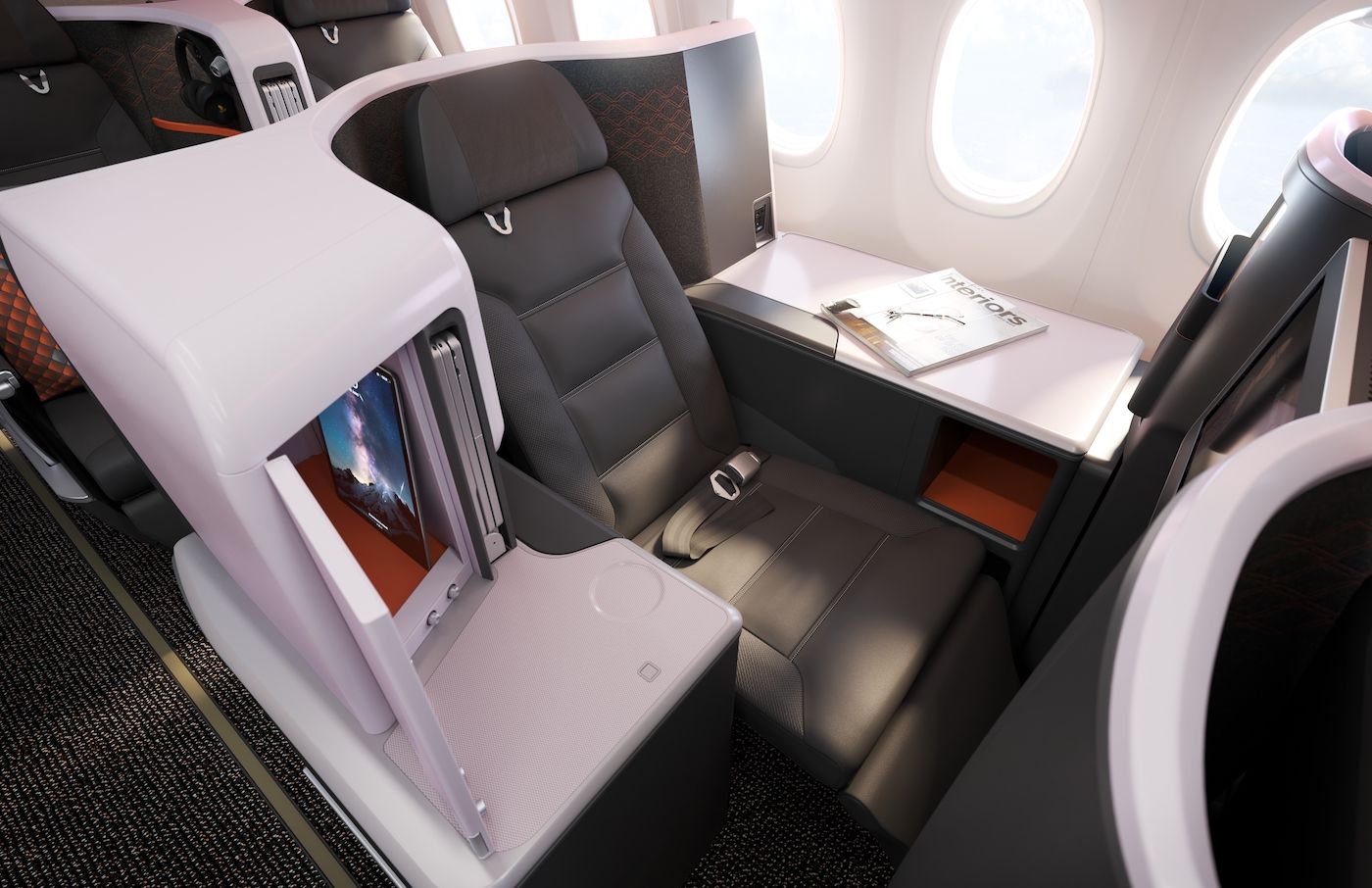 The Vantage seats have been customised by Thompson for Singapore Airlines, in conjunction with Factorydesign, a London-based design house. A 'pink champagne' and anthracite colour scheme has been chosen for the seat trim, mixed with burnt orange accents to give the seats a sophisticated, fresh feel. Factorydesign also worked with AIM Altitude to integrate the seat colours and finishes with the front-row monuments. The seat cushions and covers have the same soft furnishings as those found on the airline's medium-haul aircraft, for brand consistency.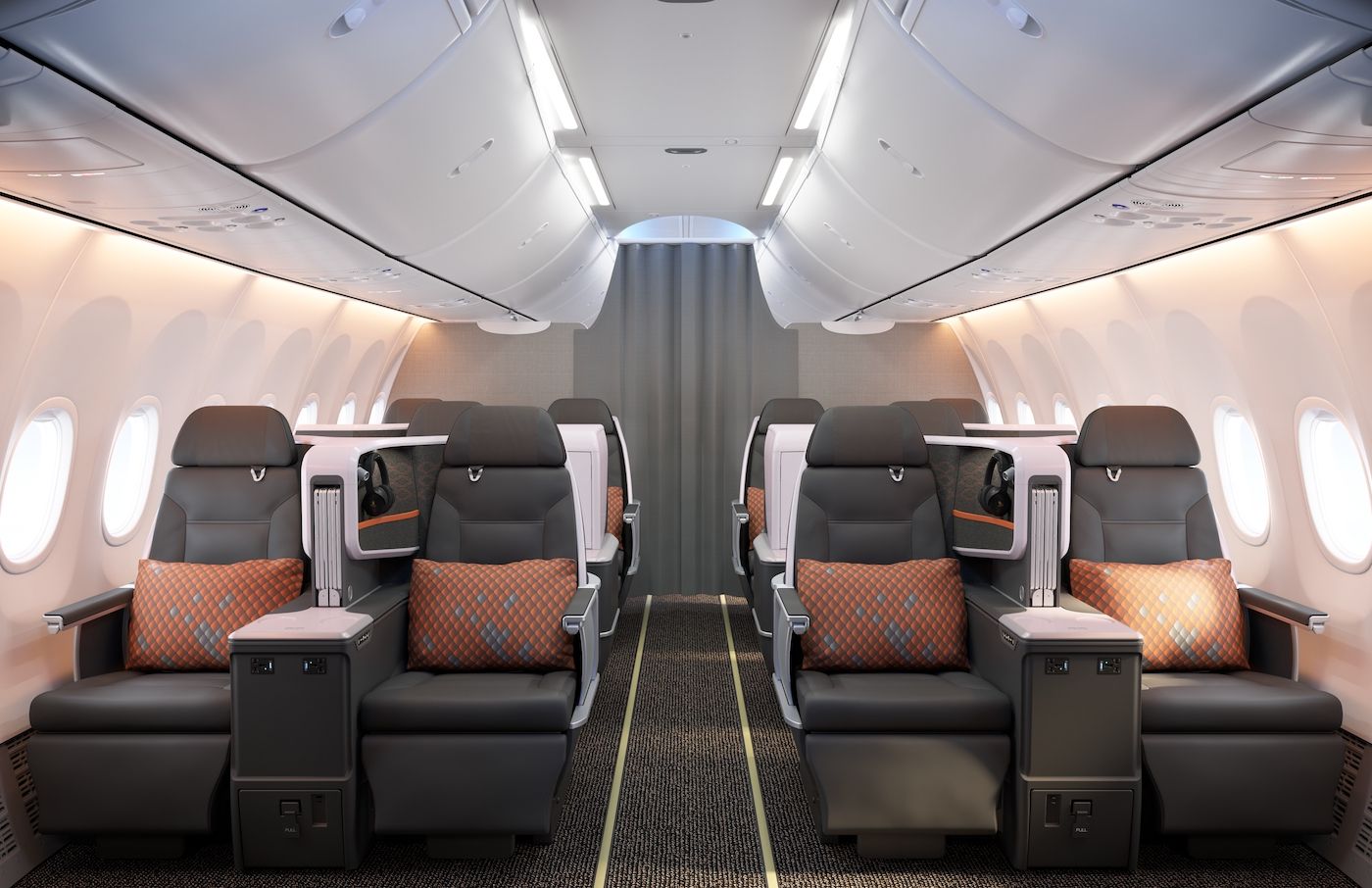 Andy Morris, VP commercial at AVIC Cabin Systems, is pleased with the Singapore Airlines project: "The design and layout of the seats make the single-aisle Boeing 737-8 feel spacious, and the colour scheme, materials, and optional extras selected by Singapore Airlines have given an extra touch of luxury. The Vantage is such a versatile seat, with many optional features and customisation opportunities."
The seats also feature 16in Panasonic X-Series seatback IFE systems, showing KrisWorld IFE content, complemented by a new state-of-the-art 3D flight map, inflight wi-fi services and mobile data connectivity services.