Embraer reports that it delivered 43 jets in Q3 2023, which represents an increase of 30% compared to Q3 2022 when 33 aircraft were delivered. Commercial aviation has shown what the company calls "robust delivery growth", with deliveries in the sector increasing from 10 to 15 aircraft in Q3, a 50% increase compared to the same period in 2022. There was also an increase in executive aviation, with 28 jets delivered (19 light and 9 medium), representing a 22% increase compared to Q3 2022.
Embraer has delivered a total of 105 aircraft to date in 2023 (39 commercial aircraft and 66 executive jets), which is a 33% increase compared to the same period last year when 79 jets (27 commercial aircraft and 52 executive jets) were delivered up to the third quarter. For the second quarter in a row, Embraer saw a double-digit delivery growth: in Q2 this year, the company's deliveries grew by 47% compared to the same period in 2022.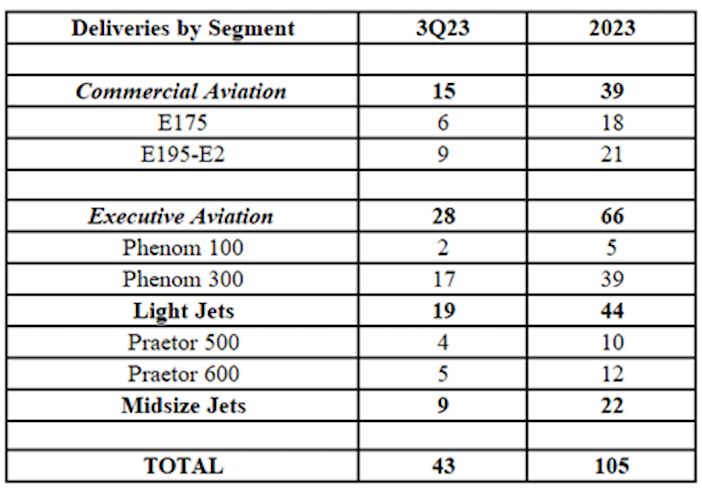 The firm order backlog ended the Q3 period at US$17.8 billion, which is US$500 million higher than in Q2 2023. This volume represents the highest level of the company's backlog in one year.
The commercial aviation backlog rose from US$8 billion to US$8.6 billion compared to Q2 2023, with 42 aircraft sold by September. As part of this, SkyWest ordered 19 new E175 jets for operation in the United Airlines network, adding to the 90 E175 jets that SkyWest is already operating with the airline. The 70-seat aircraft will be delivered in a three-class configuration. This deal is part of the Q3 backlog, and deliveries will begin Q4 2024.
Another important deal in this quarter was with Luxair. The Luxembourg-based airline ordered four E195-E2s, including two purchase options and three purchase rights for additional E2 jets. The deal also includes conversion rights for the E190-E2, if requested by Luxair. The first delivery is scheduled for the fourth quarter of 2025.
Air Peace, West Africa's largest airline, also placed a firm order in Q3 for five Embraer E175 jets. Deliveries of the 88-seat jets will start in 2024.
Another customer, Binter, based in the Canary Islands, placed another firm order for six Embraer E195-E2 aircraft. This order will bring Binter's E2 fleet to 16 jets when delivered. The deal was announced in June 2023 and was included in the Q3 2023 backlog.
American Airlines recently signed a firm order with Embraer for four new E175s, which will be included in Embraer's Q4 2023 backlog. The aircraft will be operated by American's wholly owned subsidiary Envoy Air. With all deliveries due in Q4 2024, Envoy's all-E-Jet fleet will grow to over 150 aircraft by the end of 2024.
Executive aviation
Embraer's executive aviation division saw a strong backlog at US$4.3 billion, with a book to bill of 1.5:1. The business unit continued its sales momentum, seeing sustained demand across its entire product portfolio and strong customer acceptance in both retail and fleet markets. A big moment came at NBAA, where Embraer announced the Phenom 100EX, the company's newest model. And in August, the Phenom 300 series became the most-flown business jet in the USA, with the family surpassing two million flight hours.
In October Embraer announced that it has successfully tested the Phenom 300E and Praetor 600 on 100% neat sustainable aviation fuel (SAF). The tests, with one engine running on 100% SAF, were performed at Embraer's Melbourne facility and provided insight into systems' performance when using blends of up to 100% SAF.
Embraer's Services & Support division also reported a good result, with its backlog rising to US$ 2.8 billion in Q3. This is the highest backlog volume ever recorded in the business unit.