Thompson Aero Seating has officially opened its Dynamic Test Facility, which forms part of its Thompson Engineering Centre in Banbridge, County Down, Northern Ireland. The facility, which represents an investment of over £7.5million (US$9.1m), will enable Thompson to certify new products for airworthiness at its own premises instead of at third-party facilities the US and Europe. It will also be used to carry out research and development work.
The Dynamic Test Facility will allow the company's engineers to reproduce the dynamic conditions of a full-scale aircraft crash event, in a safe and controlled environment. Thompson says that having this facility on site will gives the company "a huge advantage" in the aircraft seating industry, giving its engineers greater opportunity to explore innovative and lightweight seating designs.
"We are delighted that our new Dynamic Test Facility is officially open and operating. The significance of this new state-of-the-art facility cannot be over emphasised in terms of the opportunities it provides," said Keith Anderson, CEO of Thompson Aero Seating. "Our order book is very strong, and the growth trajectory we have over the coming years will be underpinned and supported by our new in-house capability… We are looking forward to sharing with our airline customers the positive benefits that will be achieved in terms of innovation, lead times, and sustainability."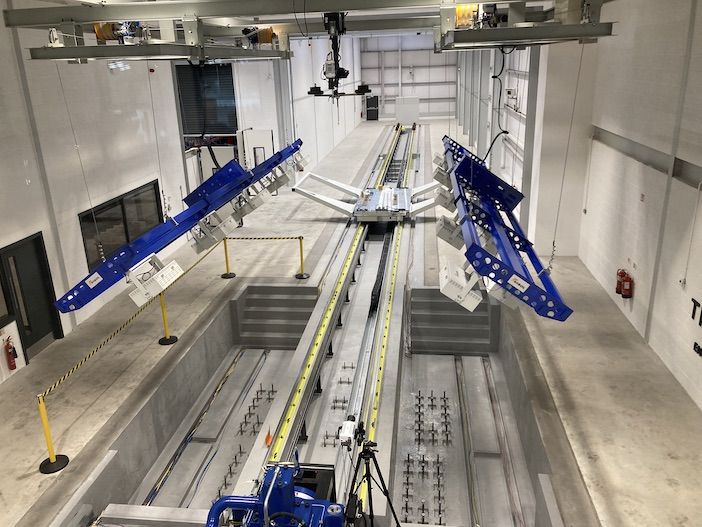 The Dynamic Test Facility adds to the capabilities of the purpose-built, state-of-the-art Thompson Engineering Centre, complementing its focus on research, design, development, testing and verification. New engineering jobs at both the Dynamic Test Facility and the Thompson Engineering Centre will become available to those interested in creating the next generation of aircraft interior products.
The majority of the backing for the facility has come from AVIC Cabin Systems, with Invest Northern Ireland part-funding the project. Support has also been received from local MPs, Councillors, business leaders, the Makers Alliance, ADS (the national trade body for Aerospace, Defence, Security & Space), and Sharing In Growth's business transformation coaches.