Electra Airways, a European charter and AMCI airline, has awarded Acro Aircraft Seating a contract to retrofit its Series 9 fixed-back economy-class seats to up to 15 Airbus A320 and A321 aircraft. The first shipset is due to be delivered at the end of 2023, for installation on the first A320 in early 2024.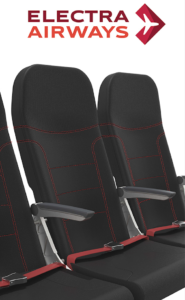 The seats will feature a custom trim and finish scheme that reflects the airline's rich red corporate colour palette. Commenting on the new onboard look for Electra's A320 family, Stefan Trifonov, CEO with the airline said, "Our collaboration has resulted in bespoke seating that not only aligns with our brand values but also meets our high standards and those of our esteemed passengers for years to come."
Trifonov also praised the sustainability of the seats, the components of which are 99% recyclable.
Neil Cairns, CEO of Acro, added, "We are delighted to have secured this latest award with Electra Airways, and look forward to starting work on its bespoke version of our Series 9 FB… Electra Airways' version of the seat looks tremendous and really plays into its stylish yet classic livery and we look forward to seeing it take to the air early next year."