26th October saw Recaro Aircraft Seating (Recaro) celebrate a decade of operations at its facility in Qingdao, China. A special event was hosted, with guests including customers, VIPs, suppliers, and the Recaro leadership team.
The celebrations included a vibrant dragon and lion dance performance, which symbolises strength and good fortune, the planting of a Golden Osmanthus tree, and an evening gala dinner where the Long Service Awards ceremony was held to recognise and celebrate the hard work of the team members who have reached 5 to 10 years of service.
"Reaching the 10-year milestone is an exciting accomplishment, not just for the Asia Pacific region but for Recaro overall," said Dr Mark Hiller, CEO of Recaro Aircraft Seating and Recaro Holding. "The resilience of our colleagues in Qingdao, especially in recent years, is what sets Recaro apart. Our presence in Qingdao is a very important part of our strategy for the region and greatly contributes to the success of our global footprint."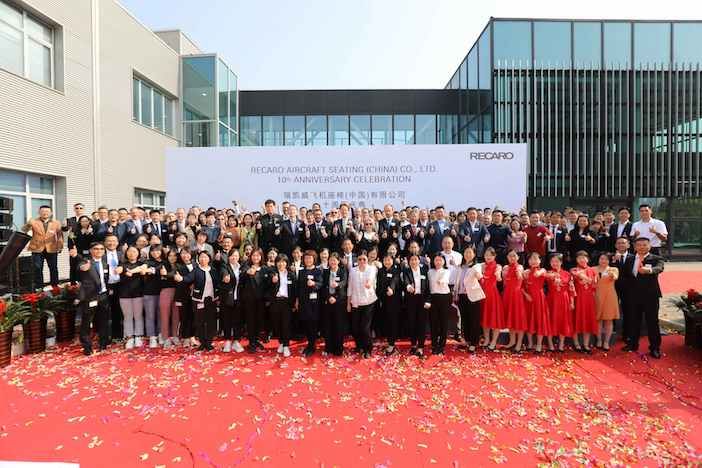 In parallel with the 10-year anniversary, the third and final phase of Recaro's space2grow expansion plan was also completed in October. The company acquired nearly 11,000 square meters of land in 2019 to maximise the availability of workshops and office spaces at the site. Construction of the new facilities took approximately 12 months.
"Reaching 10 years became even sweeter when we completed our Phase Three construction project simultaneously," said Irene Tan, general manager of Recaro Aircraft Seating in China. "This gives us the space to further expand and support the future growth prospect of aviation in China, as well as the ramp-ups in the Asia Pacific region. I look forward to this new chapter with my APAC team."
The Recaro Aircraft Seating facility in Qingdao, which first opened its doors in 2013, made Recaro the first international aircraft seat manufacturer to establish production facilities in China. Today, the facility employs a workforce of 160 people.