During a recent layover at Amsterdam Airport, I came across something entirely novel. In one of the terminals, there was a dedicated co-working area, enclosed by glass walls and equipped with long conference tables, smart blackboards, and an abundance of office chairs. This discovery sparked some intriguing thoughts.
It is widely acknowledged that the pandemic catalysed significant transformations across various industries. Nevertheless, the airline and airport sectors have been somewhat sluggish in adapting to these changes. Co-working spaces, like the one I encountered, represent a commendable effort to modernise and cater to the requirements of today's travellers, many of whom continue to juggle work responsibilities during their journeys. However, there remains a need for further progress.
As air travel gradually returns to pre-pandemic levels, it is imperative for airports to embrace change. A promising starting point could be the reimagining of airport lounge areas. Traditionally reserved for the privileged few, these retreats from the hustle and bustle of travel are increasingly accessible and affordable to a wider audience. Consequently, they should be designed with a focus on spaciousness, convenience and entertainment, to cater to the evolving needs of today's travellers.
Space and seating
With a rise in delays and cancellations, flying is becoming more of a hassle. In response, travellers are seeking out rejuvenating lounges, whether through a yearly subscription or pay-per-day usage. What's more, more airlines are offering free lounge access to frequent flyers, platinum credit card holders, and other relevant groups. However, this means there are a lot more people in the same number of lounges, leading to congestion.
Lounge operators are now implementing new ways to deal with that congestion. Take Delta Sky Club, which adopted a new rule that no user may enter the club more than three hours ahead of their scheduled flight. Other lounges reported hour-long queues winding through the airport just to enter the door. That was unheard of before the pandemic.
To cope with the surge, airport lounges must be redesigned with space in mind. This starts with careful consideration of seating arrangements and floorplans. Using modular furniture that can be easily rearranged to accommodate different group sizes allows lounges to have a dynamic layout and enables them to test different floor plans based on occupancy. Modular furniture allows workers to play a sort of furniture-based Tetris to see what fits and what doesn't.
Lounge operators will also want to give the appearance of there being more space than there actually is. It is therefore best to create an open, airy layout with plenty of natural light. I have never understood the appeal of dark, dimly lit lounges that look like a speakeasy in the 1920s. That aesthetic just makes the space appear smaller.
Create different zones
Lounge operators should consider siloing the lounge into different zones for different activities. This approach helps divide passengers to prevent crowding in any single area, and disperses passengers throughout the lounge based on their interests and desires. I would suggest having at least five distinct zones: a reception area, a work area, a quiet zone, a dining area, and an entertainment zone.
The reception area will serve as the entrance to the lounge. It should have a welcoming and efficient check-in or access control process. The area should include a dedicated concierge desk where passengers can receive assistance with their inquiries, reservations, and special requests. While technology can help accomplish many check-in requirements, you still want to retain friendly, attentive faces at the entrance.
Next, establish a dining zone complete with diverse seating options, including tables for individuals and larger groups. Provide a choice between a buffet or à la carte dining experience, offering a wide selection of food and beverage options. Additionally, allocate dedicated workspaces furnished with office tables and ample lighting, alongside designated relaxation areas adorned with ambient lighting and plush, comfortable furniture.
Install technology and entertainment
Then there's the entertainment factor. Not everyone just wants to sleep, drink or work through their layover. This is also where airports really require a rethink, through integrating new technology into the entire experience, for both efficiency and engagement.
Things like flight information touchscreen boards and destination-related content can help personalise the experience and inform lounge users, keeping them updated with their itinerary without having to go looking for help, and also generating excitement about the place they're headed to. Dynamic digital signage scattered throughout the lounge is a good way to provide news updates, weather forecasts, and local event information.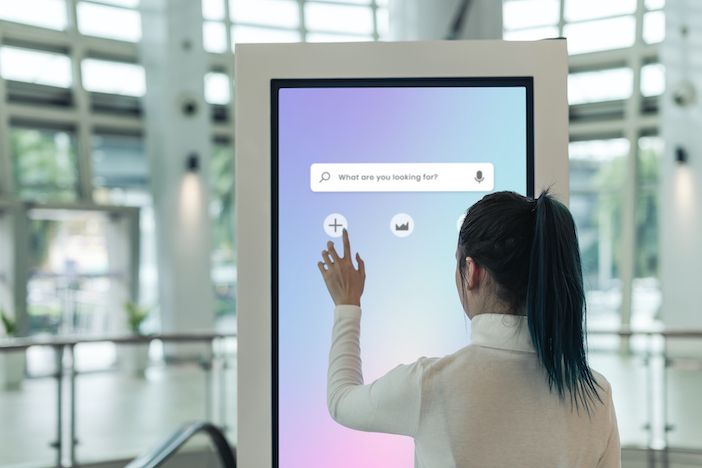 Digital menu boards and digital kiosks can also be of use, displaying menu items and current deals and promotions, while kiosks allow the lounge users to place their order in the most convenient way possible. This also reduces ordering queues dependent on limited human labour, breaking up congestion in the dining area. Guests can order at a kiosk in whichever zone they're in, and then be notified when their food is ready.
In terms of the specifics of the entertainment zone itself, think fun and relevancy. Video games and VR headsets have been implemented in some lounges. Others offer a reading library. Consider selecting entertainment that matches particular destinations to immerse the travellers in the world they're headed to, and help them forget that they're waiting in a lounge at all.
That's the underlying idea here – to make the time pass by in the blink of an eye. You don't want guests counting the agonising moments until their flight time, especially when that time is extended by flight delays. Rather, you want to provide passengers with a modern, immersive experience that meets their travel needs. If airlines can't give passengers more legroom on a flight, the least they can do is give it to them in the lounge.
About the author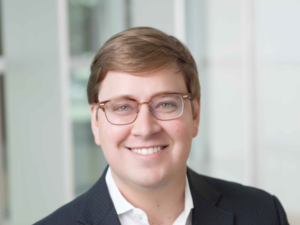 Jimmy Hunt is VP of channel sales and business development at Spectrio, a provider of digital signage solutions. He Joined Spectrio in 2019 and has been in the reseller space for about 15 years. Hunt currently leads a national team of channel account managers, focusing on building strategic channel Partnerships.