The term 'it's a game of inches' is as true of sports as it is of aircraft cabin marketing. When developing the A350 XWB, Airbus upped its game against the B787 Dreamliner by creating an internal cabin width of 18ft 5in (5.61m) in its eXtra Wide Body – 0.12m wider than the Boeing 787's 5.49m. The game has now gone into overtime, with Airbus engineers having worked  to carve out a further 4in (10.16cm) of cabin width. The result is what Airbus calls the A350 NPS (new production standard).
Specifically, the sidewalls have been re-sculpted to create an extra 2in on each side of the cabin, along the cylindrical constant section, with uprated insulation in the new sidewalls to ensure that acoustic and thermal insulation properties remain unchanged. The A350's sidewalls also remain near-vertical so that the extra width is available at hip, shoulder and head level.
Two extra inches may not sound much, but it can make all the difference. That 10-abreast economy cabin option for the A350, a proposition dreaded by some passengers, especially as carriers such as Air Caraïbes were reducing seat width to 16.5in, suddenly becomes more palatable, enabling 17in-wide seats in a 3-4-3 configuration. For airlines unwilling to drop below  a 17in seat width that were hence forced to continue with nine-abreast layouts, the ability to move to 10-abreast can enable approximately 30 additional seats to be accommodated in a typical three-class layout on the updated A350-900s and A350-1000s.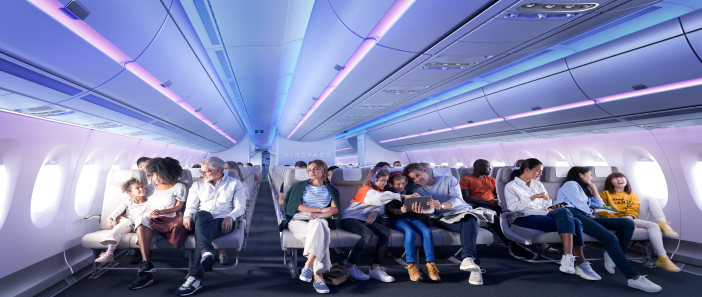 Other new possibilities include widening the economy seats while keeping a 3-3-3 arrangement,
with 18.7in-wide seats that can be sold as 'economy-plus'. Moving forward in the cabin, the premium economy cabin can offer 19in-wide seats with a 5in centre console and an 18in aisle.
Indeed, as the extra cabin width travels the length of the aircraft, it benefits all classes of travel, giving customers a range of new options, whether widening the aisles, the armrests, the seat-pan in between the armrests, the centre console in premium economy, or a combination thereof. Those four inches can really benefit the passenger experience, and operator revenues.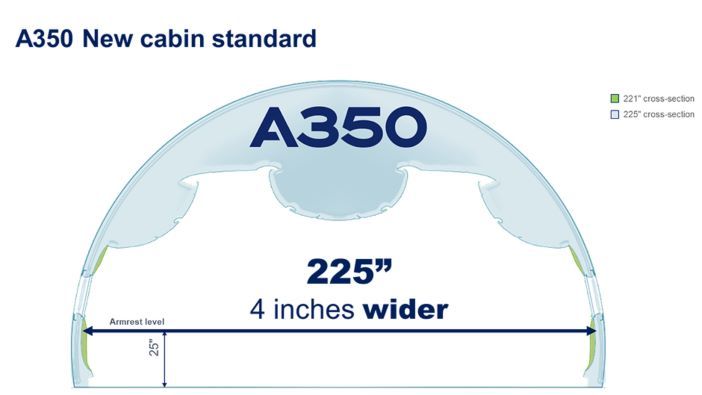 Of course there are some downsides of the 10-abreast passenger experience too, from the feeling of a denser cabin, to a greater chance of being in a middle seat, to increased demand for lavatories, diluted service and slower boarding. However, the addition of 30 or fewer people should not make the experience noticeably worse in most cases.
The additional cabin flexibility is baked into the design. Should an operator of the widened XWB initially fit a nine-abreast economy cabin and subsequently decide upon 10-abreast, this will not require lengthy hangar time, as a 3-3-3 seating layout can become 3-4-3 using the same seat rails, tracks and IFE interfaces. Increasing the A350's seat count does not require changes to the floor attachments, nor the floor panels as they are already specified with 10-abreast seating in mind, as is the air-conditioning flow capacity.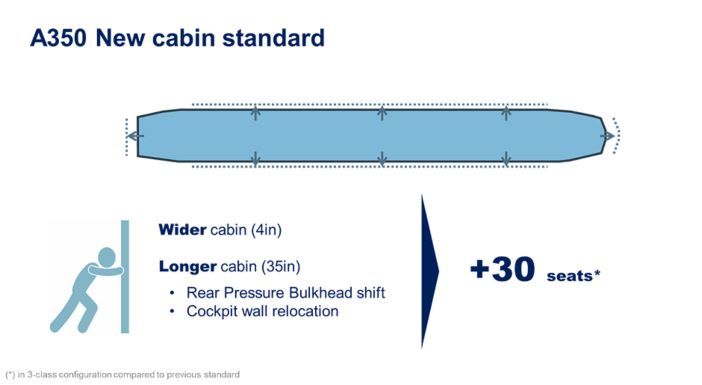 Long story
The new A350 cabin is also longer – a quite substantial 35in longer, created through several tweaks. At the front, a slight forward shift of the cockpit wall has enabled the front monuments to be optimised, including an increase in the monument floor space available in the front-left area (forward Door 1L), enabling an additional trolley to be accommodated (now four). However, a more worthwhile option is to install a 50in-wide PRM-capable, premium lavatory in the space, complete with useful features including a ramp for direct wheelchair access, an additional call button and handles.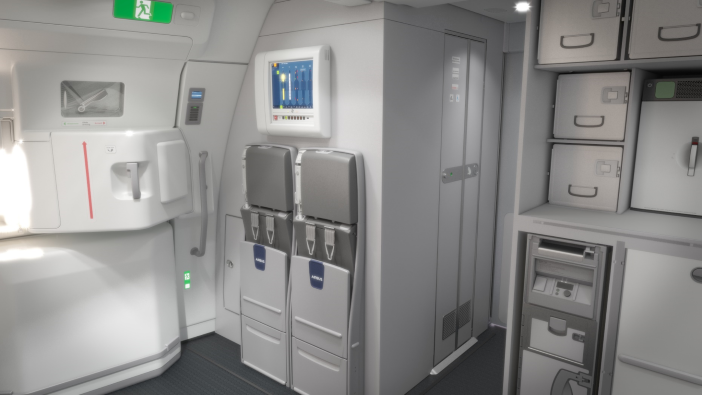 The large galley space opposite (just forward of Door 1R) has been enhanced with a larger worktop space and more space for galley inserts. The required space was also achieved by relocating the staircase to the upper crown flight crew rest compartment – previously in the front-right galley area – to the other side of the adjacent centre galley, aft of Doors 1. Overall, the changes to the forward galleys, including the optional crew rest compartment, allow for up to three additional trolleys.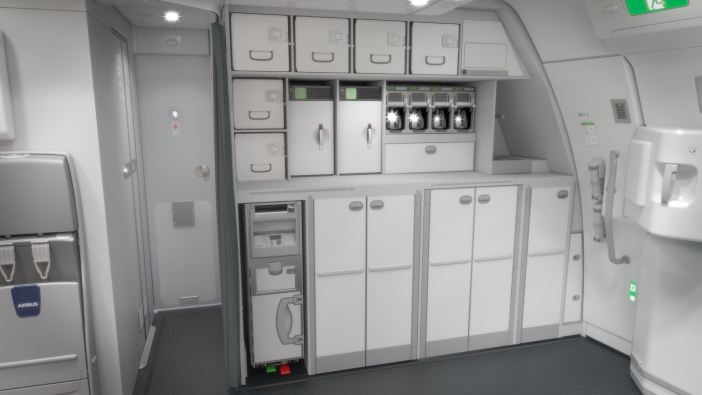 At the rear of the cabin, the rear pressure bulkhead has been moved back by one frame, with a quite major effect. The A350 cabin now brings the possibility of enlarged galleys with a larger floor surface, a bigger working area for crews, and space for up to six additional trolleys. Airlines will be offered a new V-shaped XL galley or an ICE (increased cabin efficiency) XL galley. The ICE XL galley can incorporate two lavatories – one either side (as did the previous ICE Galley), which frees-up extra space in the revenue passenger cabin in front of Doors 4.
Overall the new A350 cabin enhancements are a great work of engineering, offering flexibility for airlines, whether they wish to increase cabin density or offer more cabin space and enhanced service. It is a timely release too, given that Boeing been pushing its 777X cabin width. At the 2022 Farnborough Airshow, Boeing was keen to point out that the B777X cabin is 14in (35.6cm) wider than the original A350 cabin at armrest height, and 15.6in (39.6cm) wider at seated eye height. The A350 NPS widens the cabin and narrows the gap.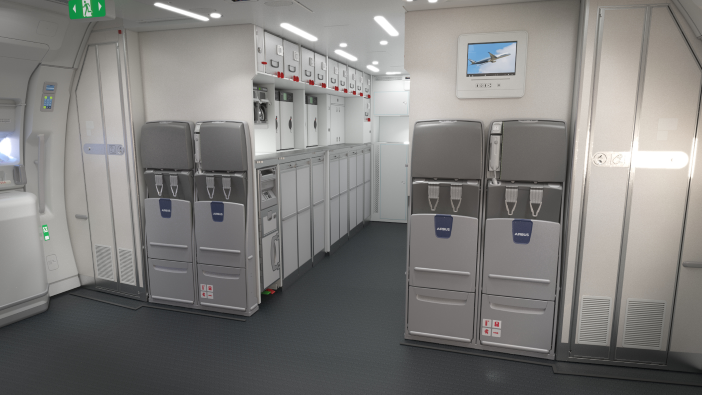 A few more features of the A350 NPS:
EDWs now an option
Boeing was first to implement electro-dimmable windows (EDWs), on the Dreamliner, but 'now the technology has matured', says Airbus, it will be offering the windows on the A350 NPS. Airbus says that, compared with previous EDW designs, the latest generation developed by Gentex darken twice as quickly and become 100-times darker. The new EDWs can now effectively block more than 99.999% of visible light as well as the infra-red energy from the sun (which also helps to keep the cabin interior cooler and thus reduce the load on the air-conditioning system).
The EDWs also bring maintenance advantages for crews as they can be easily unclipped from the window bezels using a special tool (and without having to remove any seat or sidewall panels) and immediately swapped-out with a serviced replacement insert.
Taiwan-based Starlux Airlines is the  first operator to select these windows, for its newly delivered A350 aircraft.
More weight at more airports
Airbus says the latest A350s will also benefit from enhanced take-off performance, especially when operating out of airports with challenging conditions such as a high altitude, short runway or hot climate. Software evolutions have been introduced that regulate the slat and flap positions, and a faster landing gear retraction cycle has also been implemented, which confers greater obstacle clearance and reduced aerodynamic drag. With these changes, Airbus says the A350-900 could, on average, benefit from 3.5 additional tonnes of available take-off weight from a limiting runway, which can be used for extra fuel for longer routes, extra passengers and their luggage, or additional cargo, while the larger A350-1000 benefits from an improvement of approximately 2.5 tonnes. At some airports the potential take-off weight uplift gains could be improved by more than six tonnes
(La Réunion or Mumbai, for example), or by more than four extra tonnes (Phoenix or Dublin perhaps).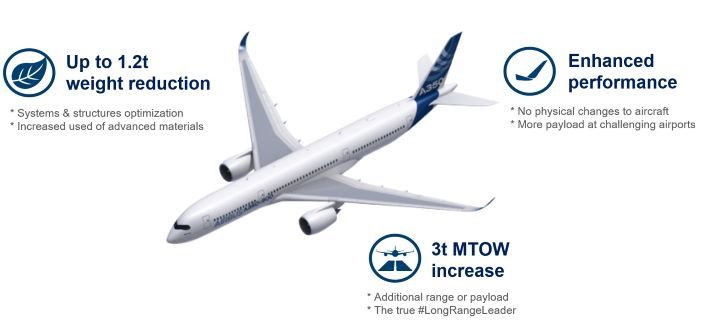 Structural weight reduction
The A350 NPS brings an overall weight reduction of up to 1.2 metric tonnes compared with the A350s in service today. Airbus achieved this by optimising systems, structures and installations on various areas of the aircraft. Measures included new electrical cable concepts, more efficient installations, and cabin systems optimisation, such as a new single water tank, a new waste tank, and lighter floor panel heating. In the mechanical system installation Airbus has introduced new composite ducts for more optimised air distribution. There are also structural weight-saving optimisations in the new nacelle and pylon.
Airbus engineers have also increased the use of advanced materials such as carbon fibre to reduce weight. For example, the upper and lower wing covers have been further optimised, as has the landing gear support structure, while there is greater use of CFRP in the fuselage door surrounds.