We are a step closer to finding out the top eight aircraft innovations for 2019, as recognized in the 2019 Crystal Cabin Awards. The judging process began in December, when the 27 members of the international expert jury (including Adam Gavine, editor of Aircraft Interiors International) evaluated some 94 shortlisted entries. That initial round of voting has created 24 finalists, with the final round of evaluation and voting due to take place on April 1, and the eight winners announced on April 2.
There are three finalists in each of the eight categories. Let's see who is battling it out for trophies:
Cabin Concepts
The Cabin Concepts category receives the most mainstream interest, and 2019's result should continue this trend, with three huge names in aviation industry vying for the prize. This category recognizes complete cabins that already exist, and entries can be submitted by airlines as well as by aircraft manufacturers and design companies
Airbus revealed details and models of its Lower Deck Pax Experience Modules at last year's Aircraft Interiors Expo, which impressed the jury and gained Airbus a place in the final round. The concept proposes that the cargo containers stored underneath the passenger cabin can be swapped with other modules with the same size and loading system, fitted out with comforts such as lounge areas or quiet zones for economy class passengers. The modules are being co-developed with Safran Cabin and could be available to airlines in 2020 for the A330, with potential availability for the A350 later on. MORE DETAILS HERE.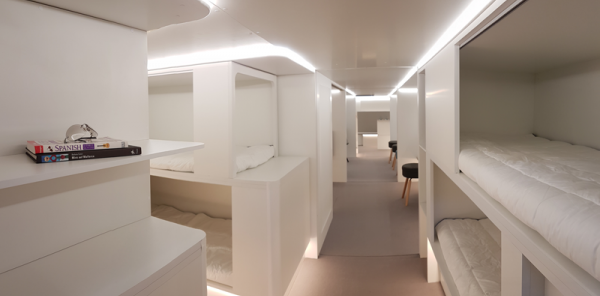 While the Airbus modules could enhance the economy class passenger experience, at the other end of the scale Emirates has been working to further improve the first class suites on its Boeing 777-300ERs. The already luxurious cabins have been fitted with fully enclosed suites to take the experience to the next level: the atmosphere of a private jet. The six private suites are in a 1-1-1 configuration, replacing the arrangement of eight suites in a 1-2-1 layout.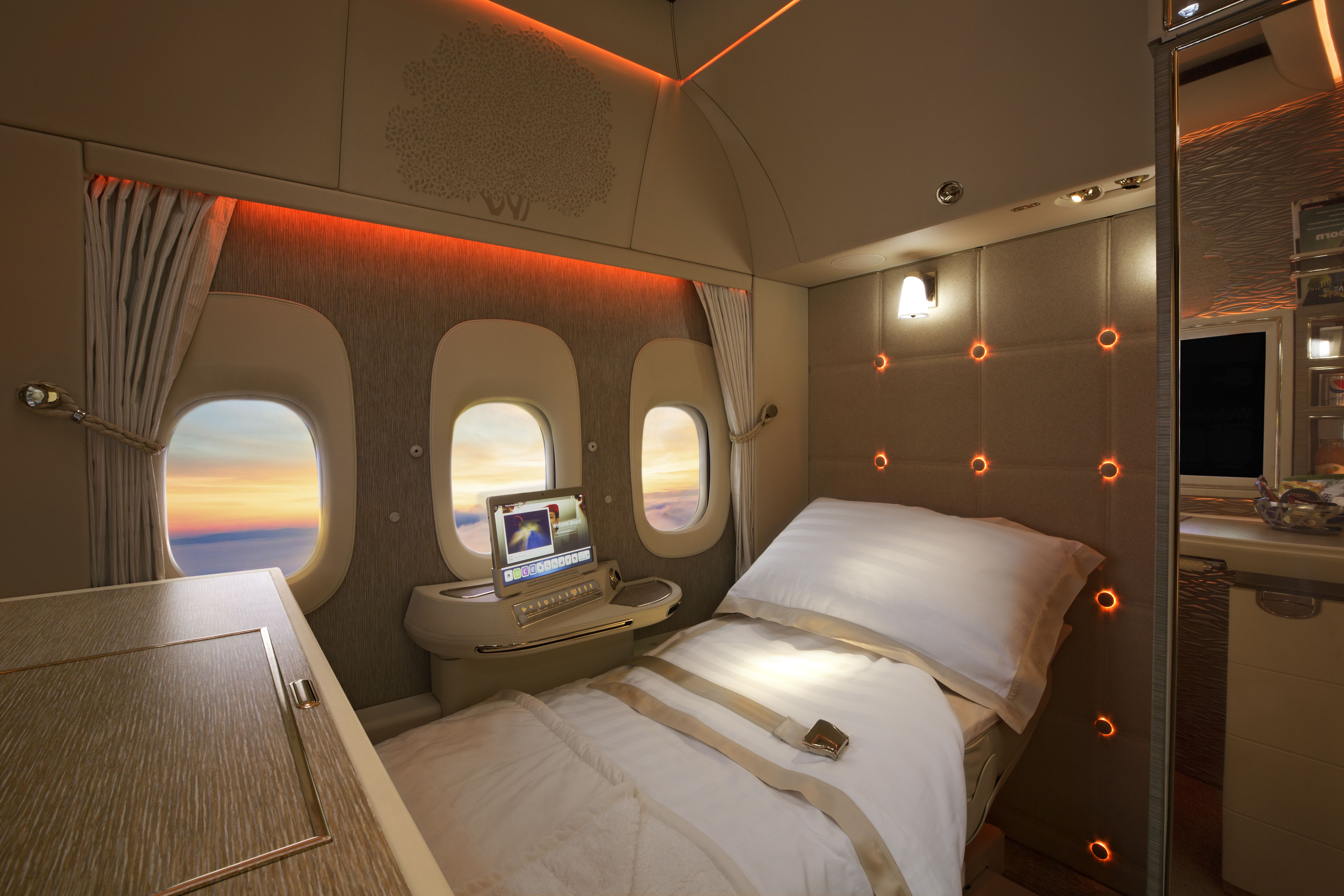 Comforts in the suites include a 'zero-gravity' seating position inspired by NASA, and new technology features such as a video call system so passengers can communicate with the crew. But what of the poor souls in the center suites without windows? Emirates has thought of them, fitting 'virtual windows' – displays showing a feed to the outside, meaning that every suite has a window view. These 'windows' also made it to the finals of the IFEC category (see below). MORE DETAILS HERE.
The third finalist in the Cabin Concepts category is Safran with its Essential business class seat design, which focuses on reducing weight rather than adding opulence. By replacing the typical heavy mechanical components of a seat with innovative cushion structures, Safran claims to have achieved a 25% reduction in weight. This is a great feature for the airline, but less important for passengers. However, the design also yields them a claimed increase in living space of almost 20% – space previously occupied by kinematic systems. The seat architecture also creates a bed space that is a claimed 15% larger than that of comparable angled seats.
A seat design would not usually be in this category, but the simplified design of Essential also enabled a sizeable increase in under-seat stowage space, sufficient to accommodate roll-on bags. With no bags required to be stowed overhead, overhead stowage bins would not be required in the cabin, creating a more open and spacious feel. If the seat really achieves ecological and economical advantages at the same time as enhancing passenger comfort, then Essential makes for a strong contender.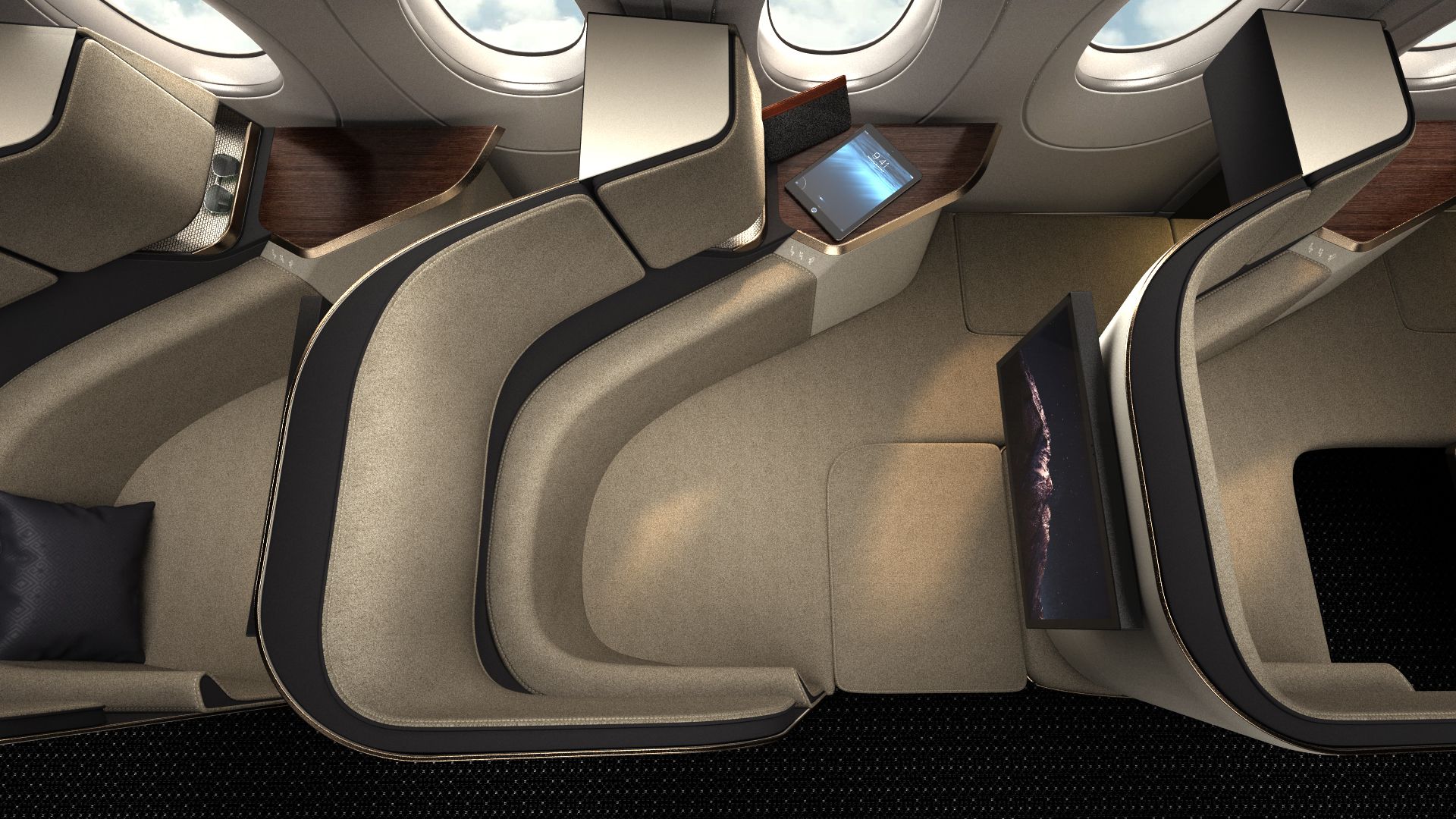 Cabin Systems
While the Cabin Concepts category has a focus on passenger comfort, the emphasis of the Cabin Systems category is on efficient designs for airline operations. Category contenders typically include items such as galleys, lavatories, trolleys, air conditioning, electrical systems, electronic cabin management systems, waste & potable water systems and acoustics. Judging criteria include factors such as the efficiency of mechanical solutions, ergonomic advantages and ease of implementation.
Collins Aerospace (previously B/E Aerospace) is in the running with its M-Flex Duet monument, which takes advantage of the underutilized space in aircraft doorways to provide a flexible self- serve social zone. There are many premium self-serve areas flying today, but they often require seats to be removed to accommodate differentiated service monuments, and that loss of seats can cost airlines six figures in lost revenue every year.
However, the M-Flex Duet monument can be fitted without any loss of seat count. During taxi, take-off and landing the monuments are stowed and their compact design helps ensure they meet all regulatory aircraft egress requirements. Once the plane is cruising, crew can unfold the units (similar to opening a closet door), stretching them across the doorway to create a stand-up branded self-serve social area, an additional crew working space or even a retail area to help generate ancillary revenue.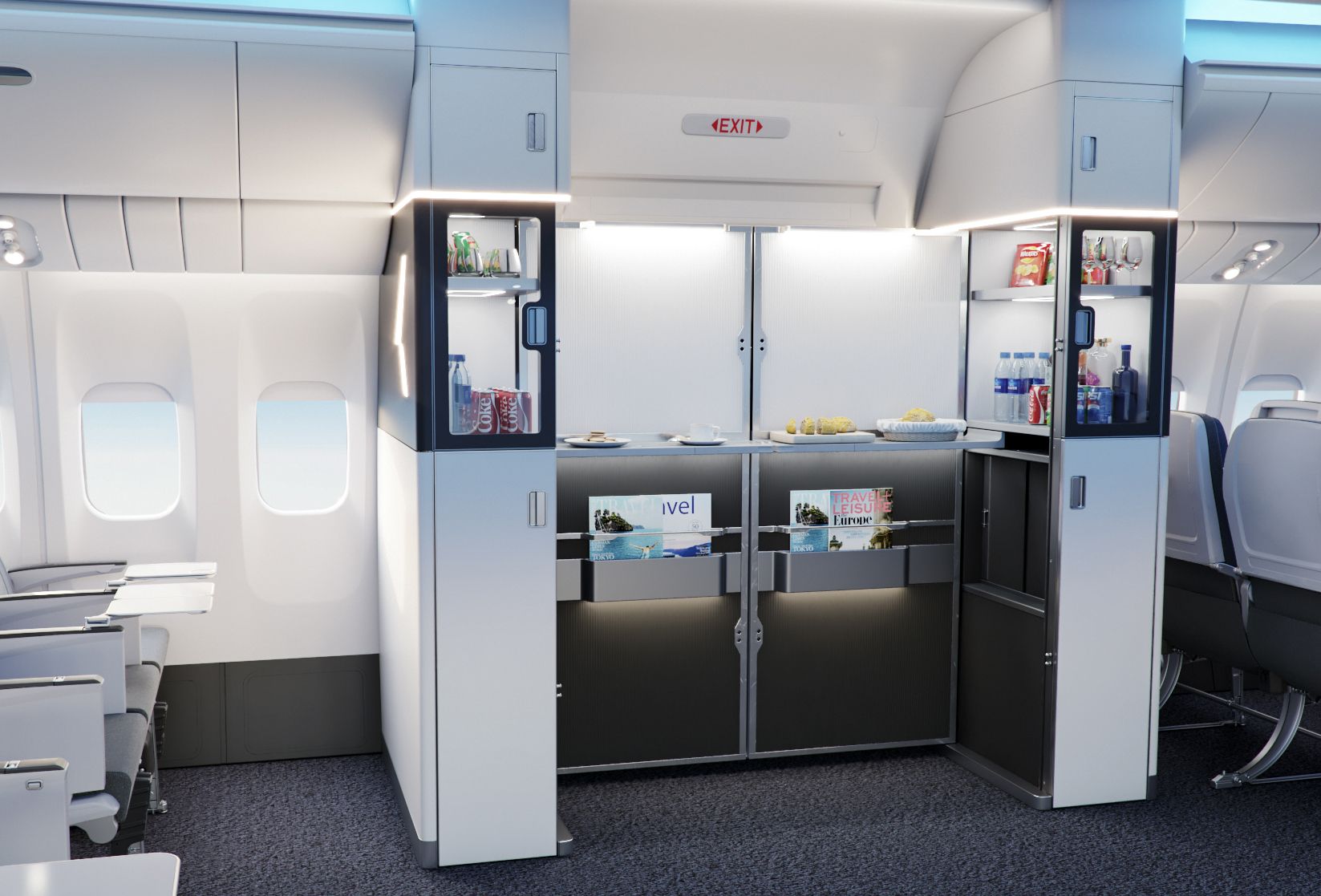 Another contender in this category has a focus on flexibility in operation. The seat pan and bottom cushion of the X-Tend Seat from Airbus can be partially folded down when the passenger stands up. In itself, this is perhaps not that exciting. However, when used in over-wing exit rows on narrow-bodies it gets really interesting. To comply with emergency evacuation requirements of over-wing exit rows, these rows often have a seat pitch of around 38in to create a 13in walkway to the exit. Compared with the typical seat pitch of 28in in the rest of the cabin, these rows are great for passengers, but bad for revenues, taking valuable space.
However, that folding mechanism enables the required width to be created within a 33in pitch, freeing up space that the airline can use to squeeze in another row of seats, or to add a little more space to each seat row.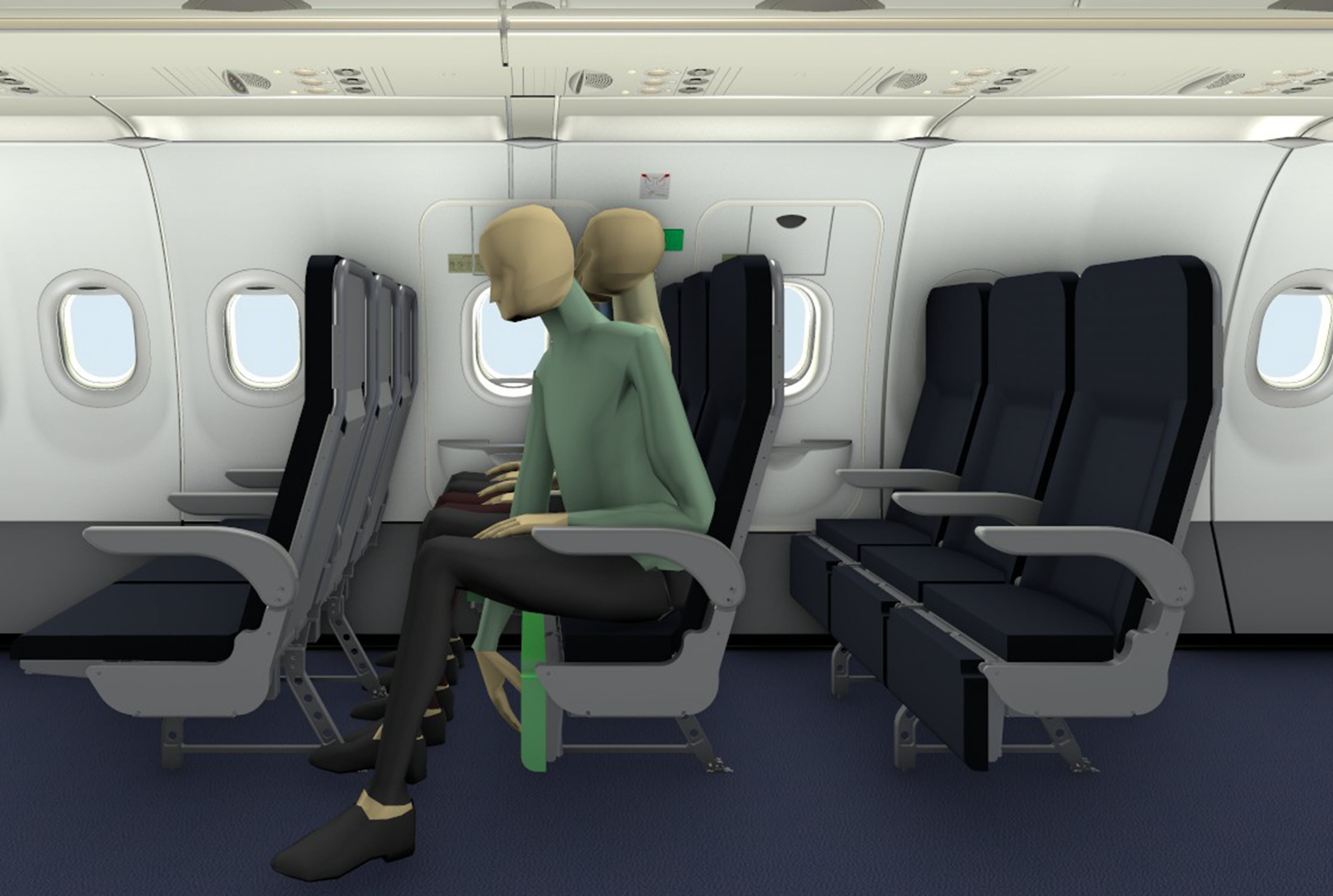 The third contender in the Cabin Systems category is Diehl Aviation's FlexPSU, a flexible passenger service unit system. It can be difficult to move current PSUs to suit changing cabin configurations, mainly due to their wiring and their features such as air vents and reading lamps. The solution provided by FlexPSU is to implement a rail system integrated into the overhead bins, with each PSU requiring just three connections to operate. The simplicity of the mountings and connections means that the FlexPSUs can be relocated in just a few simple steps within minutes. The reduction in cabling also brings a weight saving.
If you like FlexPSU, you will be interested in Diehl's Diana cabin concept. See HERE for details.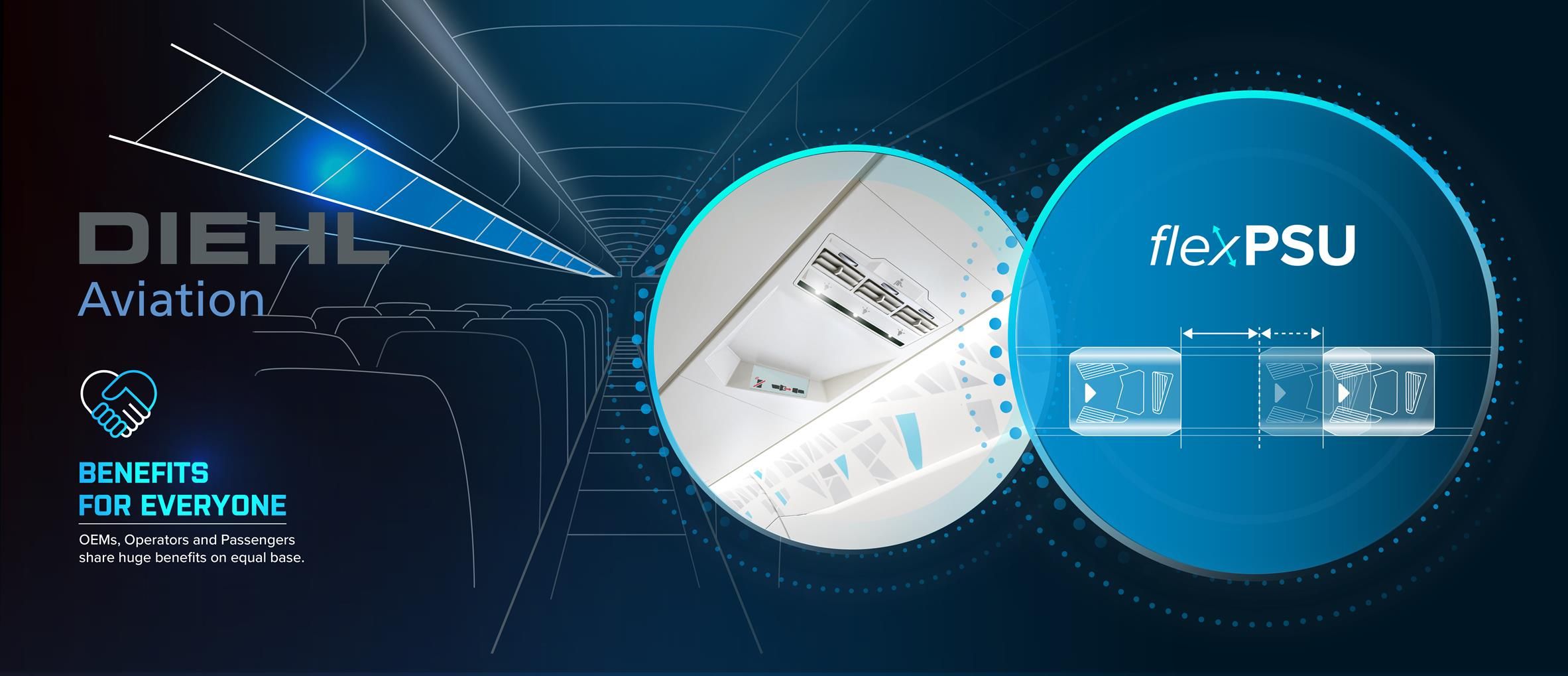 Greener Cabin, Health, Safety and Environment
This category combines different classes of innovations, all with an environmental focus. Entries in this category must either reduce the negative effects of aviation on the environment, or minimize health or safety hazards and security problems for passengers, staff or live cargo. European and international legislation compliance is taken into consideration for the evaluation of each entry.
Panasonic Avionics is competing with its Nanoe air filtration system, a module which forms part of Panasonic's Wellness initiative, and which can be integrated into the seat structure of a first or business class seat. The module suppresses airborne and surface viruses, bacteria, mold, pollutants and allergens within its local environment to eliminate odors and improve air quality for the passenger.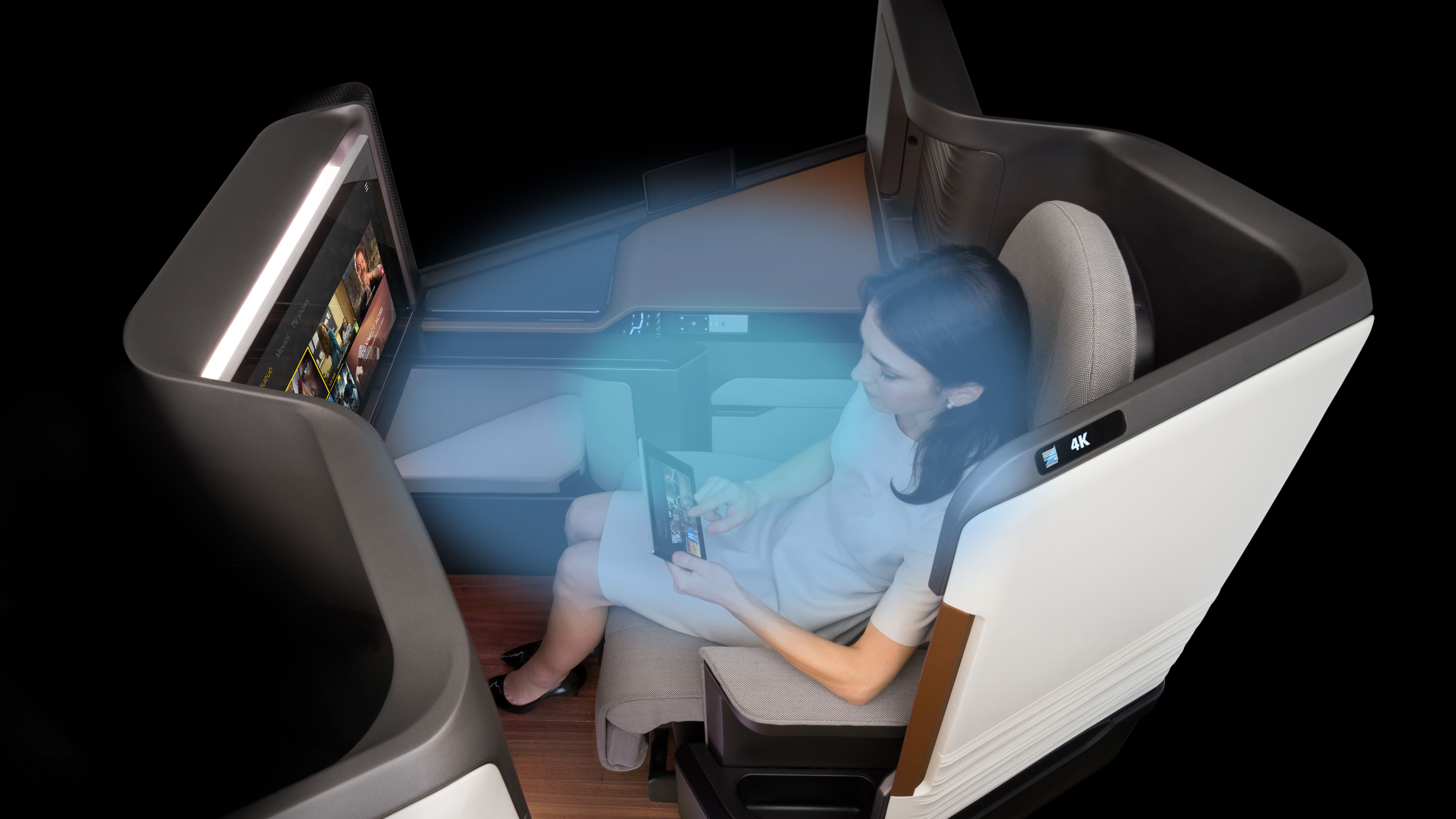 The Skycouch from Air New Zealand has proved very popular since its launch, and indeed the original seat won the Passenger Comfort category of the 2011 Crystal Cabin Awards. The clever seat broke new ground in creating a genuine luxury upgrade for economy class passengers, with a row of seats able to be converted into a bed on demand (for an additional fee, if space permitted). The latest development is that Skycouch is available as a family space, with new belts and features ensuring that even babies and infants can be safely put to bed in the space. MORE DETAILS HERE.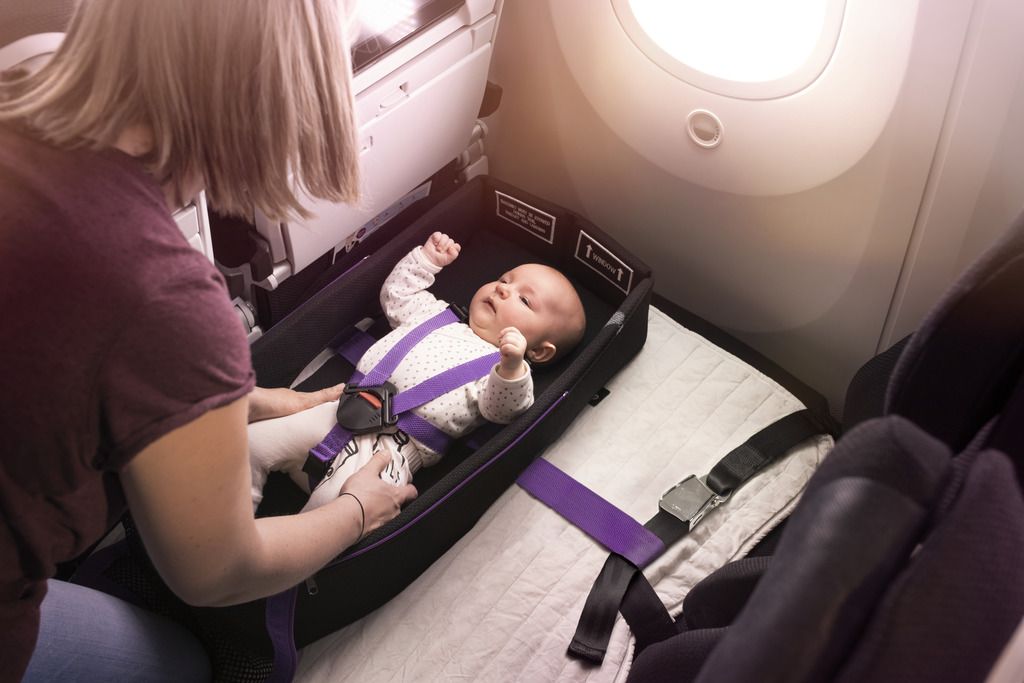 Diehl Aviation is also competing in this category with the UV-LED Water Disinfection Unit, a retrofit antibacterial filter for the lavatory that means that the tap water is safe to ingest, whether a passenger wishes to drink or perhaps use it while brushing their teeth. The unit is based on UVC LEDs – a compact, robust technology with low power consumption, which can be integrated close to or indeed directly into the faucet. The unit operates at a wavelength optimized for the efficient elimination of germs, with Diehl claiming that it kills at least 99.99% of germs.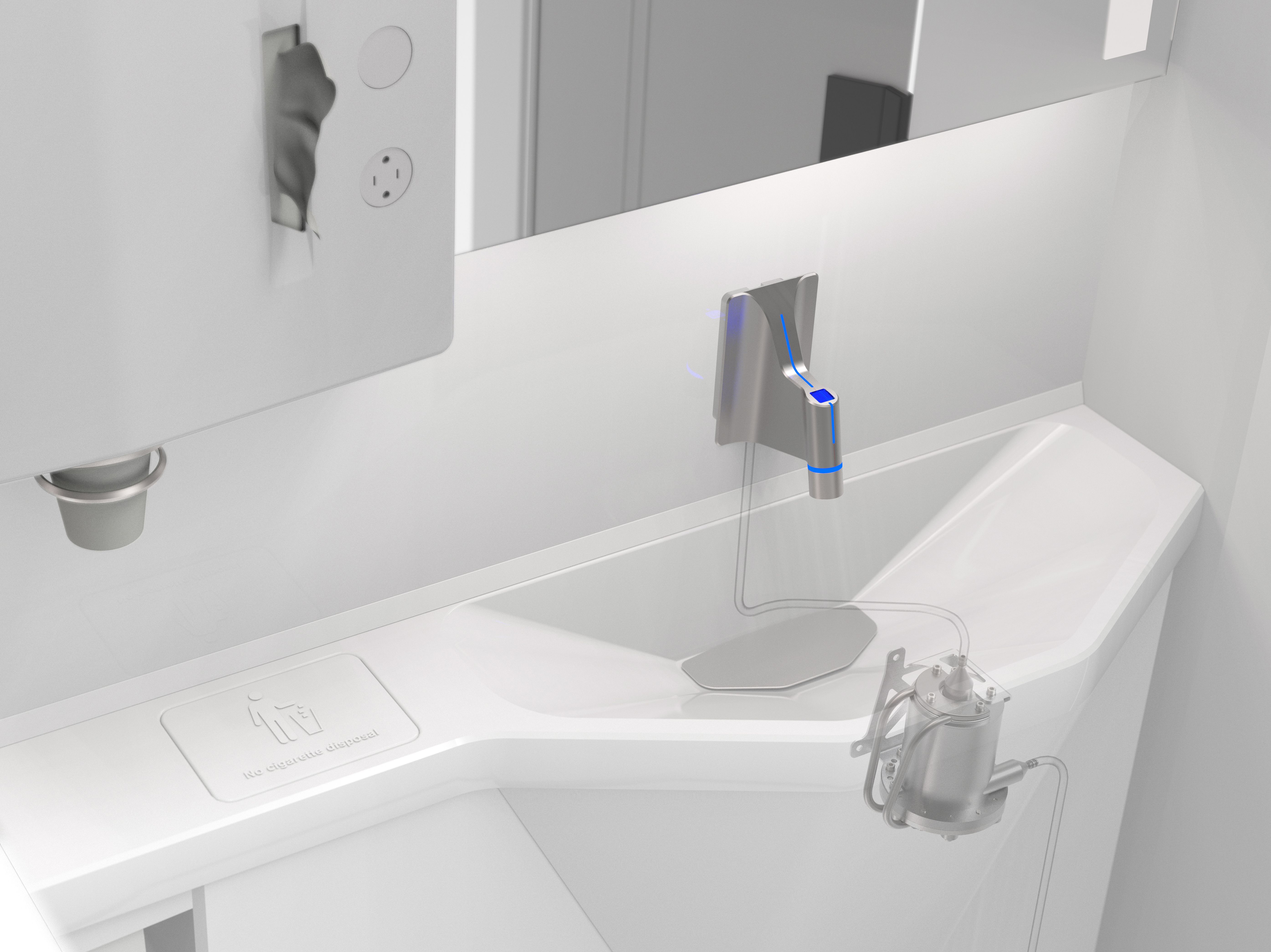 In-flight Entertainment and Connectivity
This category covers the fastest growing, fastest developing sector of the aviation industry and includes areas such as accessible content, antennas, passenger apps, moving maps, unique cabin wi-fi features, etc.
One entry impressed not just the judging panel but also Emirates airline. The virtual windows from Collins Aerospace are used in the airline's first class suites, a design that made the final three in the Cabin Concepts category (above).
An industry first, displays are used to provide the feel of sidewall windows to inboard passengers – in this case those in the middle suites of Emirates' B777-300ER first-class cabins, which are configured 1-1-1. The sideward-facing orientation and wide field of view of a row of virtual windows presented challenges including accurately presenting aircraft pitch and roll to avoid motion sickness in passengers, while the wide field of view could create fisheye or barrel distortion effects. However, Collins Aerospace developed a system with a combination of unique custom optics and electronics that has overcome these challenges. Indeed the company claims that the system provides a visual experience superior to that of human eyes looking through conventional windows.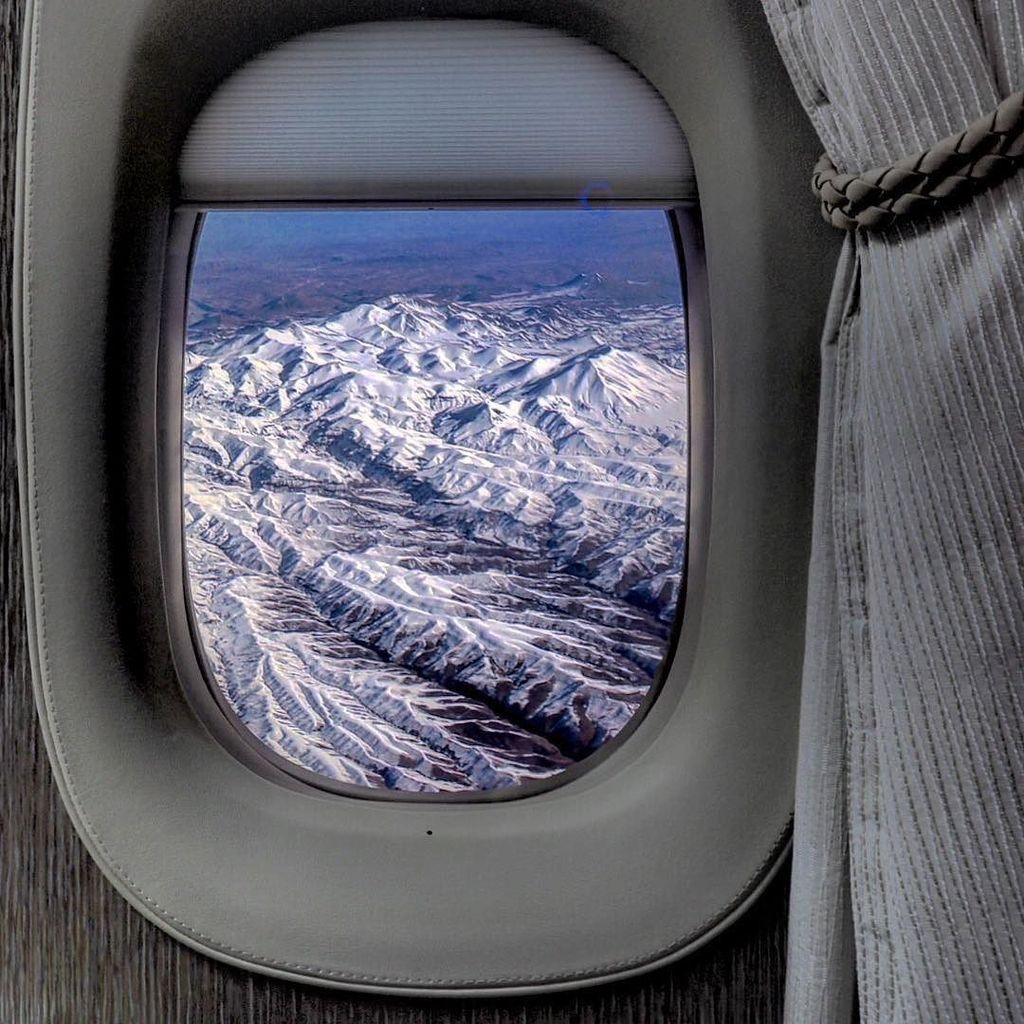 Global Eagle Entertainment (GEE) is in the running with what it describes as a "major milestone in the history of satellite connectivity". The company has successfully completed testing to demonstrate how a new, low-cost satellite network can revolutionize the way airline and maritime passengers enjoy high-speed connectivity and content.
The testing began October 18th, 2018  near Telesat's headquarters in Ottawa, Canada. The test, carried out using GEE's 'Albatross One' test aircraft, marked the first time an in-flight aircraft has communicated at broadband speeds with a low-earth orbit (LEO) satellite system, demonstrating the capabilities of LEO for mobility customers, even in regions currently subject to poor connectivity, such as polar regions. The team reports "industry leading" data upload speeds from the aircraft, based on testers engaged in uninterrupted video chatting and movie streaming, and experiencing what they say is the lowest latency of any satellite connection to date.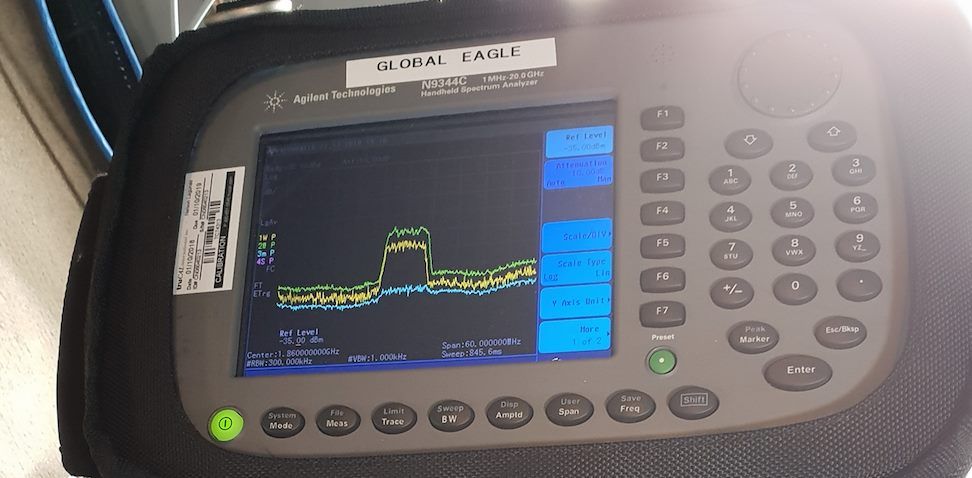 The final IFEC contender, United Airlines, has received praise for introducing the world's most extensive suite of IFE accessibility features, providing entertainment for passengers with any level of visual acuity, as well as hearing and mobility-challenged people.
Features of the system, aptly named Entertainment For All, include text-to-speech with reading granularity options; customizable voice volume, voice speed and voice pitch; 'explore by touch' features; screen magnification; customizable text size; high contrast text options; color correction options and a color inversion option. Hearing impaired and non-English speaking passengers can also enjoy content served based on individual requirements and custom messaging tailored to the individual.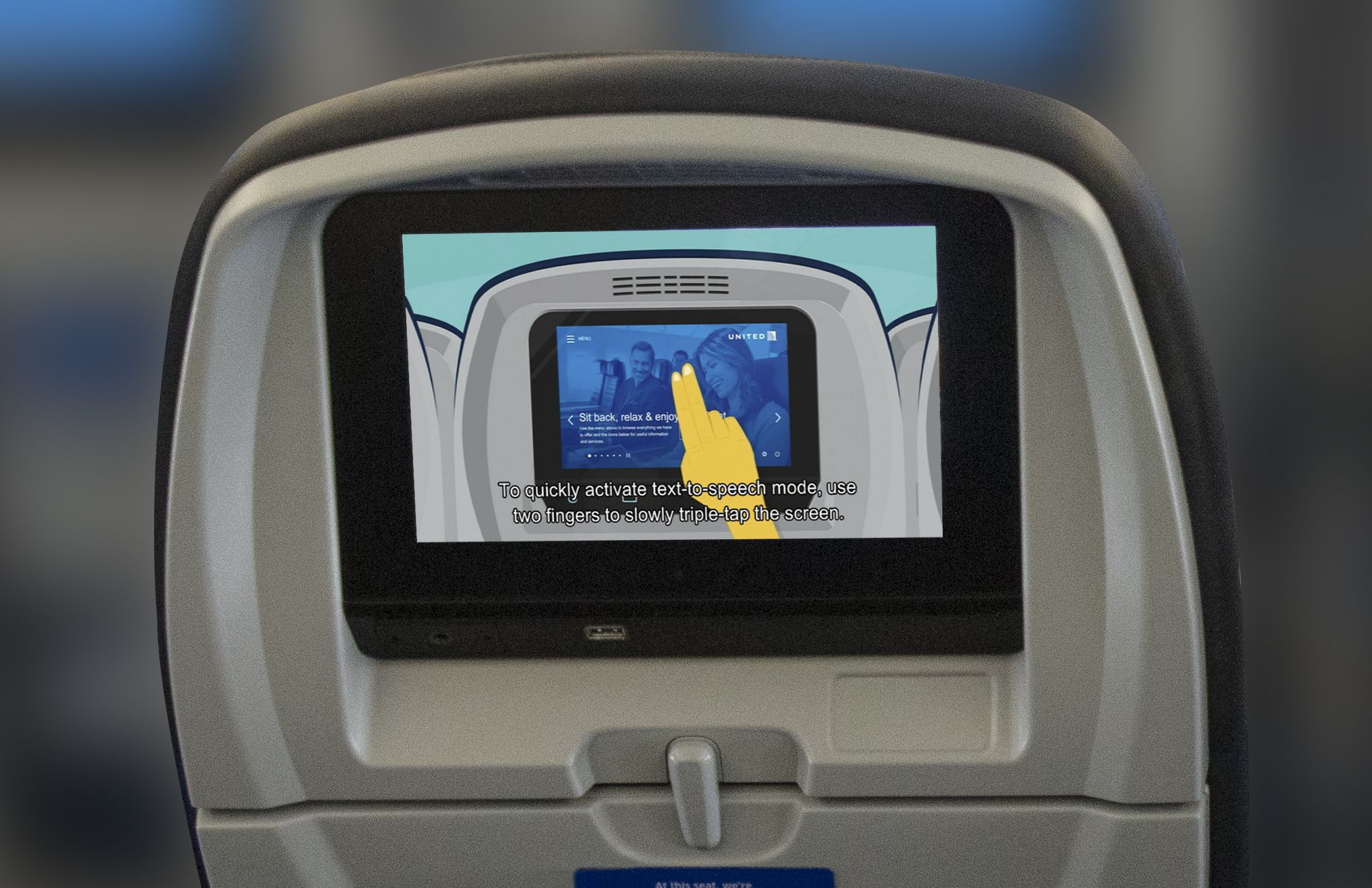 Material & Components
Developing new materials, new material applications or a new combination of materials for cabin systems can cut production costs and maximize usability. This category rewards such innovation and embraces an enormous variety of different aircraft components. Entries can be an innovative, single technical component or material, but not a fully developed product such as a seat.
Collins Aerospace is also present in this category with the μLED reading light, which replaces existing cabin reading lamps with a dense array of LEDs that work as a variable geometry light source that is then projected to create any shape of form, limited only by the resolution of the LED density. The μLED design is essentially a miniature projector, but without the cost and size associated with an LCD or DLP light engine, and as well as a reading light, can be used as accent or suite lighting, for example. The software in this technology can create reading light spots of various sizes and shapes, and eliminate the need for different part numbers.
μLED can also offer keystone and flux correction and even convert into a wide angle dome light. The unit can also create multiple, discrete spots from one LRU (two or three seats from one part). According to Collins, additional functionality in future software updates could enable features such as airline logos, seat numbers, passenger guidance and animated effects.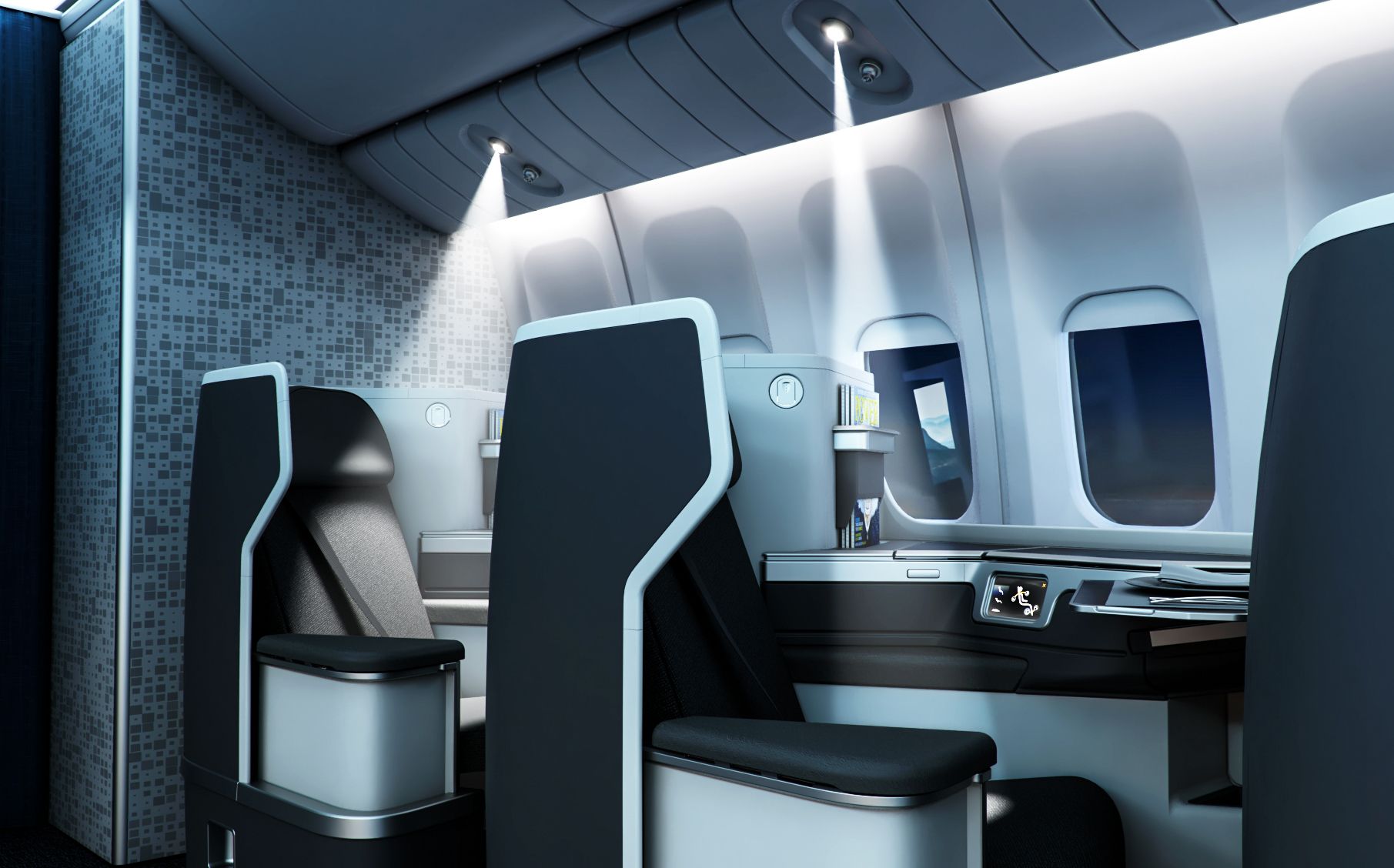 The Kydex Lumina opaque thermoplastic sheet from Sekisui SPI is also all about pleasant lighting. The customizable sheet has been created to enable aviation interior designers to shape the passenger environment in new ways, giving designers the ability to craft bespoke experiences using color, image and light. As well as filtering light, as light passes through Lumina selectively, silhouettes can be shaped by internal patterning, color saturation and imagery. In concert with LED systems, Lumina can be used to shape and refract stark light, creating soft textures, comforting tones, and a more refined environment.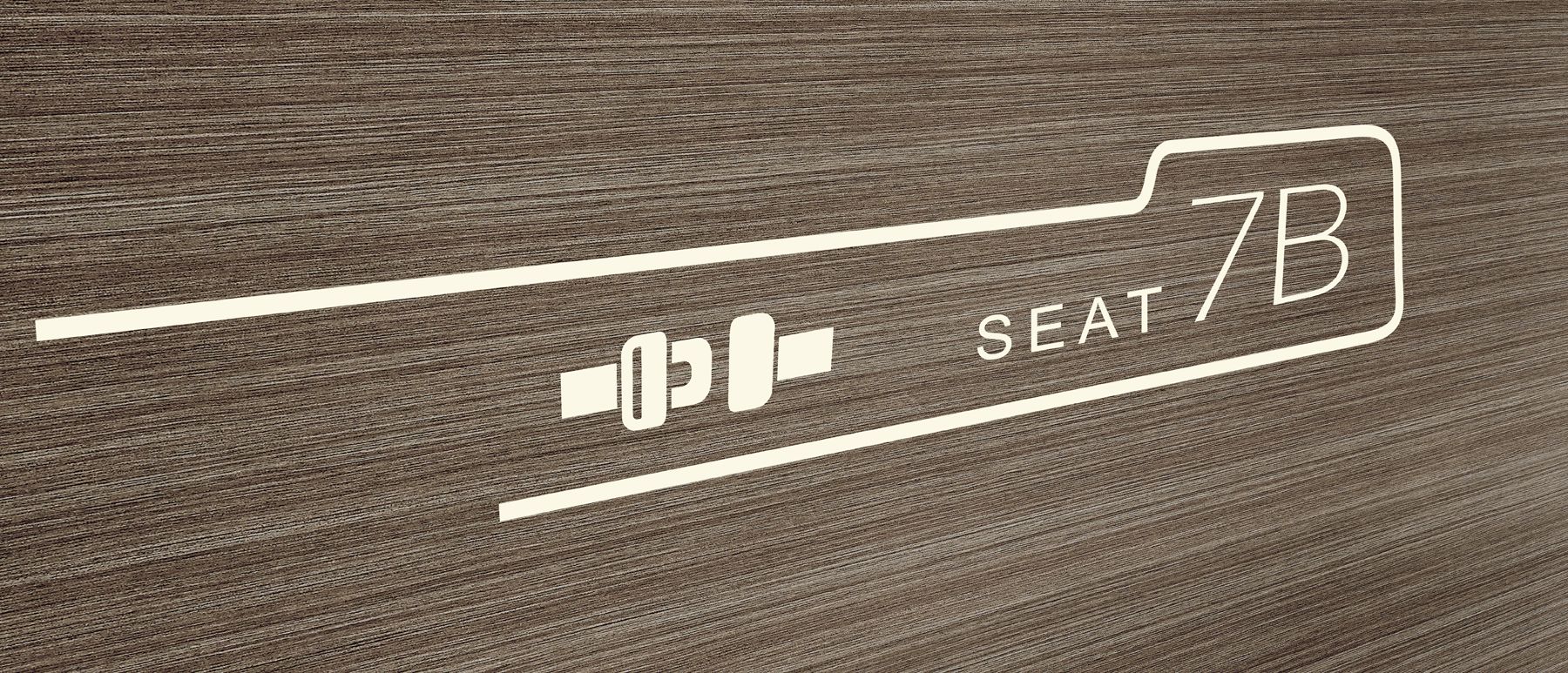 The third finalist is Safran's Flexible Door, which has been created in response to the growing trend for enclosed seats in business class. Adding a door to a business class seat has certain issues, including expense, weight, certification and reduced in-seat living space. Safran's solution is a door made from flexible materials that is integrated in the sidewall of the seat and which can be drawn across the aisle access space, almost like a blind, when needed.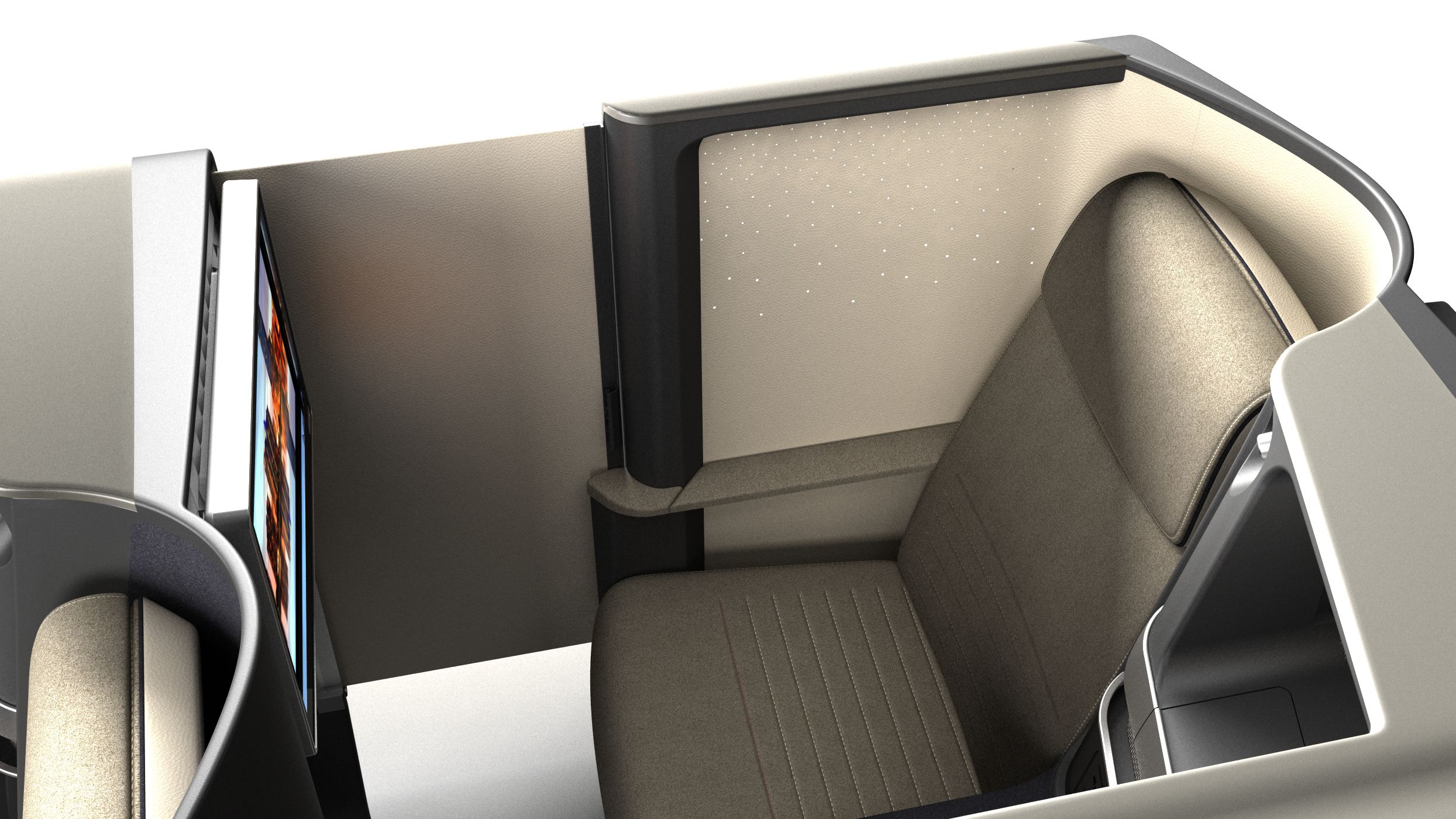 Passenger Comfort Hardware
This category has been created to recognize good ideas for enhancing passenger comfort, whether for all passengers or for specific groups of passengers. This category includes anything from seats, lavatories and bins, to partitions, lighting systems, linings and VIP products. However, during evaluation, an innovation that is of general use to a large group of individuals may well achieve higher marks.
Panasonic is in the running again, with its Active Noise Control technology for business class seats – another part of the company's Wellness solution. Built-in active noise control, without the use of headphones, can give business and first-class passengers a more comfortable and restful sleep experience on long-haul flights by reducing background aircraft noise. Calming music or bird noises can even be selected by the passenger, if they find such sounds restful.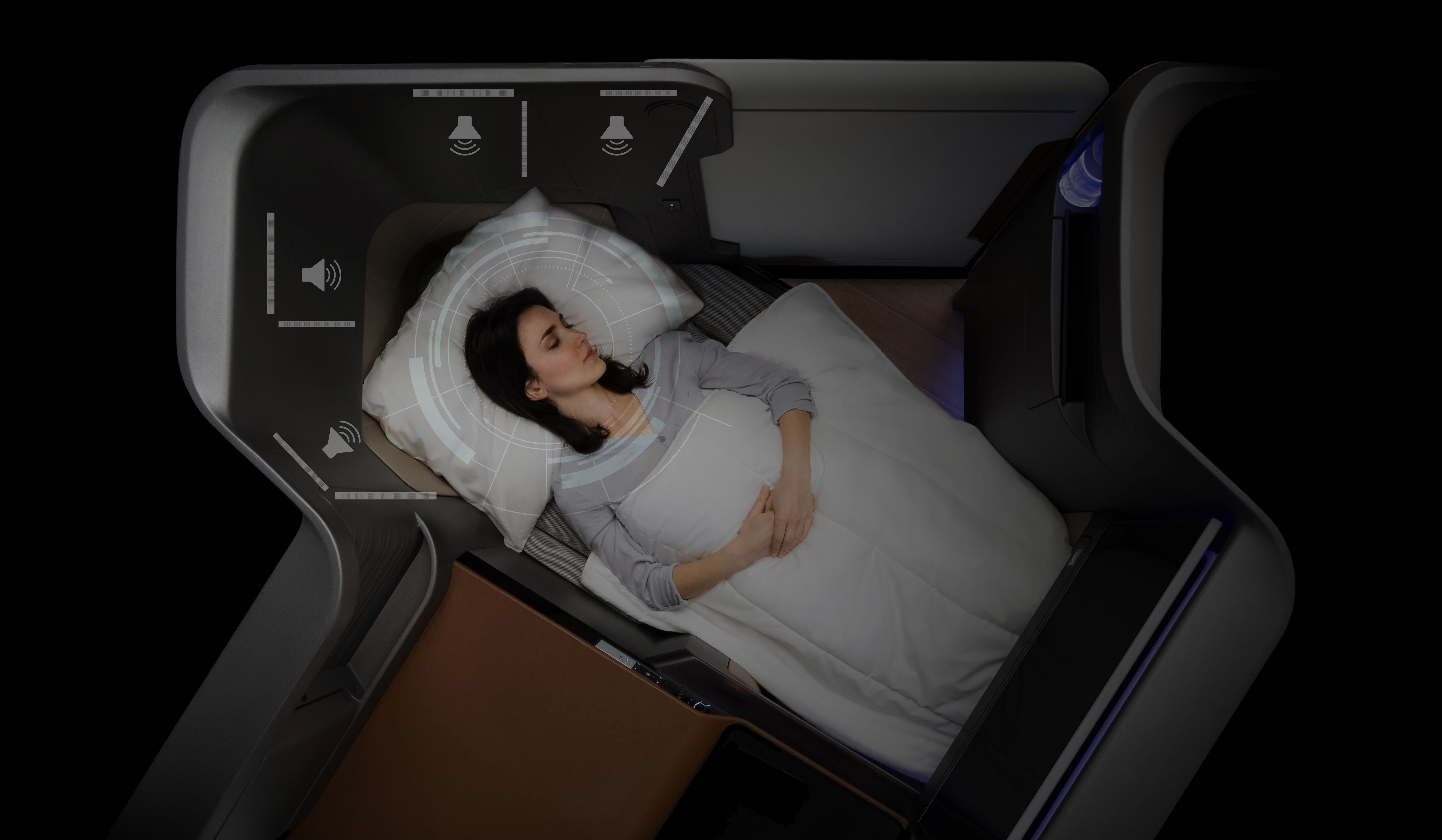 With an eye to enhancing comfort in economy class, seat manufacturer Recaro has created a range of three comfort elements for long-haul seating, designed to enable better body posture, a better ability to change sleeping positions, and a reduction of pressure points. The first feature is the Abrazo Headrest, which gives additional side support to the head, while the upper legs and parts of the lower legs can be supported by the Extended Seat Bottom option, which increases the size of the seating surface and reduces pressure points, while the Flip Cushion helps to support the lower lumbar area in a cradle or sleeping position.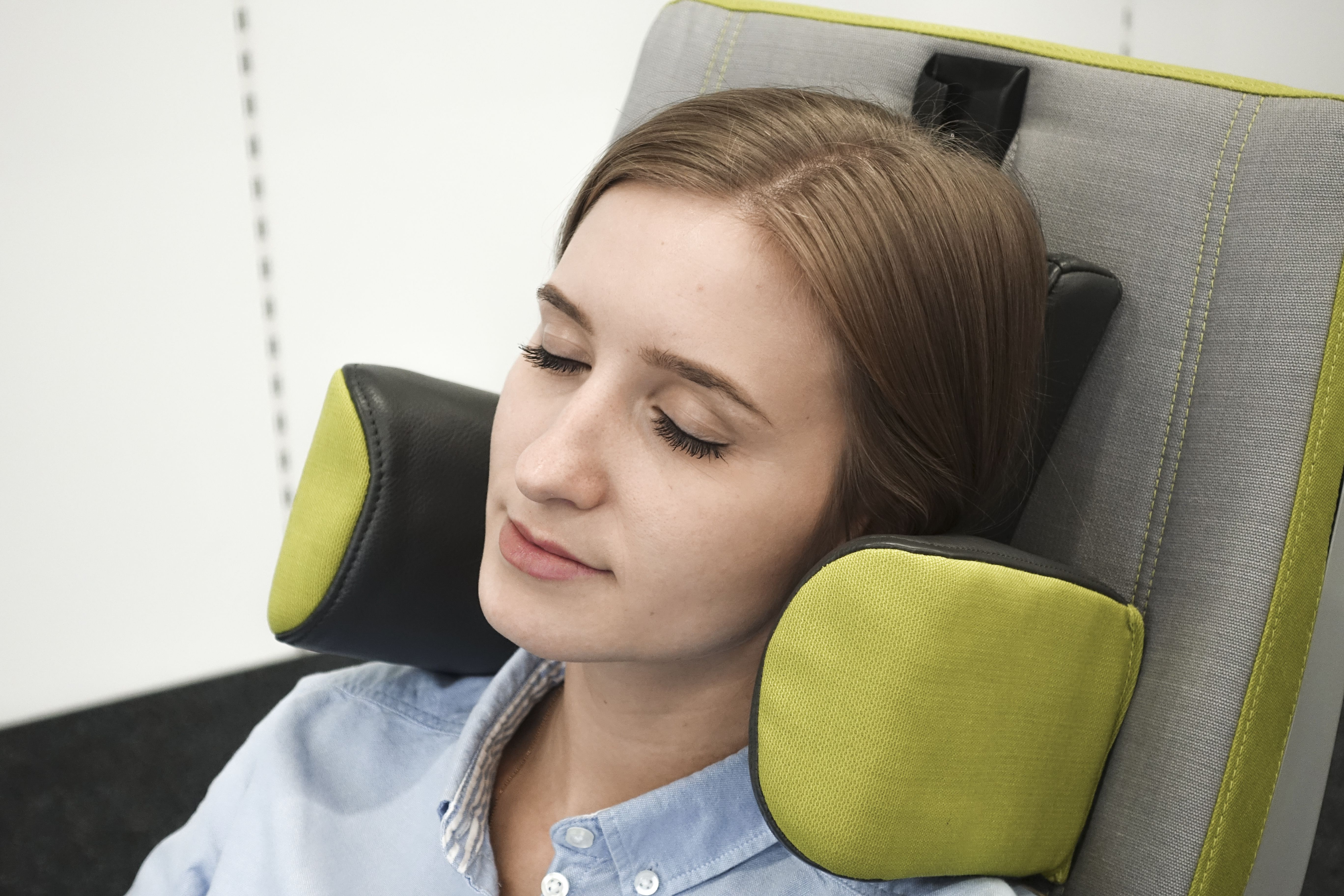 The final contender in this category is French design studio, Style & Design, which has taken a more radical approach to long-haul seating. The studio has found that not having the same body parts in contact with the same surfaces on long-haul flights (which can be up to 19 hours) is instrumental to passenger comfort. Thus the Moments concept significantly extends the seating space in business class, offering a range of sofa-like positions for sitting, lying and turning, without requiring extra cabin space.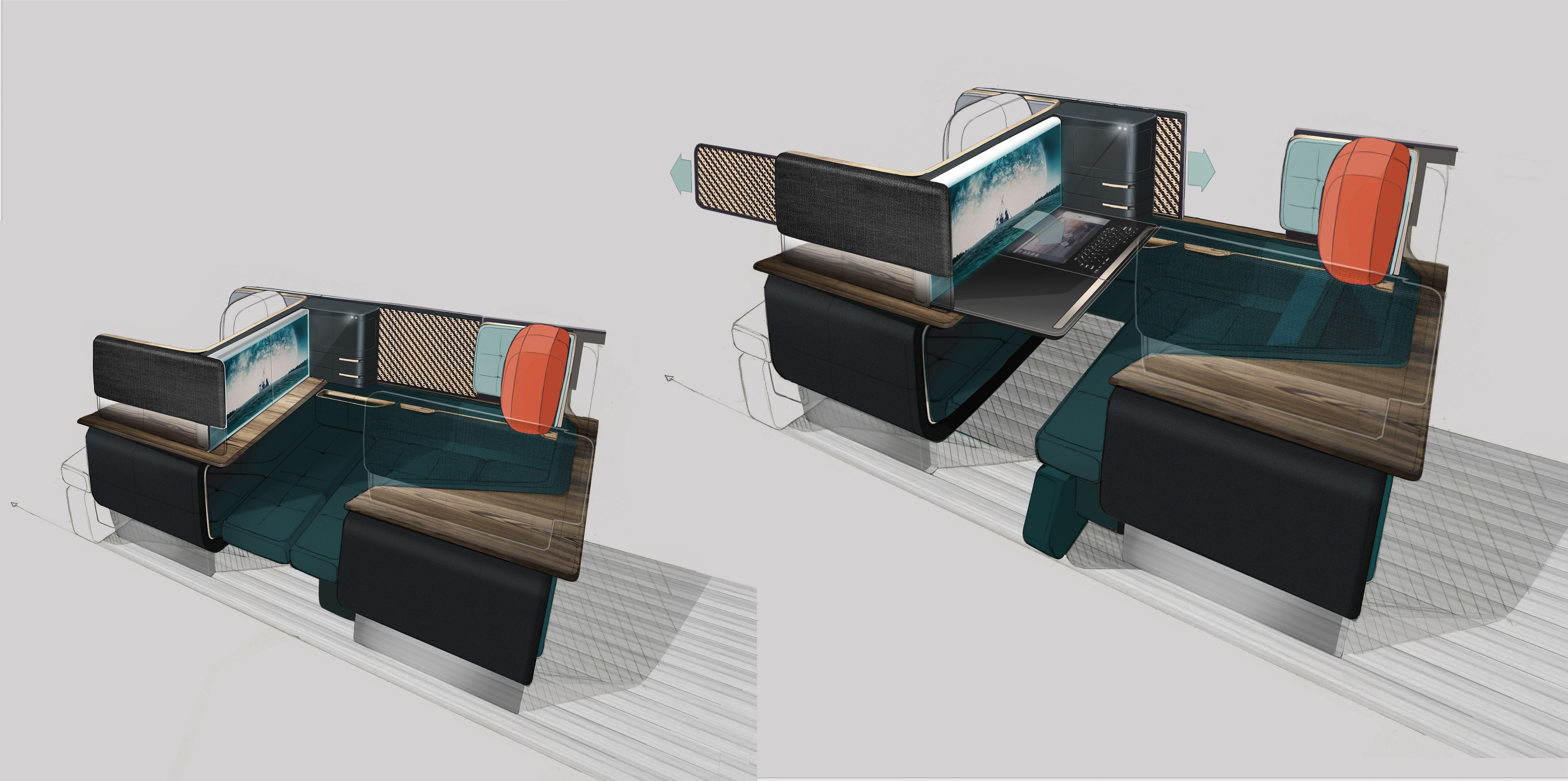 University
This category is a fantastic opportunity for college and university students to present their visions for innovative aircraft interior products and concepts. Ideas should reflect the idea of making flying more comfortable or ecological. Students in this category may benefit from gaining important contacts within the industry who can help develop their future career.
Sahngseok Lee from Hongik University in South Korea, for example, has designed the 1 For All concept in collaboration with seating manufacturer, Adient Aerospace. The cabin concept interweaves the various seat classes to achieve the maximum possible use of space. Premium and economy passengers may find themselves next to one another or even above or below one another — alone or within compartments.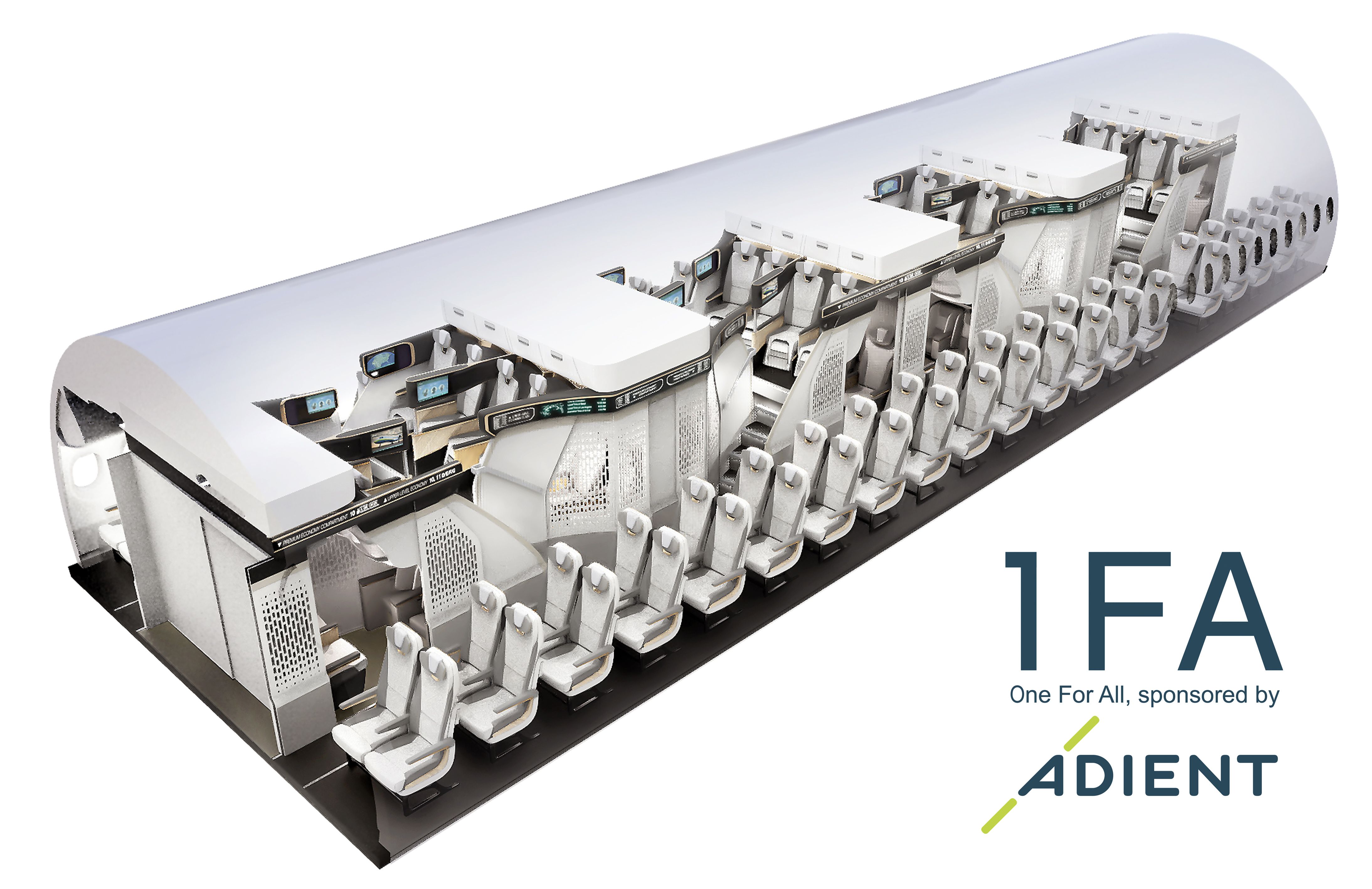 Clément Heinen of Delft University of Technology in the Netherlands has undertaken a redesign of business class, in collaboration with Safran. The Stratus seat design is intended to bring the comforts of the office to the business class cabin, enabling passengers to make the best use of their flight time. The activity-based environment includes a docking station for connecting personal devices and two distinct positions with adaptive table and screen positions: standing and zero gravity.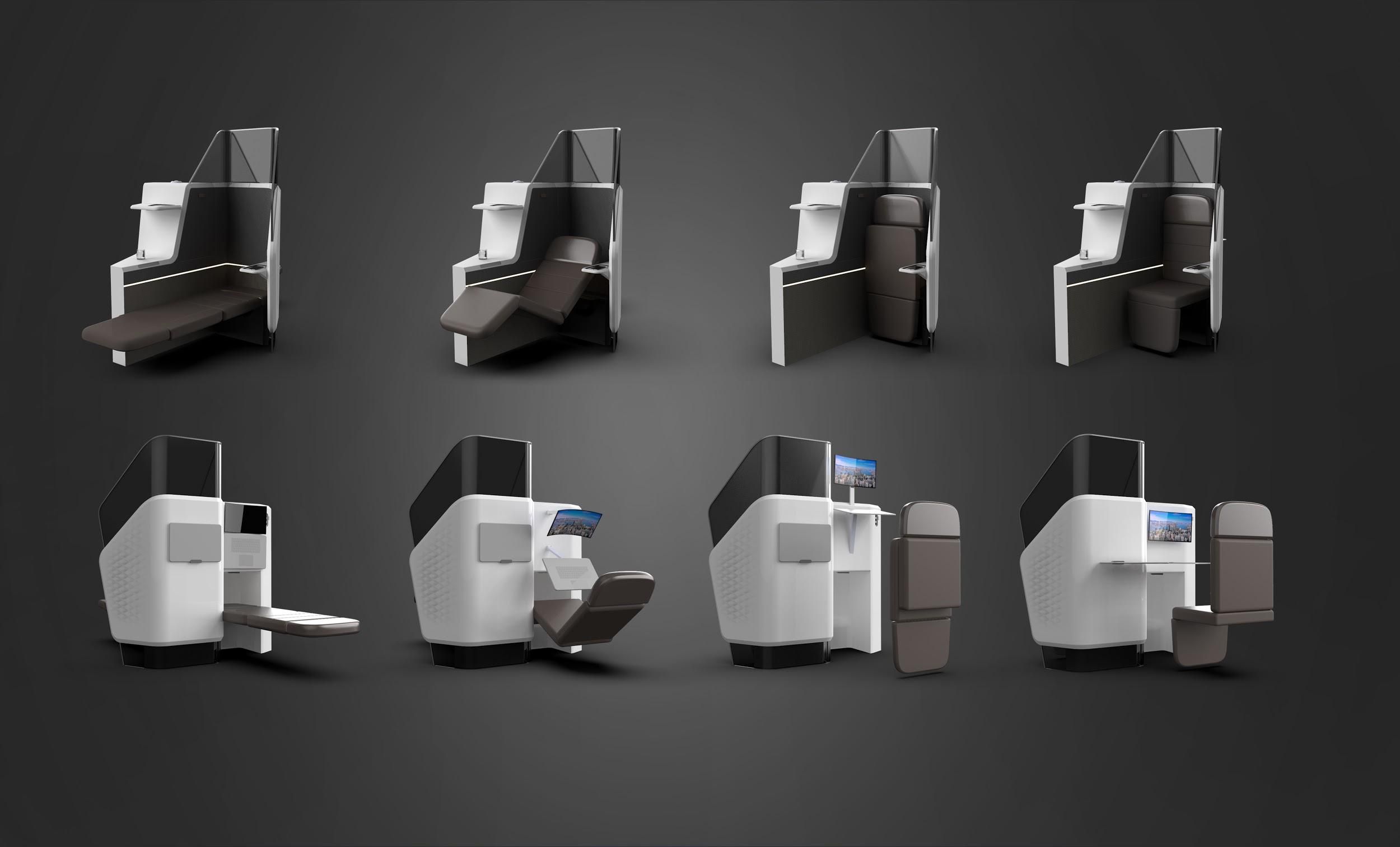 Joseph Lane from the University of Cincinnati, meanwhile, has developed an innovative approach to on-board catering. With the SkyDining app, business class passengers can choose meals from their favorite airport restaurants in place of the standard meal options, using a smartphone app. The meal is delivered to the airport at the gate and served hot during the flight in an environmentally friendly cardboard box. The box design is designed to work with another part of the catering concept: a galley cart redesign made up of compartments for meal storage, each with advanced heating and cooling technology.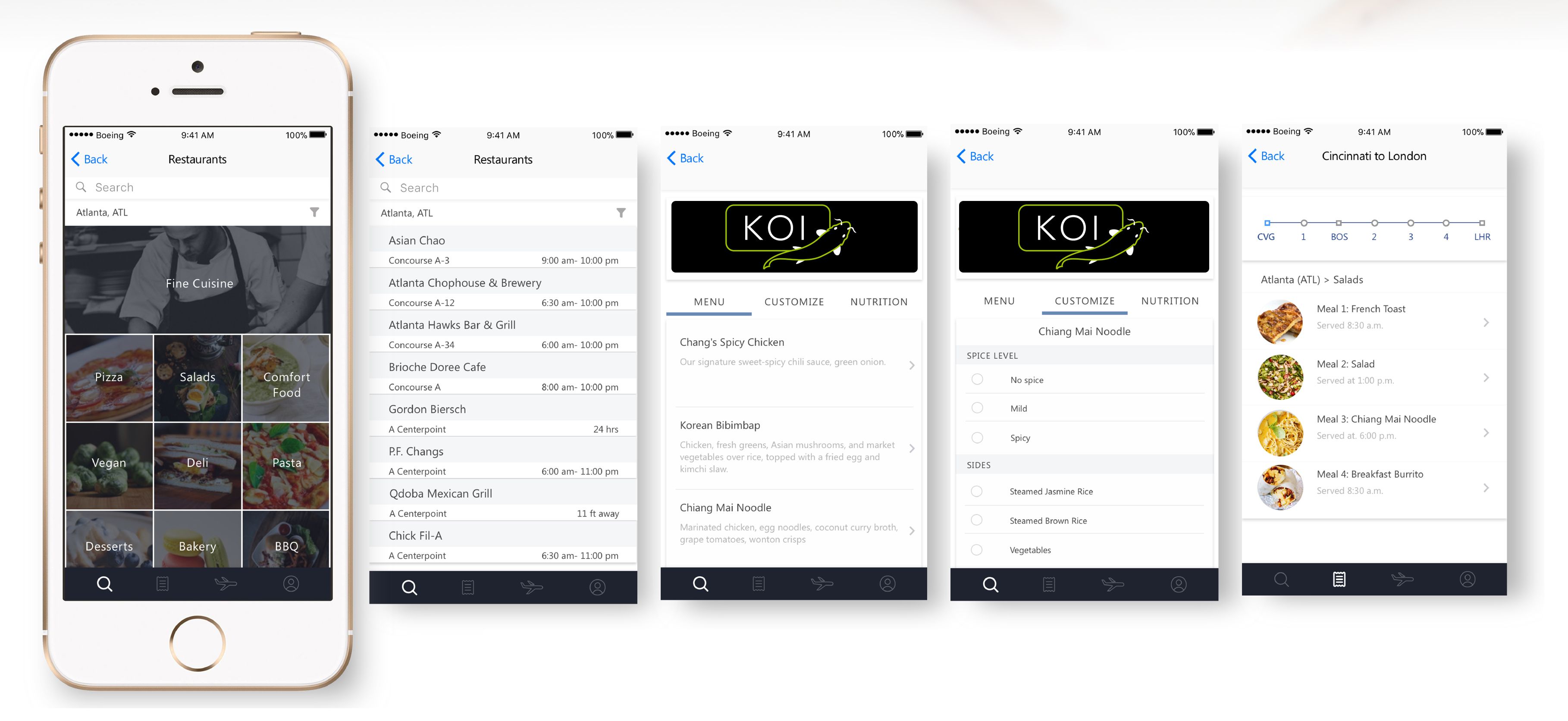 Visionary Concepts
The eighth and final category is Visionary Concepts, an exciting prize which looks to the aircraft cabins of tomorrow.
The theme of flexibility is again seen in the Ultraflex Zone visionary lifestyle concept from AIM Altitude, a social zone offering passengers a destination on board ultra-long-haul flights. Wellbeing and stimulation have been considered in the design, with possibilities for the flexible space including secluded booths for meetings, dining, exercise or meditation; a self-service deli galley; communal standing/perching opportunities; low-resistance exercise activities; a pop-up bar and screened sports events.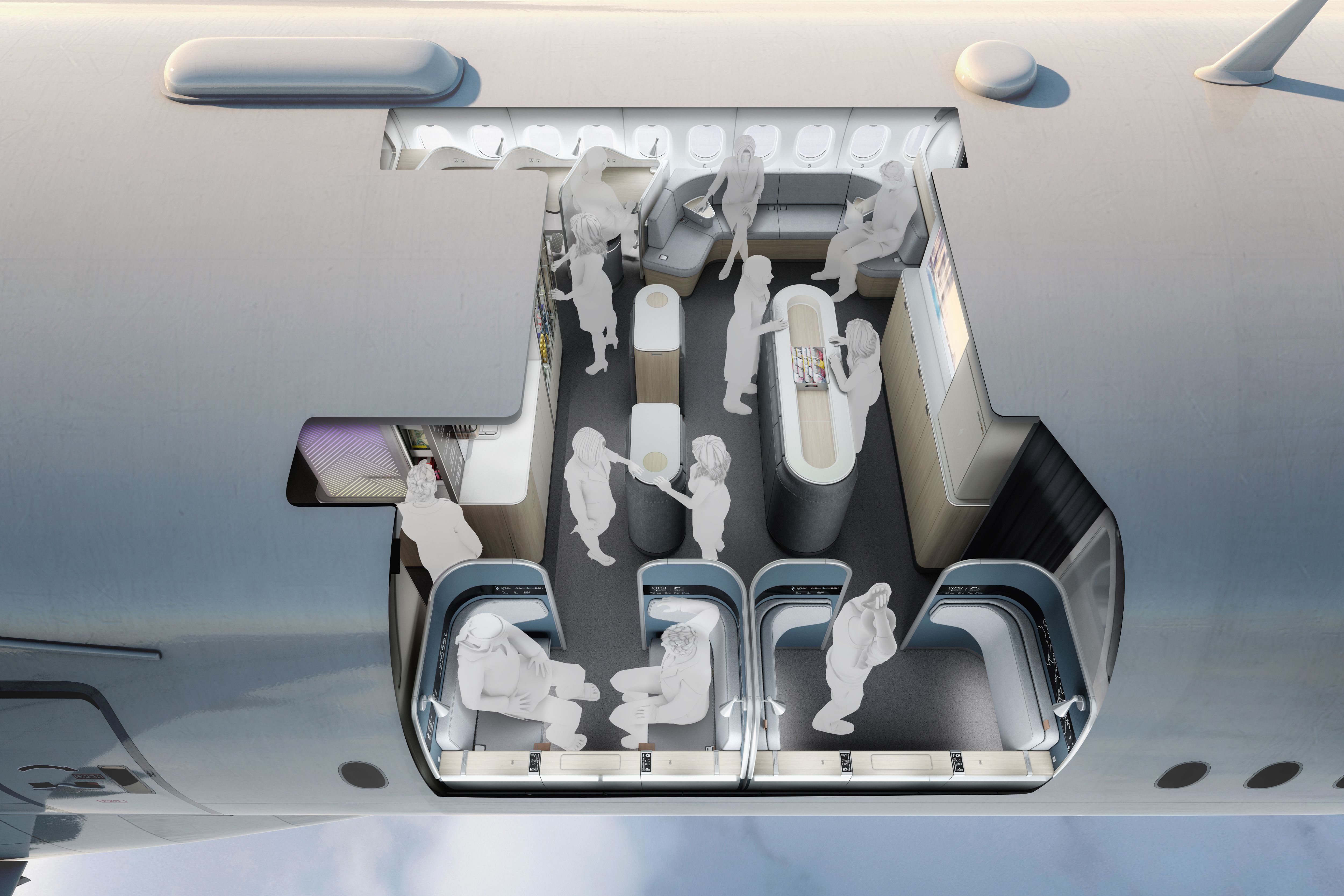 The next finalist, Paperclip Design, is no stranger to the Crystal Cabin Awards. This Hong Kong-based innovation house won an award in 2014 for the Butterfly convertible seating concept, an award in 2009 for the Paperclip Armrest concept, and was a finalist in 2013 with the Checkerboard convertible seating concept. The latest idea from Paperclip Design is the Peacock Suite, a way for airlines to quickly reconfigure their first class cabins. Flexible partitions and seating arrangements enable individual products to be put together on a flight-by-flight basis as required, ranging from family compartments to three-room luxury suites.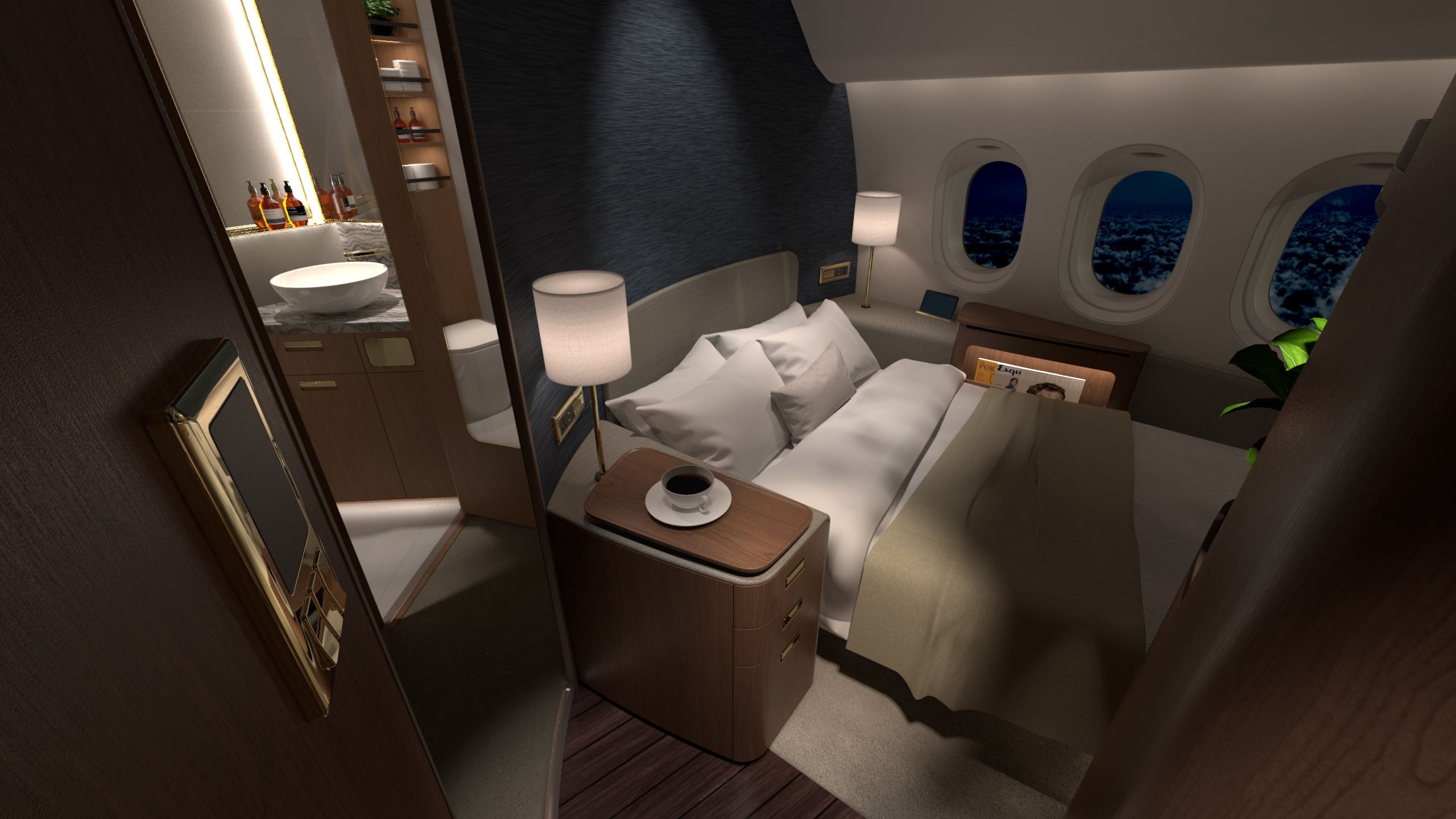 Boeing, meanwhile, has approached visionary cabin redesign from a different perspective. The Smart Cabin concept transforms the aircraft interior into an "Internet of Things" for crew members. Similar to a 'smart home' infrastructure, it allows for all components to be digitally managed and controlled with voice commands, from lighting to seating and even lavatories. The Smart Cabin is an integrated system and a self-contained ecosystem for the cabin environment, which adaptively responds to the needs and of airline passengers and crew.  The system can also run analytics to assist crew and airlines with accurate decisions and improve airplane cabin efficiency.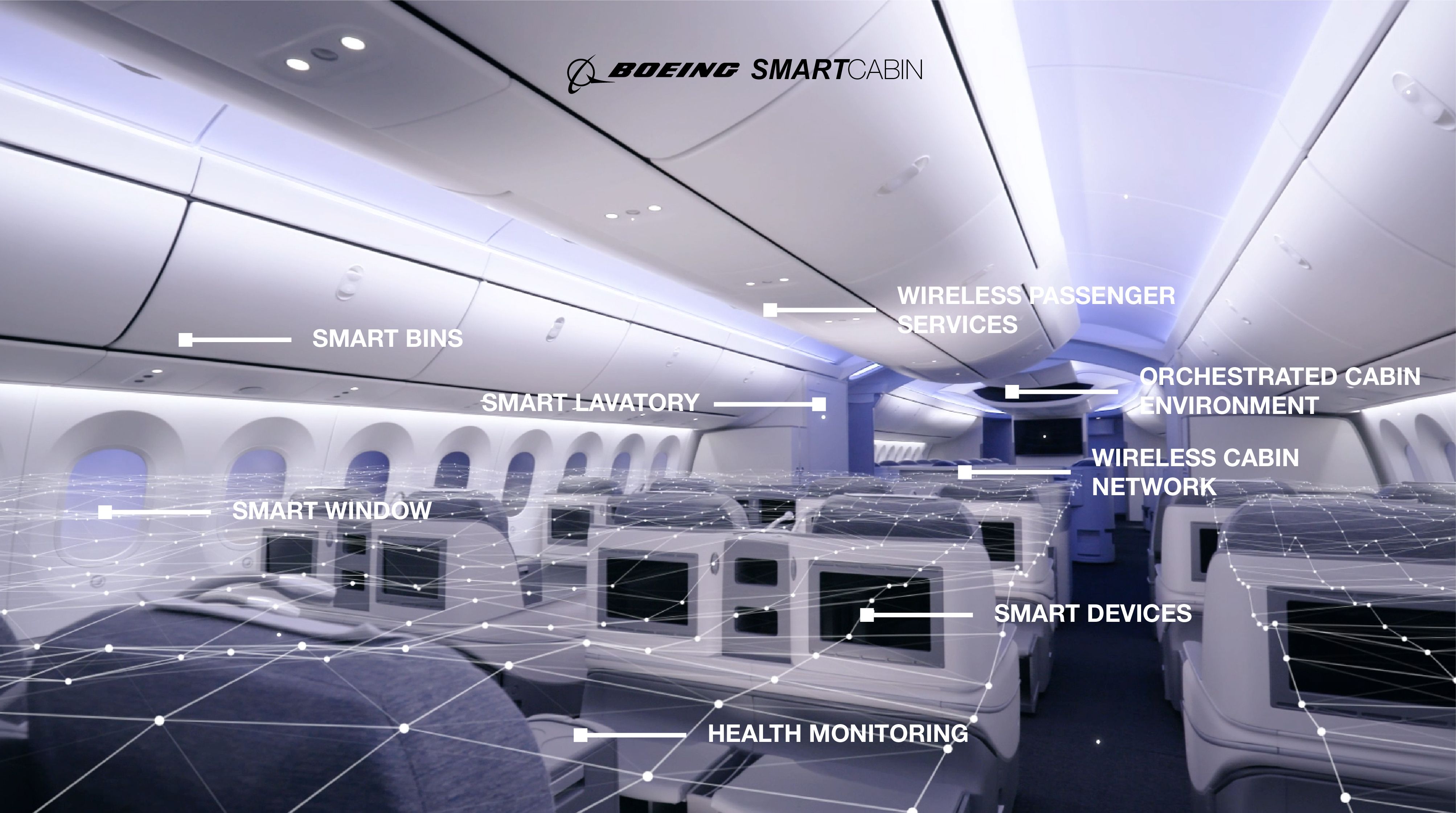 So what happens next?
To win a coveted trophy  – 3D printed no less! – the 24 finalists now have to present their ideas in person to the 27 members of the international expert jury. Winners will be announced at a prestigious Gala Dinner taking place in the trading floor hall of the Hamburg Chamber of Commerce on April 2 , as part of Aircraft Interiors Expo (April 2-4 in Hamburg). Guests of honor at the dinner will include Hamburg's governing mayor, Dr Peter Tschentscher, along with the Federal German Government's coordinator of aerospace policy, Thomas Jarzombek. All winners will then present their concepts once again at the Hamburg show in the Cabin Space Live Auditorium, near the official Crystal Cabin Award Gallery on the first floor in Hall B4, at 2:30pm on Wednesday, April 3rd. Information on all finalists will be available there throughout the entire Expo. This year, for the first time, trade fair visitors can also take part in a popular vote.