The Crystal Cabin Awards are the most highly regarded honours for aircraft interiors, aviation innovation and engineering, and airline passenger experience excellence. 2020 marks the 14th year of the awards, an independent initiative organised by the Crystal Cabin Award Association, and there is no shortage of fresh ideas this year – indeed a record 105 concepts from 21 countries made it to the shortlist.
Entrants include airlines, suppliers, universities and major aircraft manufacturers, who make up a veritable 'who's who' of the interiors industry. The judging process for the 2020 Crystal Cabin Awards began in December, when the 27 members of the international expert jury (including Adam Gavine, editor of Aircraft Interiors International) evaluated the 105 entries. That initial round of voting has created 24 finalists, and on 31 March, the judging panel will gather at Aircraft Interiors Expo in Hamburg to decide which eight innovations on the shortlist deserve the aviation industry's most coveted trophies.
Let's take a closer look at the innovations vying for trophies:
Cabin Concepts
The Cabin Concepts category receives the most public and media interest, and 2020's result should continue this trend. This category recognises complete cabins that already exist, and entries are typically submitted by airlines as well as by aircraft manufacturers and design companies.
Boeing 777X Sky Architecture
The B777 cabin is a great design, but for the B777X, Boeing and Teague have taken the architecture to the next level. One clever advance is that the B777X cabin is wider than that of the B777, despite having the same external fuselage cross-section. Another big benefit for airlines is the X's much wider scope for customisation, which can be achieved simply and quickly, with the cabin serving as a blank canvas for airline customers to express their brand.
The cabin design is an application of Boeing's Sky Interior philosophy, a holistic approach that brings together every aspect of the cabin, with visual aspects such as the architecture, lighting, stowages, ceilings and sidewalls working in harmony with technologies such as pressurisation, air filtration and humidity systems, and Smooth Ride Technology features to create a considered and cohesive passenger experience.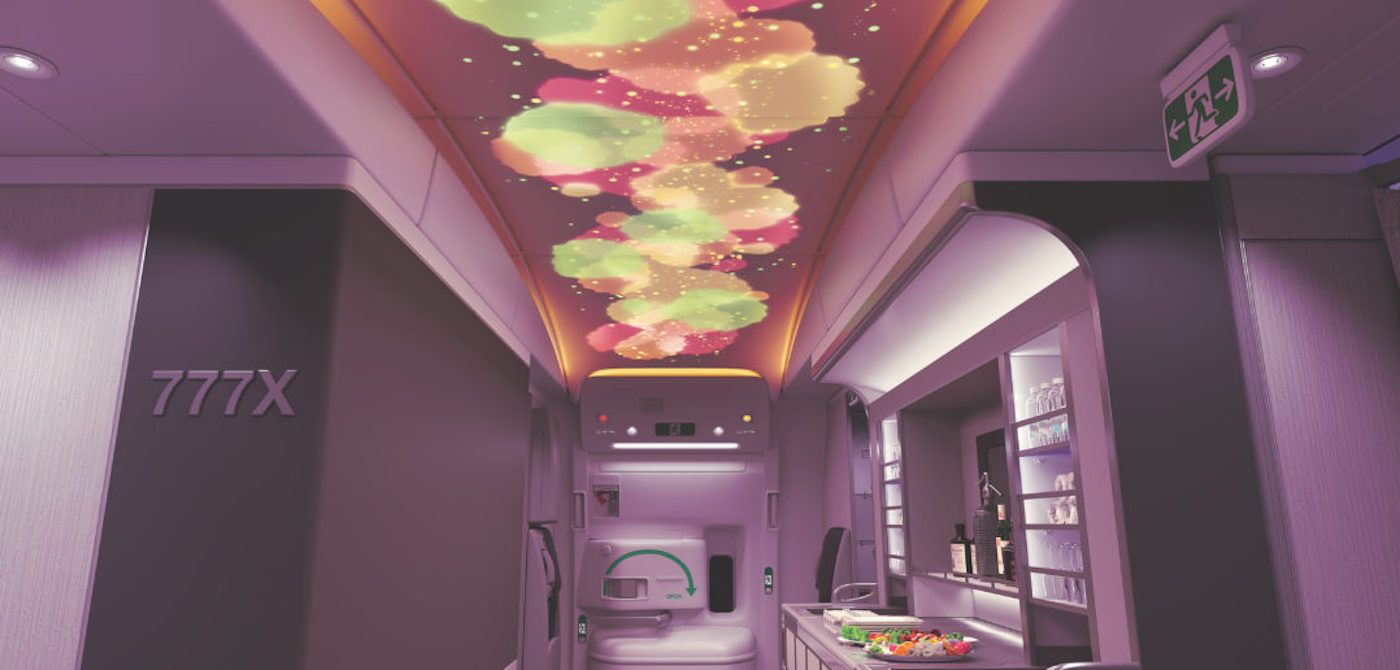 For more details of the B777X cabin, see our exclusive feature HERE.
The Boeing 777X Sky Architecture is a strong contender, so who is it up against?
Virgin Atlantic Upper Class Loft
The Loft is the latest iteration of Virgin Atlantic's on-board social space, launched in 2019 on Red Velvet, the airline's first A350-1000. The space has been designed with two major functions in mind, the first being the 'brand handshake'. With the monument located at door 2, it is both the welcome and farewell feature for all customers on board the aircraft, creating a gateway into and out of the Virgin Atlantic experience.
Secondly, during flight the Loft space becomes a social zone for Upper Class passengers. Responding to customer insights, Virgin Atlantic has moved away from its usual bar areas to a lounge zone that maximises space for customers, and offers an area that can be used throughout the flight, for whatever they may want, whether socialising, watching the widescreen TV with a Bluetooth headset or having a work meeting.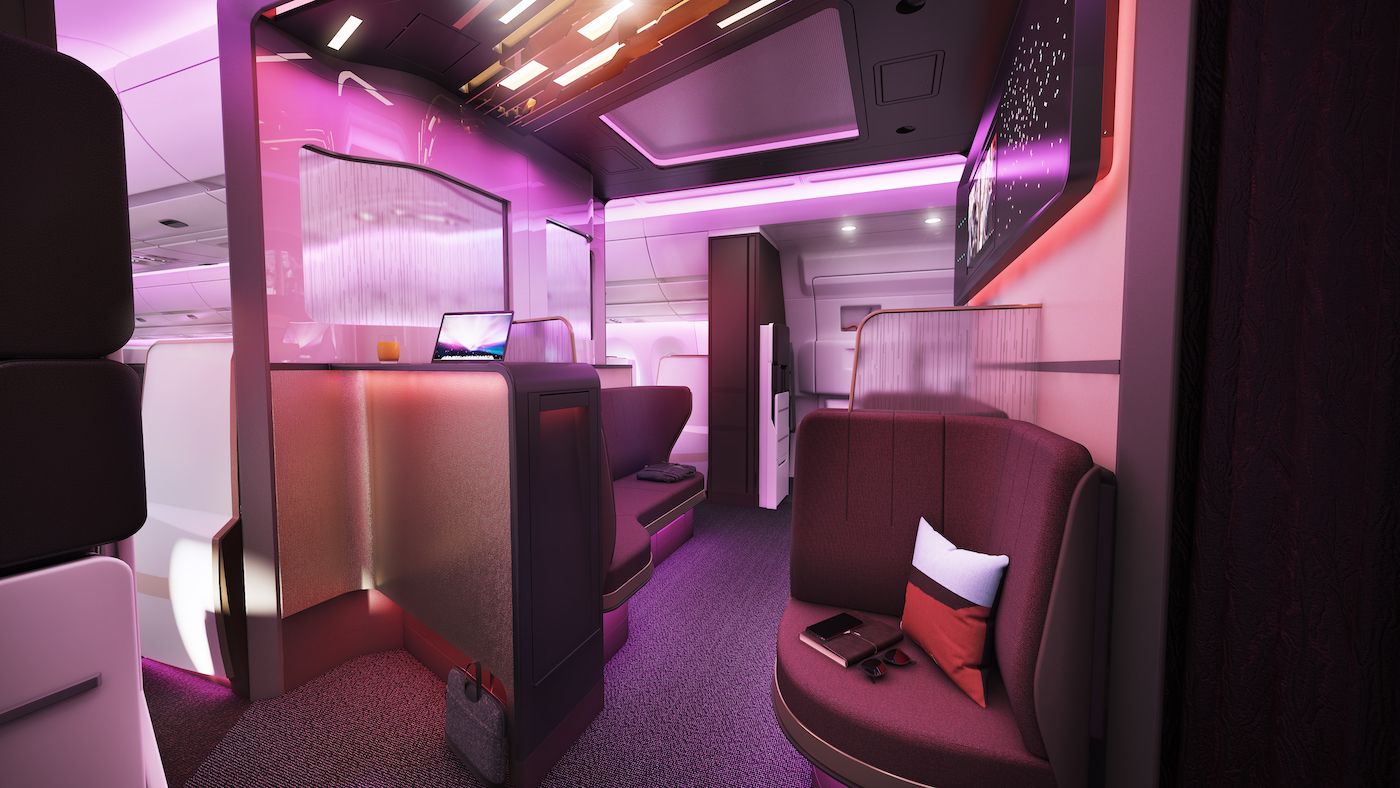 If Virgin Atlantic wins, its suppliers that helped create the Loft will also be celebrating, including AIM Altitude, Factorydesign, Boltaron, Isovolta, Mankiewicz, Muirhead and F.H.Lambert.
If you want to know more about the Loft design, we take a deep dive HERE.
You can also read an interview with Virgin Atlantic's VP of customer experience, Daniel Kerzner HERE, where he discusses everything from the Loft to changing passenger tastes and demographics, to staying ahead of the technology curve, to 'innovation safaris'.
Eviation Alice
The 2019 Paris Air Show saw the launch of Alice, an all-electric, zero-emission aircraft from Eviation intended as a regional aircraft with a range of 650 miles at a 240-knot cruise speed. To comply with FAA FAR 23 for commuter and on-demand operations, the aircraft seats nine passengers and two crew.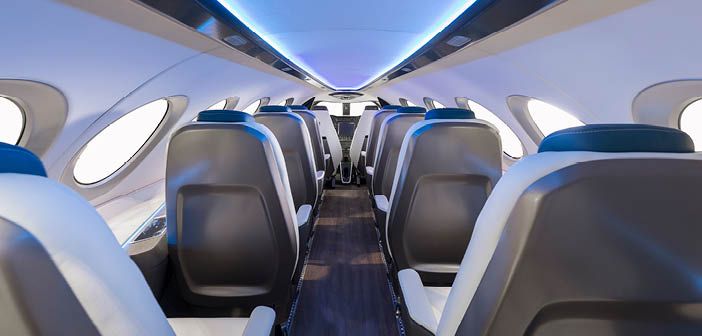 Alice is the culmination of four years of design and collaboration with an international ecosystem of partners that spans France, Italy, Singapore, Germany, South Korea, Australia, the USA and Israel. Portuguese studio, Almadesign, was involved throughout the cabin design, from concept to the development and prototyping of solutions for several components.
This is what Omer Bar-Yohay, CEO of Eviation has to say about Alice: "Operating at a fraction of the costs of conventional jetliners, Alice will redefine how people travel regionally and usher in a new era of flying that is quieter, cleaner and cost-effective. With the introduction of Alice, we welcome an all-new breed of aircraft for the first time in 50 years and it is only the beginning of a bright future for electric aviation and sustainable transportation."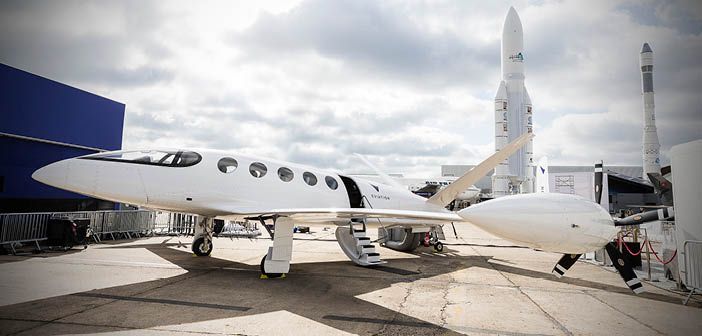 Passenger Comfort Hardware
This category recognises good ideas for enhancing passenger comfort, whether for all passengers or for specific groups of passengers. This category includes anything from seats, lavatories and bins, to partitions, lighting systems, linings and VIP products. However, during evaluation, an innovation that is of general use to a large group of individuals may achieve higher marks.
Adient Aerospace, Space For All (SFA)
Bulkhead seats are preferred by many travellers as they can offer extra legroom as well as bassinets for babies. The Space For All 'SFA' concept from aircraft seating company, Adient Aerospace, enhances the front row seat experience with a mechanism that extends out from the lower bulkhead wall. When locked in position, SFA provides each passenger with an extended flat surface to use as a lounge seat or, with all three surfaces deployed in a triple seat, it creates a shared space for children and adults.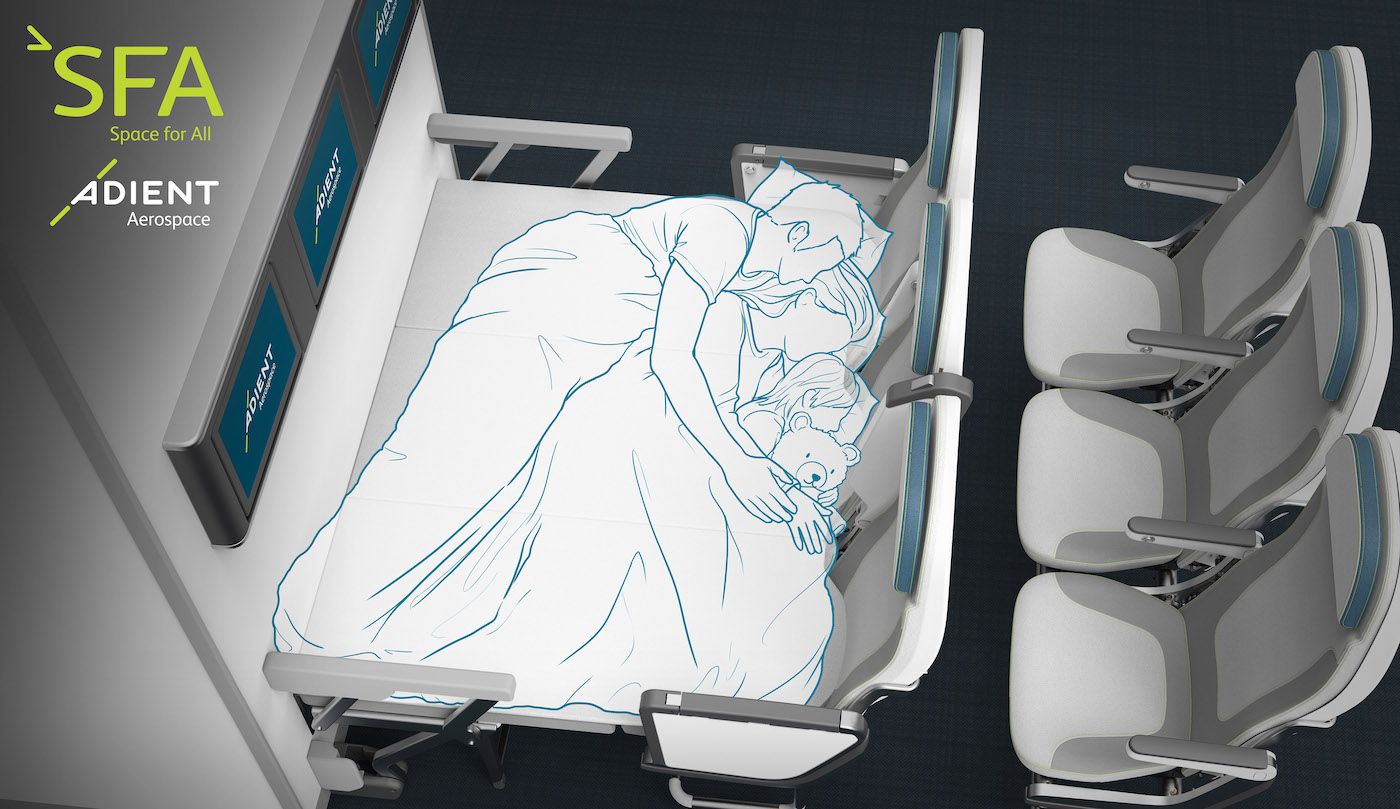 The concept can be retrofitted onto existing aircraft fleets, but is further optimised with the Adient Aerospace front-row triple seat, which incorporates a patent-pending folding centre armrest with bi-fold meal table. With the seat armrests in the raised position, SFA provides the front-row passengers with over 17 sq ft of shared flat bed space. In bed mode, the centre armrest can be lowered and deployed, to provide a coffee table or work station.
Ciara Crawford, The Row 1 airport wheelchair system
All passengers should have an enjoyable and dignified flight experience, but for some travellers with disabilities, this is not the case. At the moment there is a perceived lack of focus on the accessibility of aircraft or aircraft seats for people with reduced mobility (PRMs). Most aircraft seat designs are focused on making the seats smaller and closer together in order to maximise cabin seating capacity, reducing the amount of independence and freedom for PRMs. This issue inspired Ireland-based product designer, Ciara Crawford, to create the Row 1 airport wheelchair system for aircraft accessibility. Crawford has experience working as a concept developer for an aircraft company.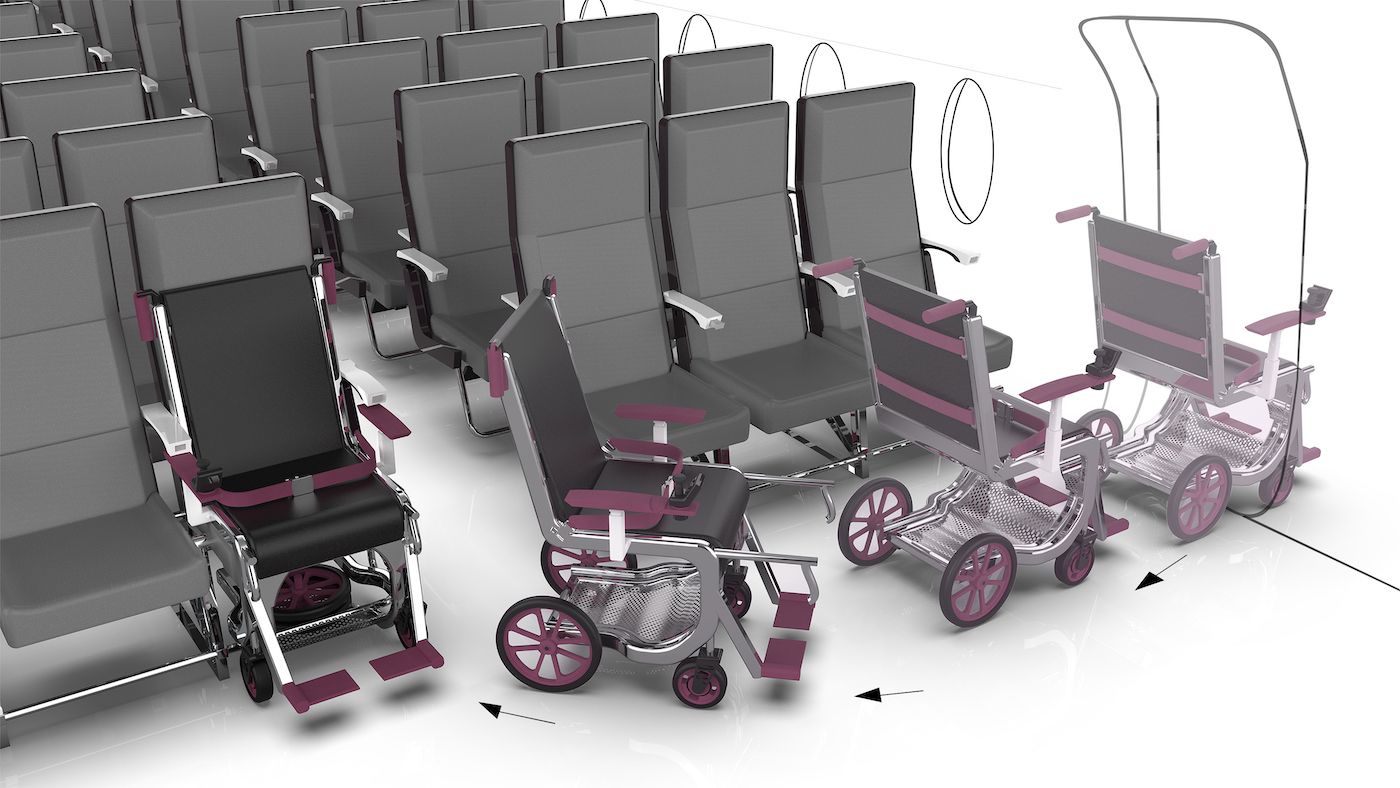 The Row 1 airport wheelchair system allows the passenger to use one seat for the whole journey, taking them all the way from the check-in desk to their destination airport and cutting down the number of seat transfers required. The seat is parked onto and strapped into the existing aircraft seat to allow for quick and easy boarding and disembarking. The process is quick and simple, eliminating the concerns that many disabled passengers have of being watched while boarding and being lifted by crew members into their seats.
The chair has been designed to be as simple as possible,with adjustable handles, armrests, and wheels for easy manoeuvering. The design also features an automatic steering system that is controlled by the user, enabling PRMs to make their own way through the airport.
You can find more details HERE.
Safran Seats,
 

Modulair S

There is a constant push for airlines and designers to offer the best flying experience, but a critical question remains: how can airlines offer the best experience in a way that makes the most technical and business sense?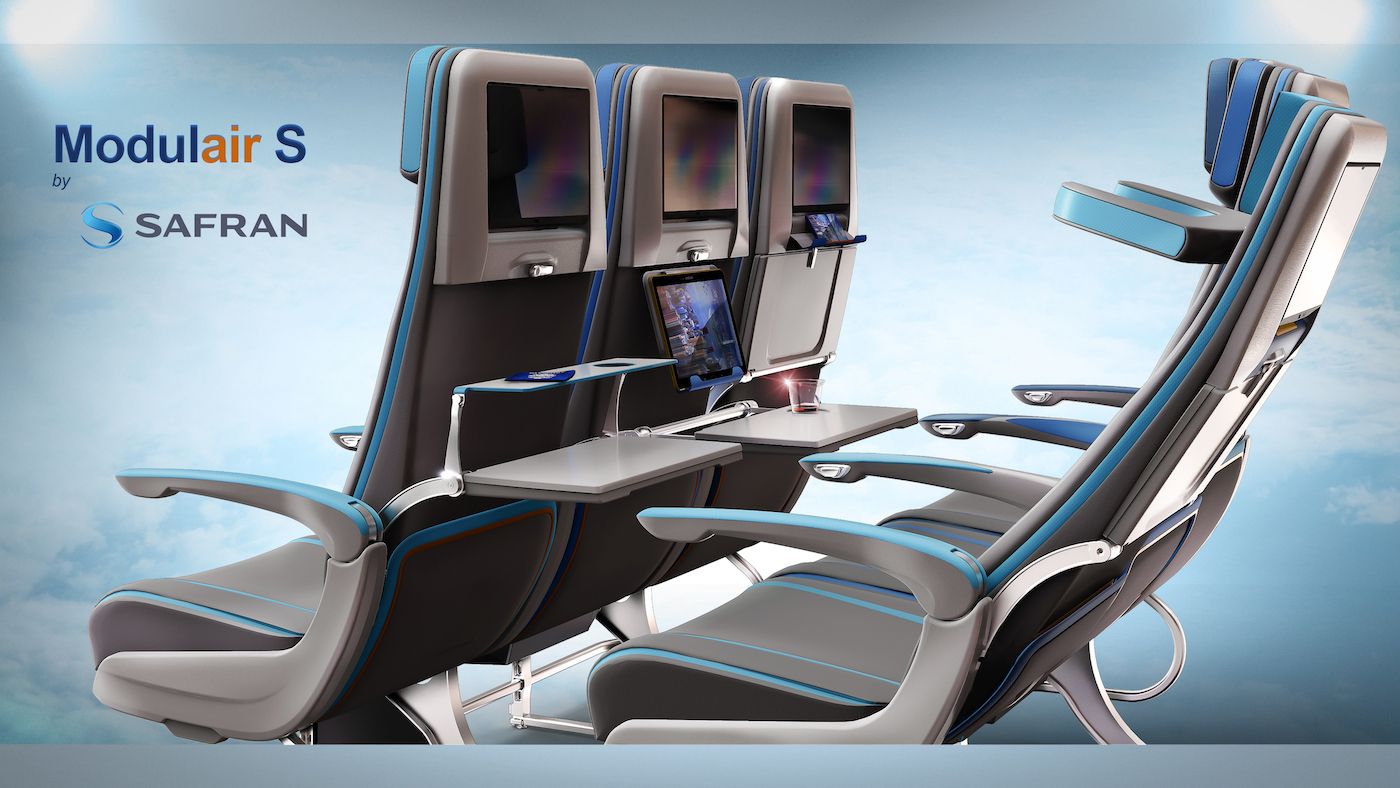 In response Safran has developed the Modulair S Seat, an economy class seat that is designed with a passenger-centred architecture that enables it to holistically integrate a complete set of new experience-enhancing features, including components that can aid sleep, work, dining and entertainment.
Cabin Systems
The emphasis of the Cabin Systems category is on efficient designs for airline operations. Category contenders typically include hardware such as galleys, lavatories, trolleys, air conditioning, electrical systems, electronic cabin management systems, waste & potable water systems and acoustics. Judging criteria include factors such as the efficiency of mechanical solutions, ergonomic advantages and ease of implementation.
Safran Cabin,
 

Sophy smart trolley system

The smart Sophy galley cart system offers more capabilities than just tracking a trolley's status and performance, even though such technology is still considered advanced. Safran has developed Sophy to provide airlines with a helicopter view of a trolley's day-to-day operations, offering insights on main processes and the milestones of the trolley's journey during handovers, cleaning, maintenance, in-flight service rounds and more.

The slimline Sophy hardware can fit within any galley cart to collect, share and communicate real-time, accurate data with other Sophy-activated equipment through a 'mesh network', unlocking valuable insights for airline operators. The insights of a trolley equipped with Sophy can save catering costs by preventing and minimising inefficiencies caused by mishandling, misplacement or misinformation. No longer will a trolley be left behind during a turnaround or at the catering facility.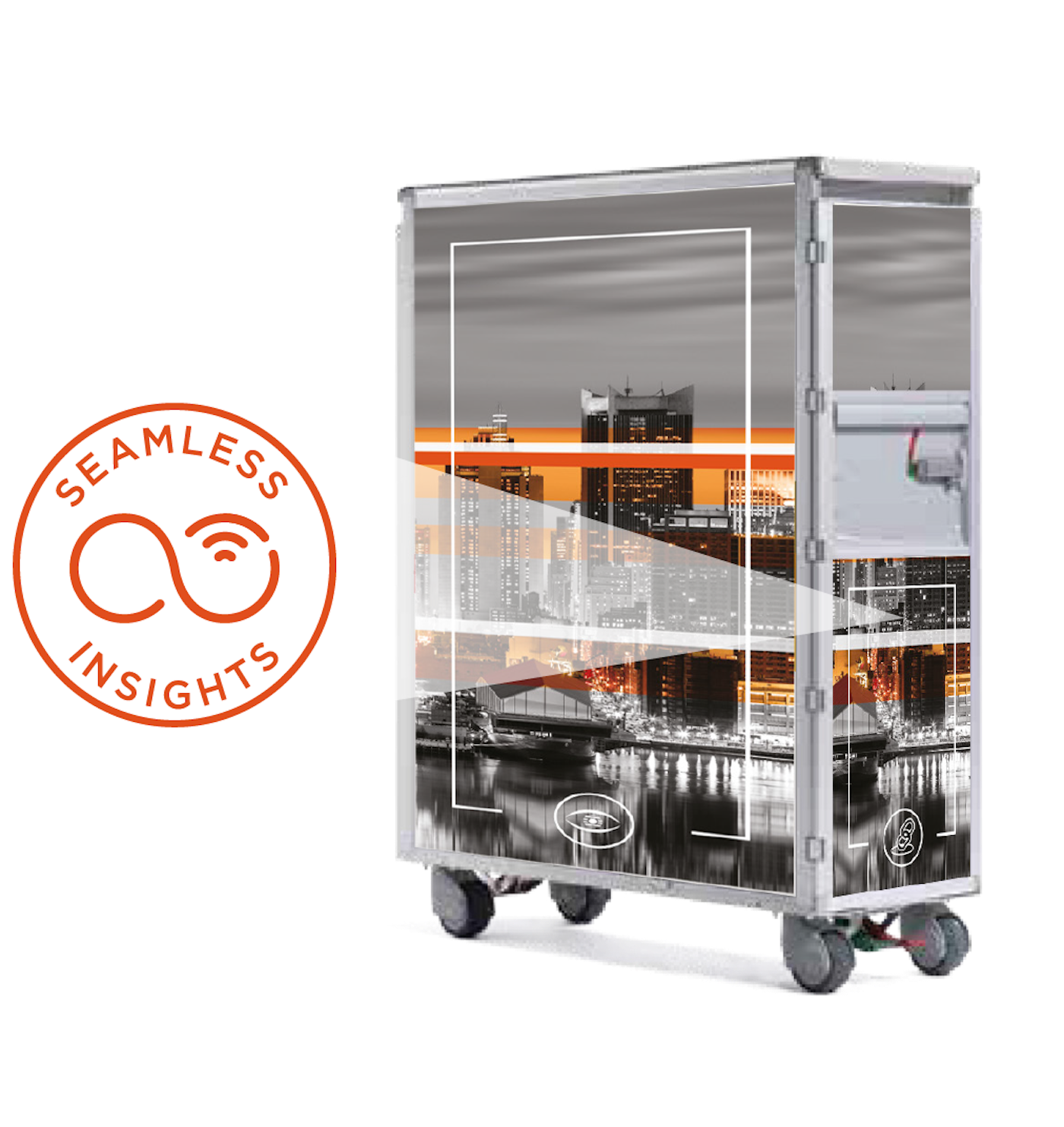 SFS and Jetlite, Lite2fix
Lite2fix is an interface-reduced fastening cover that adds value to the manufacturer, the airline and the passenger, as it simplifies assembly methods through automation, enables the display of passenger information, and increases well-being through the use of human-centric lighting.
For cabin hardware manufacturers, Lite2fix simplifies the line-feeding process as well as the levelling and processing of the robot, and saves time-consuming steps through its bracketless design, self-adjusting interfaces, automated assembly and multi-ATA functionality. Airlines benefit, as any desired information can be displayed on the LED panels, such as indicators to help passengers locate free space in the overhead stowage bins and speed-up boarding, seating displays to help passengers find their seats, and opportunities to help airlines strengthen their image through cabin branding. For the passenger, Lite2fix provides individual information about the own passenger journey.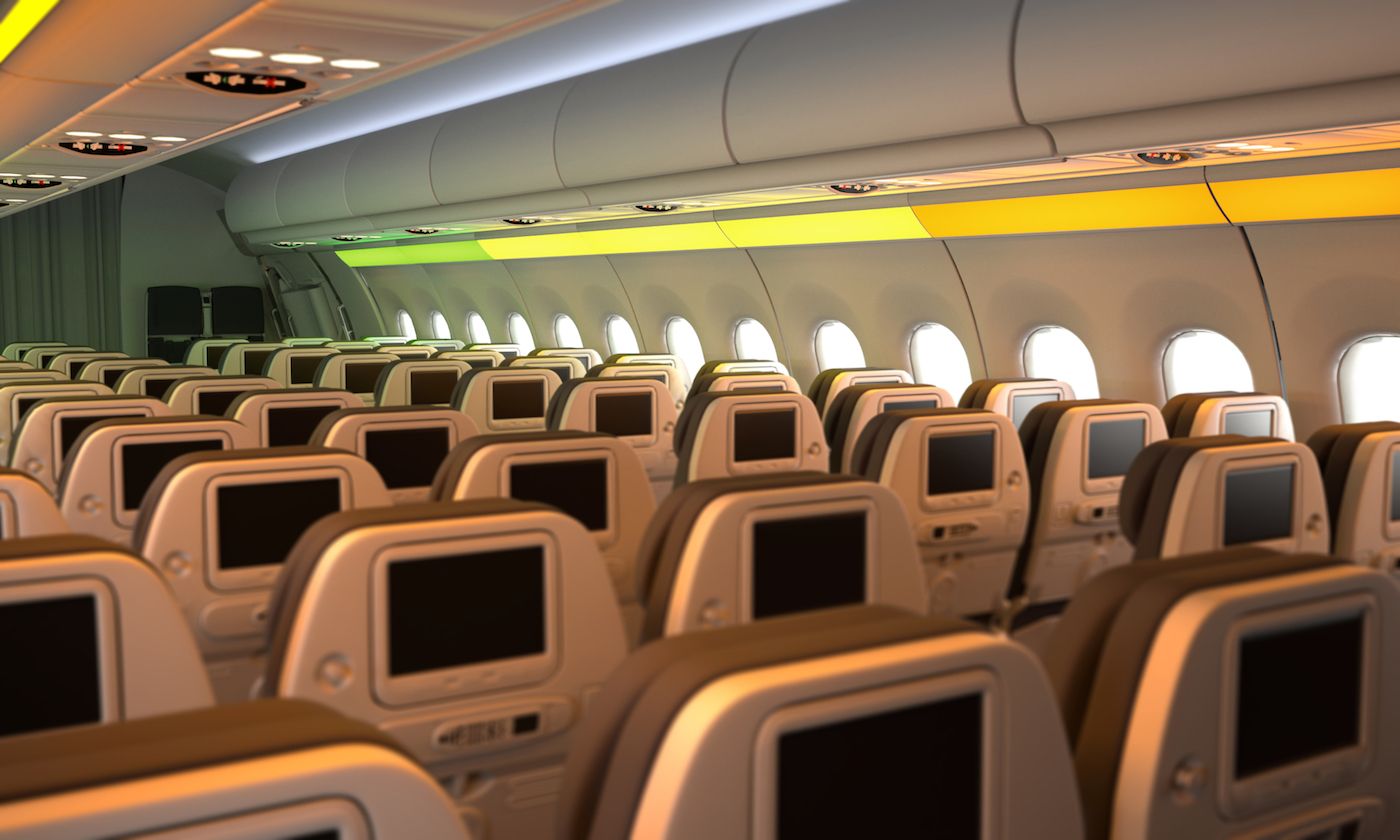 SITAONAIR, Next Gen Connectivity Mobile ONAIR 4G
Over the next 20 years, the global aircraft fleet is set to double, with passenger numbers reaching 7.2 billion. With each passenger carrying more devices – including smartphones, tablets and wearables – and the rates of data consumption becoming more demanding than ever, the thirst for capacity will put a major strain on existing networks. 
That's why SITAONAIR is in the process of developing its enhanced Mobile ONAIR product, enriched with 4G connectivity, which is intended to lay the groundwork for airlines to implement the inflight mobile connectivity services of tomorrow.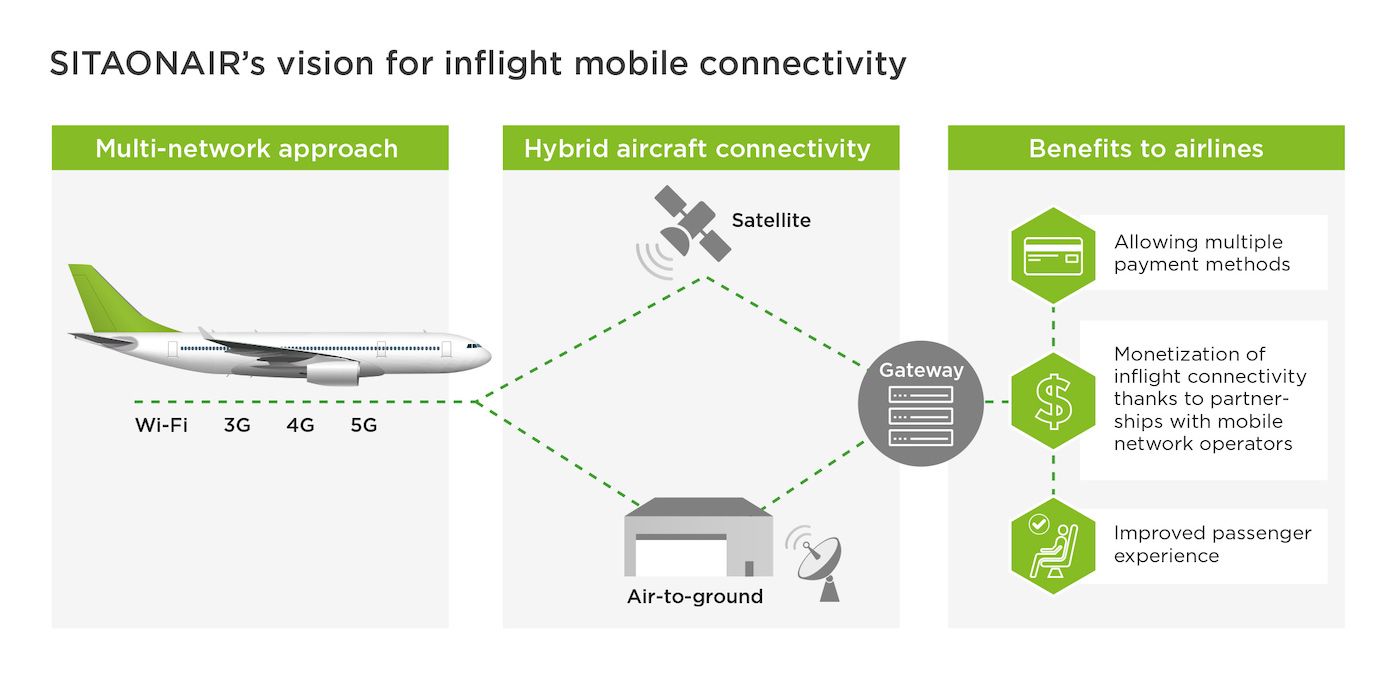 Mobile ONAIR is SITAONAIR's next-generation airborne mobile connectivity innovation with 3G and 4G capability. It enables the creation of multi-cellular networks on board aircraft, and allows for the creation of a flexible inflight connectivity experience based on existing 3G and 4G technology, while laying the groundwork for 5G capabilities in the air.
Greener Cabin, Health, Safety & Environment
This category combines different classes of innovations, all with an environmental focus. Entries in this category must either reduce the negative effects of aviation on the environment, or minimise health or safety hazards and security problems for passengers, staff or live cargo. European and international legislation compliance is taken into consideration for the evaluation of each entry.
ATR, AudioBack
According to 2018 World Health Organisation figures, 6.1% of the world's population suffers from a hearing loss that qualifies as a disability, and that figure is set to double by 2050. Today, hard-of-hearing passengers face a number of issues when travelling by air, as their disability prevents them from clearly distinguishing inflight announcements, resulting in anxiety and a feeling of exclusion.
ATR, the regional aircraft manufacturer, and Bacqueyrisses (the entry's patent owner), are contending for this category with AudioBack, the first standalone hearing-aid loop in commercial aviation.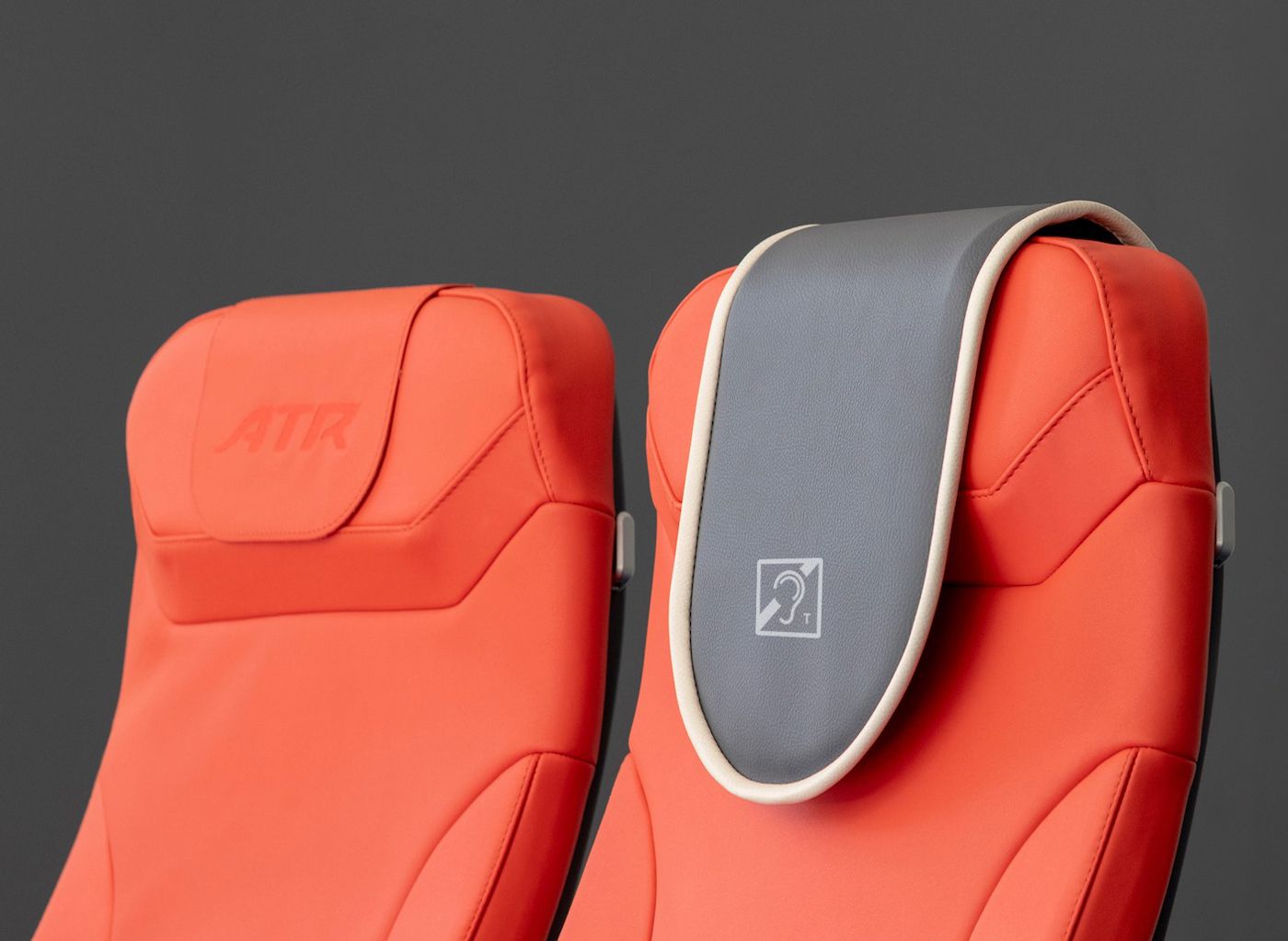 AudioBack is designed to capture any cabin and flight crew audio inputs, and send them to the passengers' hearing aids set up in Telecoil (T) mode, via a magnetic field signal. AudioBack sends a clear and pure sound directly into the traveller's hearing aid, thereby enhancing safety and offering them a more inclusive cabin environment. 
Diehl, Greywater Reuse Unit
The Greywater Reuse System takes handwash water (grey water) from the sink to use for flushing the toilet instead of using precious potable water. This process reduces the amount of potable water typically used on a Boeing 787 Dreamliner flight by 250kg, resulting in CO2 savings of around 550 tons per year and per aircraft, as well as creating substantial financial savings for the operator.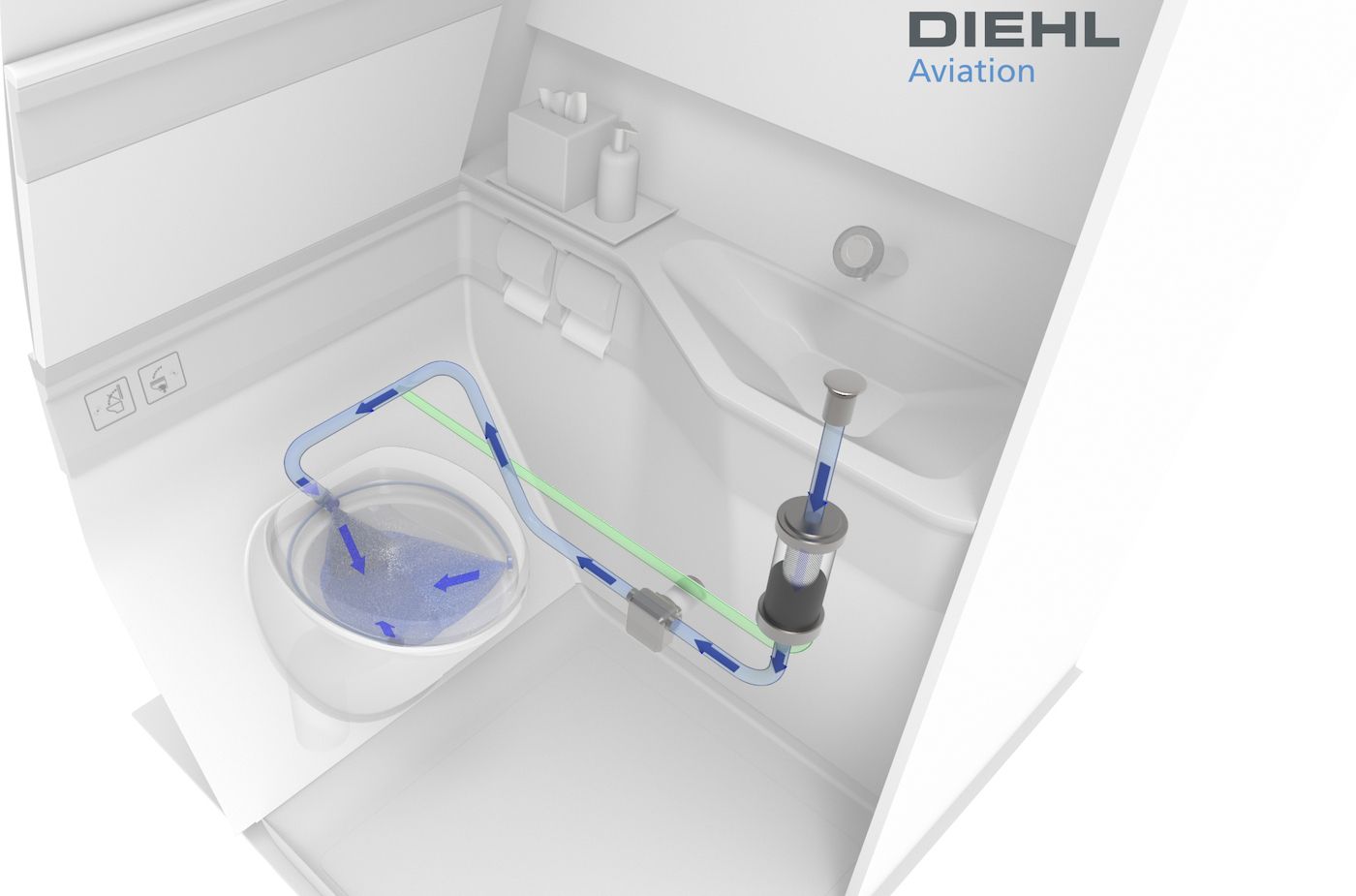 Despite this significant saving of potable water, twice as much water will be available for flushing the toilet compared to many of today's systems. As a result, the passenger will find a cleaner toilet, which allows a much more relaxing and sanitary flying experience.
The Greywater Reuse System treats the handwash water to prevent undesired odours, microbial regrowth, unpleasant appearance and health risks. In addition, the need for aerosols is eliminated through the use of optimised spray nozzles and an automated toilet lid.
PriestmanGoode, Zero economy meal tray
The Zero economy meal tray is a concept product created by transport design consultancy, PriestmanGoode, which aims to reduce the amount of weight and of plastic waste generated during the meal service on passenger flights. The solution is a lightweight tray where each element is made of edible, biodegradable and/or commercially compostable materials.
In its bid to reduce the vast amounts of single-use plastic that come with meal deliveries, PriestmanGoode has explored a vast range of food-safe materials that have been developed for the catering industry, from cups made from coffee grounds, to algae, bamboo and rice husk.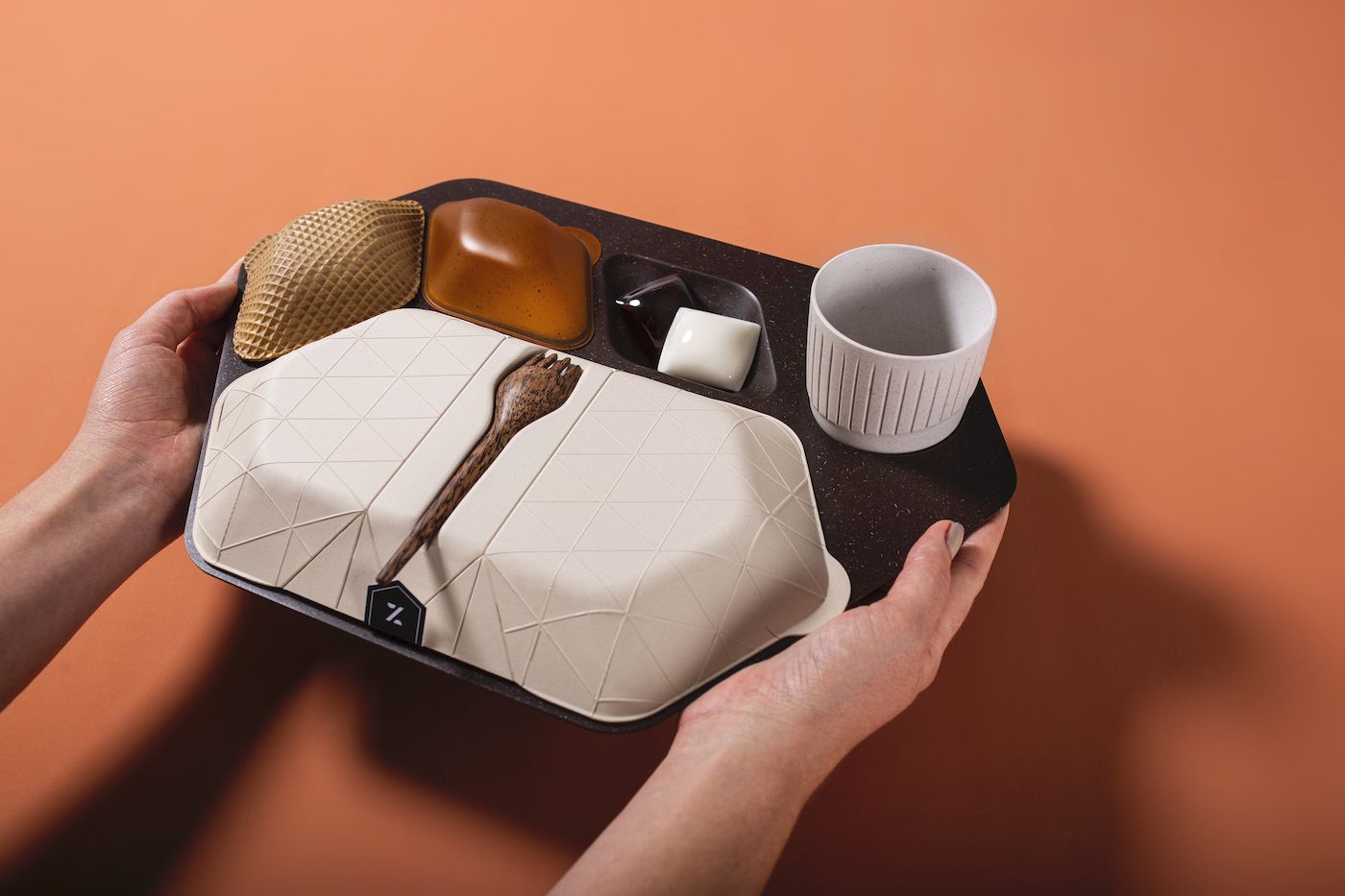 The concept design (more details HERE) aims to encourage suppliers and airlines to rethink the meal service in a more eco-friendly manner, particularly ahead of legislation to ban single-use plastics, which in some countries is proposed for as early as 2021. 
In-flight Entertainment and Connectivity
This category covers the fastest growing, fastest developing sector of the aviation industry and includes areas such as accessible content, antennas, passenger apps, moving maps, unique cabin wi-fi features, etc.
JetBlue Airways, Multi-Screen Experience
In 2000, JetBlue disrupted the entire commercial aviation industry when it became the first-ever airline with seatback screens at every seat. Two decades later, those seatback screens – with live TV, a map channel, six movies, and SiriusXM – have become engrained as JetBlue's foundational pillar for the next generation of IFEC offerings. Today, the world we live in revolves around screens. To be 'connected' means living at the intersection of productivity and entertainment at all times.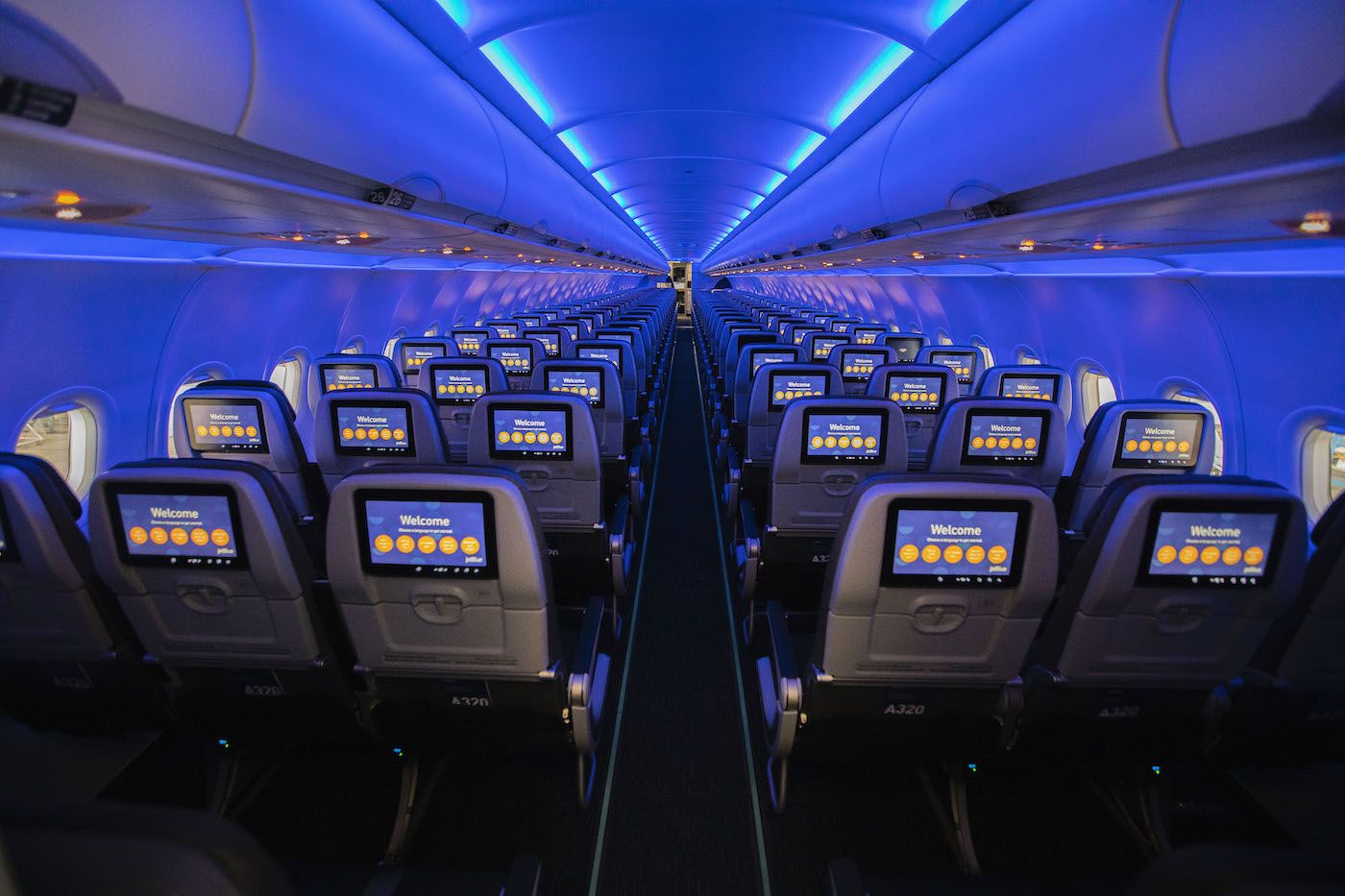 The multiple screens we own and interact with throughout the day don't serve a single function – we work, watch, listen, play, and communicate, oftentimes simultaneously. This activity has been coined as the Multi-Screen Experience, and it's at the core of JetBlue's IFEC vision, created with a little help from Thales Avionics, Spafax, Viasat and Astronics. As the airline says, 'welcome to your living room at 36,000 feet'.
Safran Passenger Solutions, RAVE Bluetooth Audio
Safran Passenger Solutions has cracked the code for Bluetooth Audio congestion during flight, enabling the entire aircraft to be connected at the same time. Up until now, commercially available Bluetooth systems prevented having a large number of Bluetooth headphones, in close proximity to each other, from working at the same time without impacting the cabin wi-fi. The engineers at Safran Passenger Solutions created a way to control power, antenna direction and protocol to allow each passenger or seat of an aircraft to connect to Bluetooth audio without impacting the connection for other seats.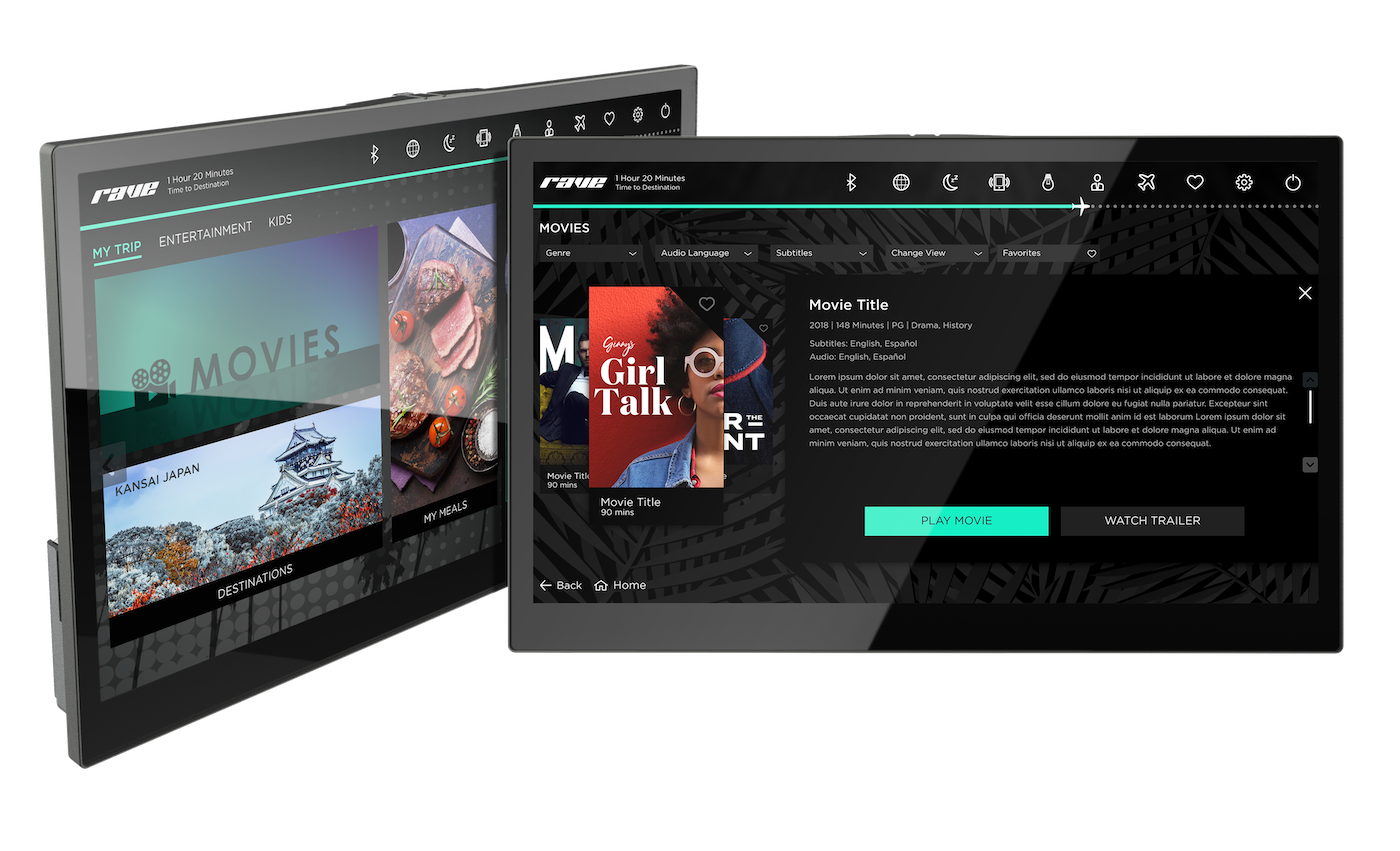 In addition, passengers are not limited to the headsets provided by airlines. Flyers can connect using their own devices, if they prefer, increasing passenger satisfaction and decreasing costs for airlines.
Spafax, Spafax IQ
An industry-first product, the SpafaxIQ IFEC data analytics platform, provides airlines with insights on inflight content engagement to deliver better customer experiences. This tool gives an overall view of an airline's passenger engagement across all IFE systems, supplying cost-per-view data at the most granular level: cabin, route, category, navigation path and language.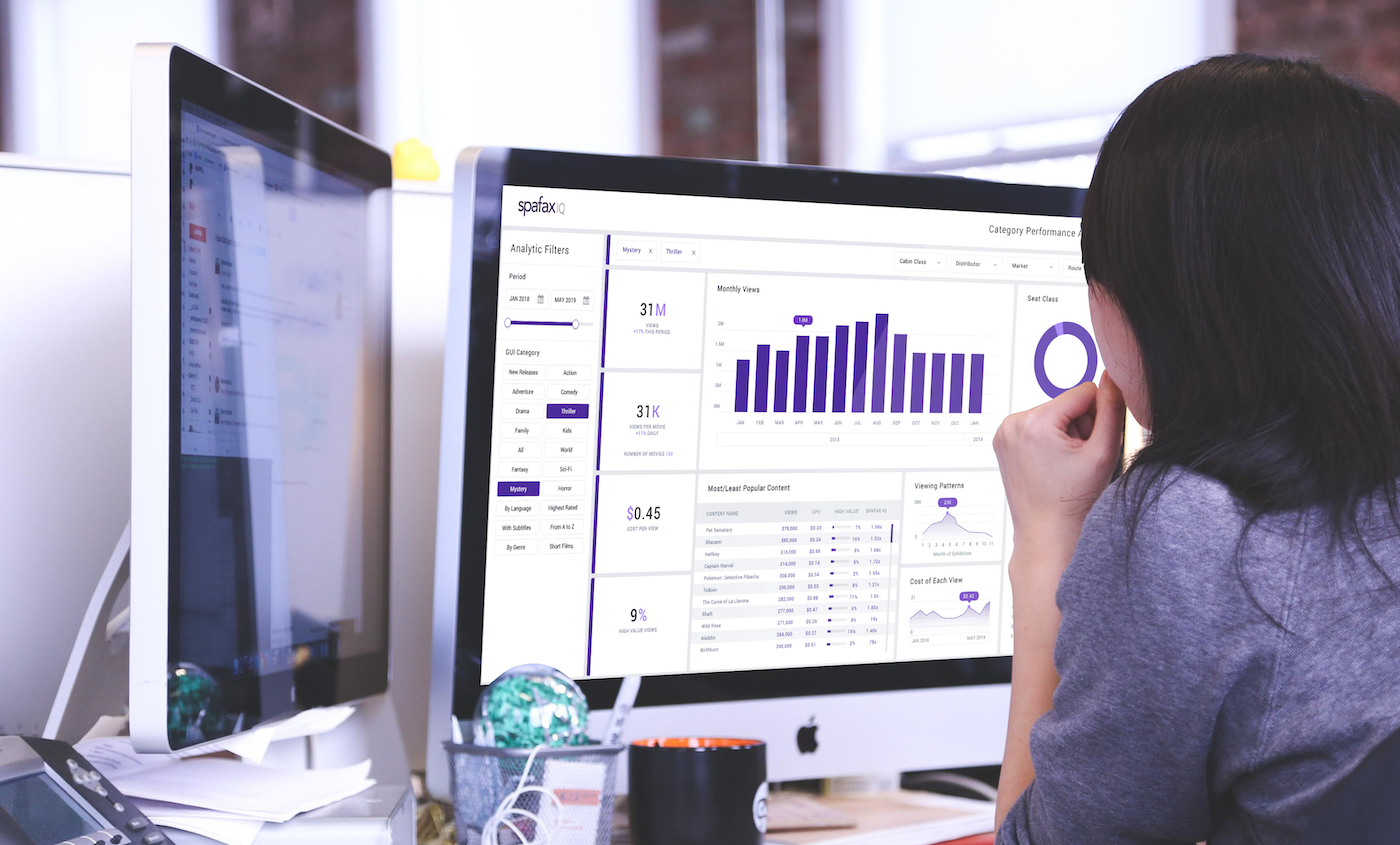 The platform, which has launched with Air Canada, delivers four dashboards across movie and TV content and contains over 30 data visualisations that provide in-depth insight into IFE content consumption, enabling Air Canada to deliver an enhanced IFE experience.
Benefits of SpafaxIQ include improved content targeting, improvements in navigation and payment UX for IFE, GUI and portals, identification of monetisation opportunities, increased value of media and advertising partnerships, and identification of cost savings on licence fees and new deal opportunities.
Materials & Components
Developing new materials, new material applications or a new combination of materials for cabin systems can cut production costs and maximise usability. This category rewards such innovation and embraces an enormous variety of different aircraft components. Entries can be an innovative, single technical component or material, but not a fully developed product such as a seat.
Diehl Aerospace,
 

Experience Line Bridge

The ambiance of an aircraft cabin is an essential factor for passenger comfort and retention. Diehl Aerospace's innovation is designed to create a fully integrated system that combines cabin lining elements and surfaces, image projection and cabin lighting to create a new flight experience.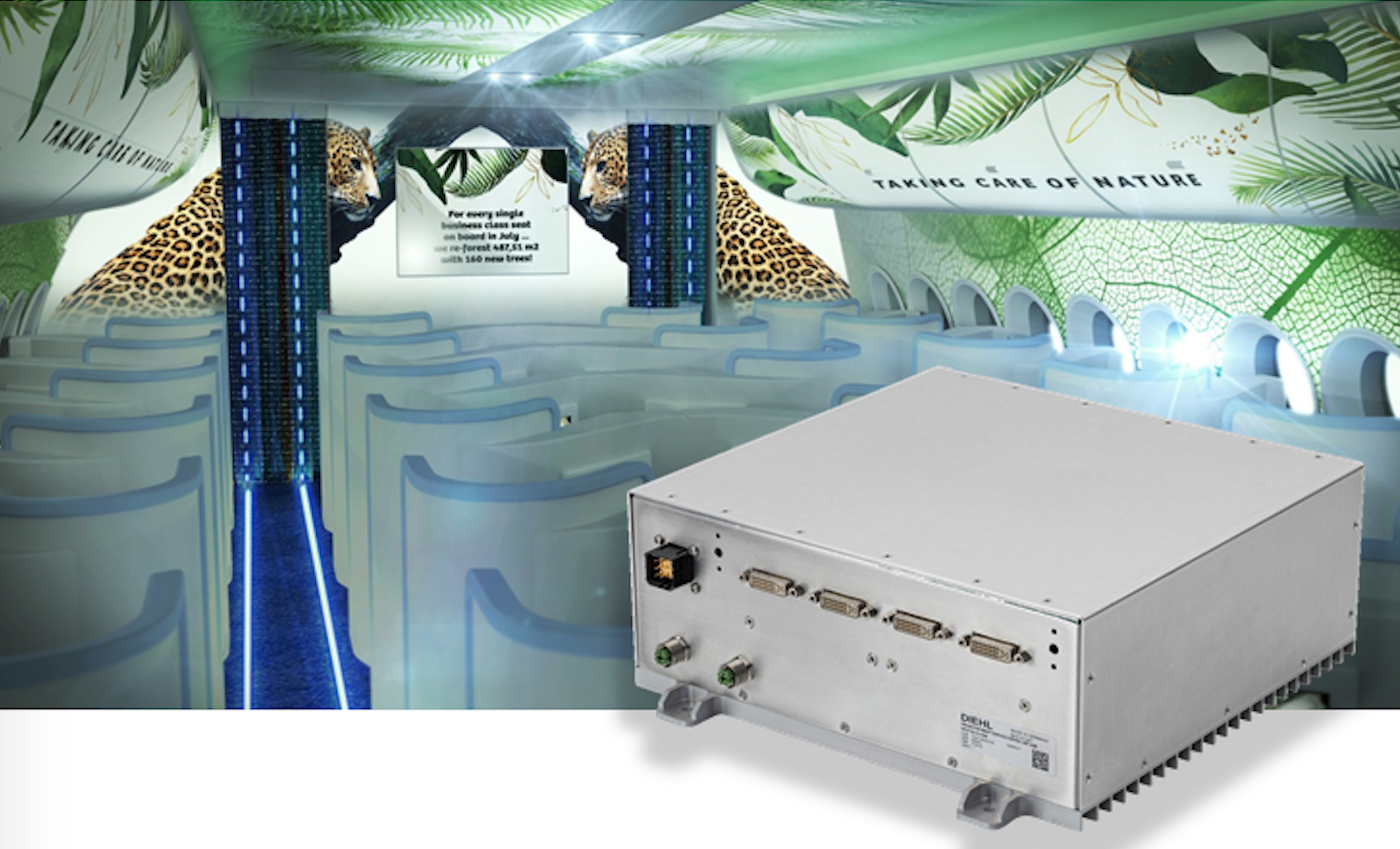 Combining several illumination technologies can create different optical effects, starting with cabin illumination via accent lights, to projection systems and displays. With the Experience Line Bridge, all such technologies and effects can be easily combined and controlled to generate outstanding 'wow' effects. The Experience line Bridge can be integrated in any aircraft cabin, whether discrete or bus controlled, and adapts to the existing control or cabin management system. The operation for the cabin crew remains 'as is', with no training necessary. A prototype of the system has been flying since August 2019.
e₂ip Technologies,
 

In-Mold Electronics

Imagine elegant, appealing, smart surfaces that are integrated seamlessly into the cabin space. With a simple hand gesture, surfaces come to life with clearly backlit controls, including capacitive on/off switches, sliders and dials for volume or light leveling and more.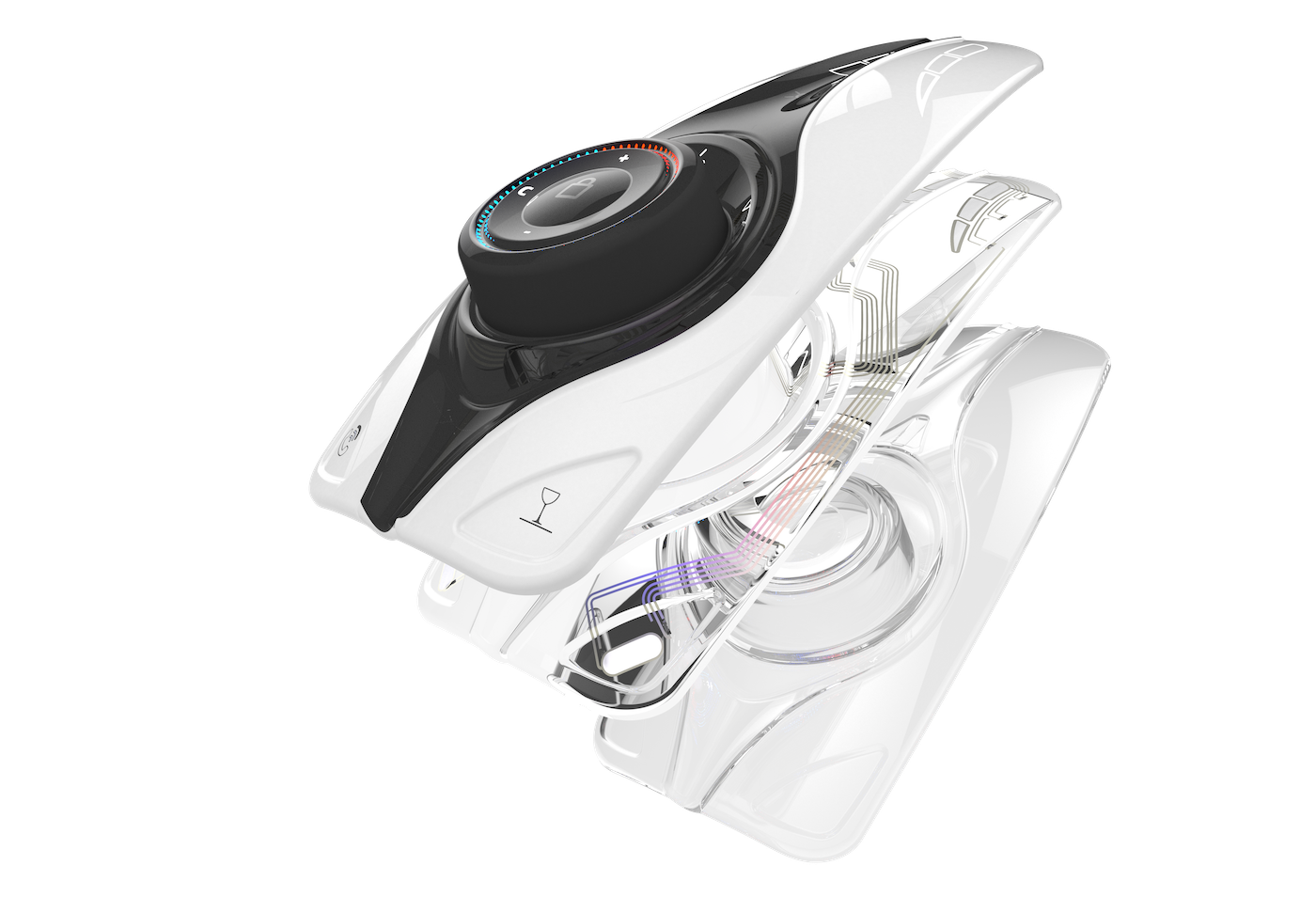 Smart surfaces are key to In-Mold Electronics (IME), which e₂ip sees as the future of HMI. The company, with the support of the National Research Council of Canada (NRC), has advanced the materials and processes used in IME to enable greater design freedom. This freedom flows from ideation, to fabrication from the industrial designer's imagination, to the airline passengers' fingertips.
Schott, Jade reading light
The Jade reading light is claimed by Schott to be the first aviation light ever made from glass. The innovative light was designed with PriestmanGoode (the studio which created the Zero eco-friendly meal tray above), with an integrated ambient light halo featuring a sleek full glass cover that is as intuitive to use as a smartphone. Thanks to capacitive touch technology, swiping allows passengers to adjust light position and brightness to create their own illumination experience.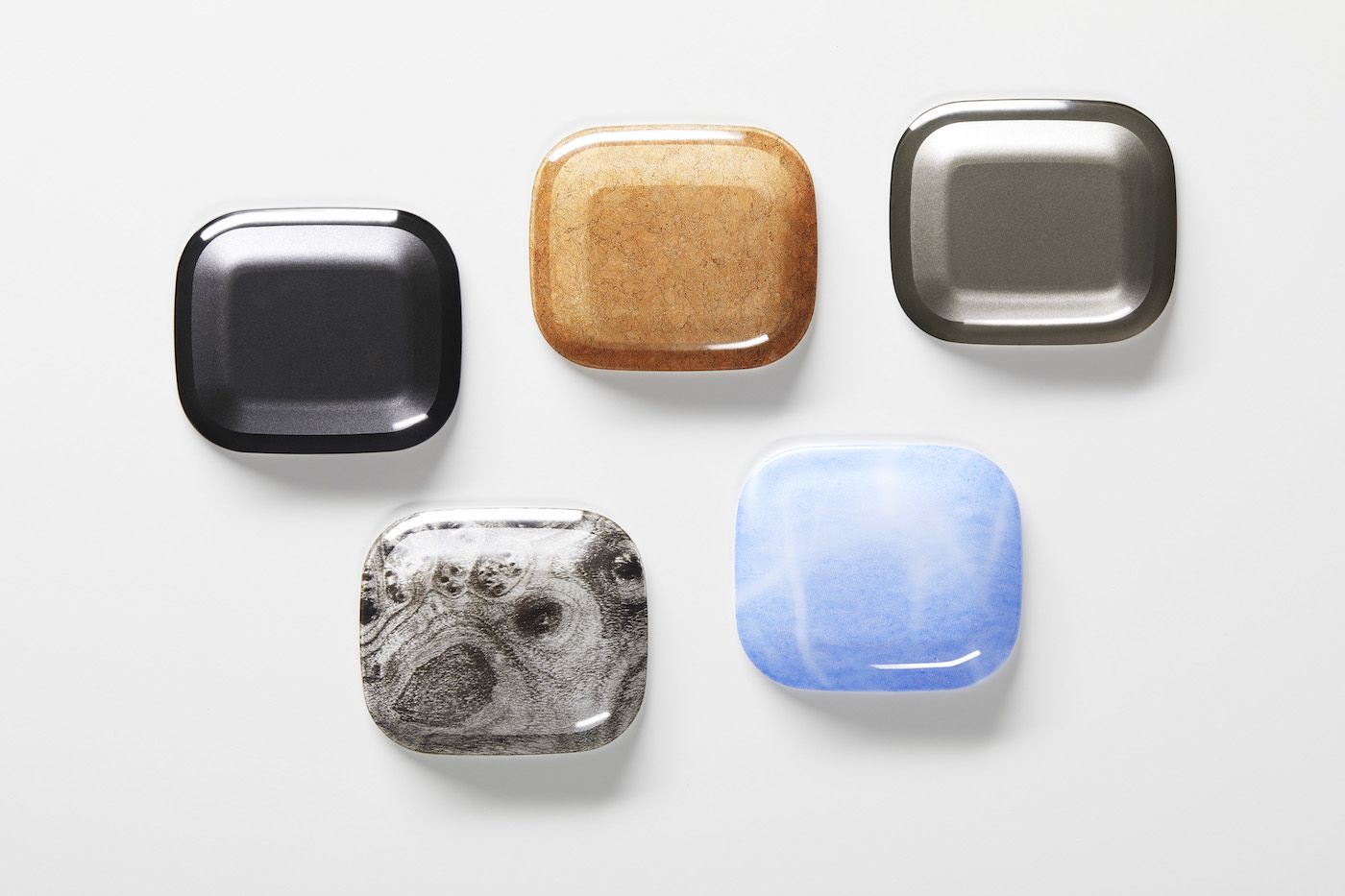 The homogeneous tempered safety glass cover is robust, scratch-resistant and shatterproof, and does away with technical components such as joints, arms and angles. Instead of relying on bulky optical lenses for light transport, this product powers thin fibre-optic light guides with white LEDs, and thanks to the spatial separation of LED and light guides as well as the flexibility of fibre optics, Jade has a mere 0.5in installation depth, allowing for seamless integration into a seat and easy front installation and deinstallation.
Available in landscape and portrait format, the light can be printed with any décor, such as standard or metallic RAL colours, to imitations of stone, fabric or ornaments, or even 3D effects. Jade can also be certified for all relevant aviation and OEM requirements.
University
This category is a fantastic opportunity for college and university students to present their visions for innovative aircraft interior products and concepts. Ideas should reflect the idea of making flying more comfortable or ecologically friendly. As well as potentially having their ideas recognised by aerospace experts, students in this category may benefit from gaining important contacts within the industry who can help develop their future career.
Delft University of Technology, Collapsible beds for the Flying V
The Flying V, a V-shaped wing body aircraft that is currently under development by Delft University of Technology (TU Delft) in association with KLM, has a cabin in the wing that is oval-shaped in cross-section. The university has developed collapsible beds for the economy class cabin that effectively use the oval cabin space at the rear side of the wing. This configuration works with the structural body enforcements and makes it possible for three passengers to lay down horizontally.
By allowing the middle bed to slide up, and half of the bottom bed to fold down, this triple-height bunk bed can easily be converted into three seats for take-off and landing, which is a requirement for quick evacuation.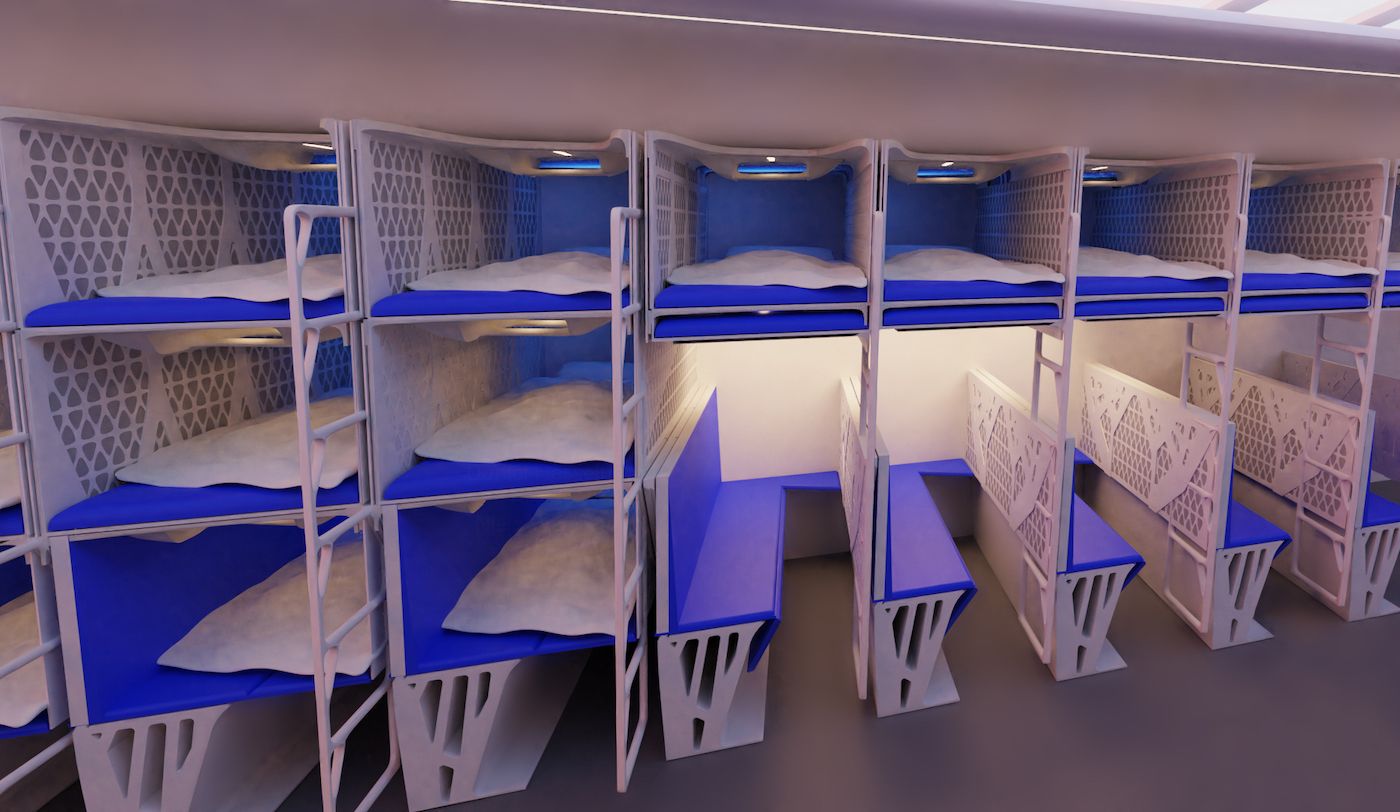 To provide ultimate bed comfort, the bunks include a built-in infotainment system, overhead display, charging points for personal electronics, a tray table and an inflatable backrest to allow for a more upright sitting position whilst in the bunk.
You can read more detail about the Flying V concept aircraft HERE.
The University of Applied Sciences Hamburg (HAW), Isofix
Today's hardware that enables airlines to provide safe seating for babies and infants during flight can lack comfort, while solutions such as extended loop belts or inflatable cushions are mostly not suitable for infants under the age of nine months. A team at The University of Applied Sciences Hamburg (HAW) has come up with the idea of Isotravel, a system that would enable any child restraint system with integrated ISOFIX connectors to be attached to the passenger seat via the existing seat belt.
The adapter can be quickly attached to the passenger seat by simply looping the seat belt through it – a process that does not require cabin crew assistance or special tools. Users or crew can check that the adapter is securely fastened either visually and by an acoustic signal. The lightweight and compact design of Isotravel means it can be carried within a passenger's cabin luggage.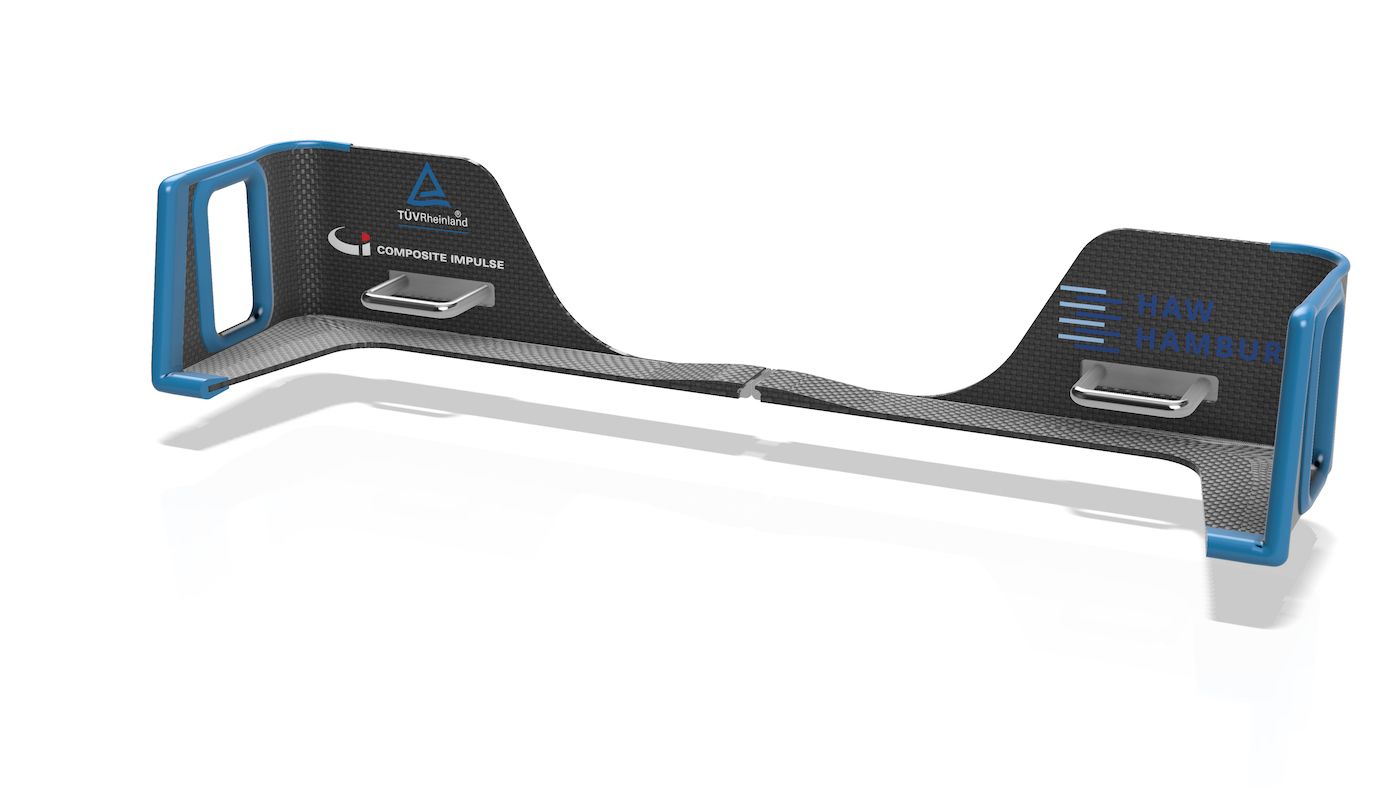 HAW has partnered with CI Composite Impulse GmbH & Co. and TÜV Rheinland Kraftfahrt GmbH as development and certification strategy partners to help ensure the design complies with all relevant safety and certification specifications for use in commercial aviation. The team is ambitious, and has also worked out an efficient, cost-effective design and manufacturing process in order to target high-volume production of Isotravel.
University of Cincinnati, Coffee House Cabin
An interesting proposition is the Coffee House Cabin concept, which instead of the usual layout of travel classes fitted in decreasing order or fare along the length of a twin-aisle aircraft, puts premium economy in the centre of the economy cabin. This is no standard premium economy though, with central desk-style tables rotated 90° running along the centre of the economy cabin. The design was conceived by students and faculty at the University of Cincinnati, Boeing, and the Live Well Collaborative, a multidisciplinary design offshoot of the university.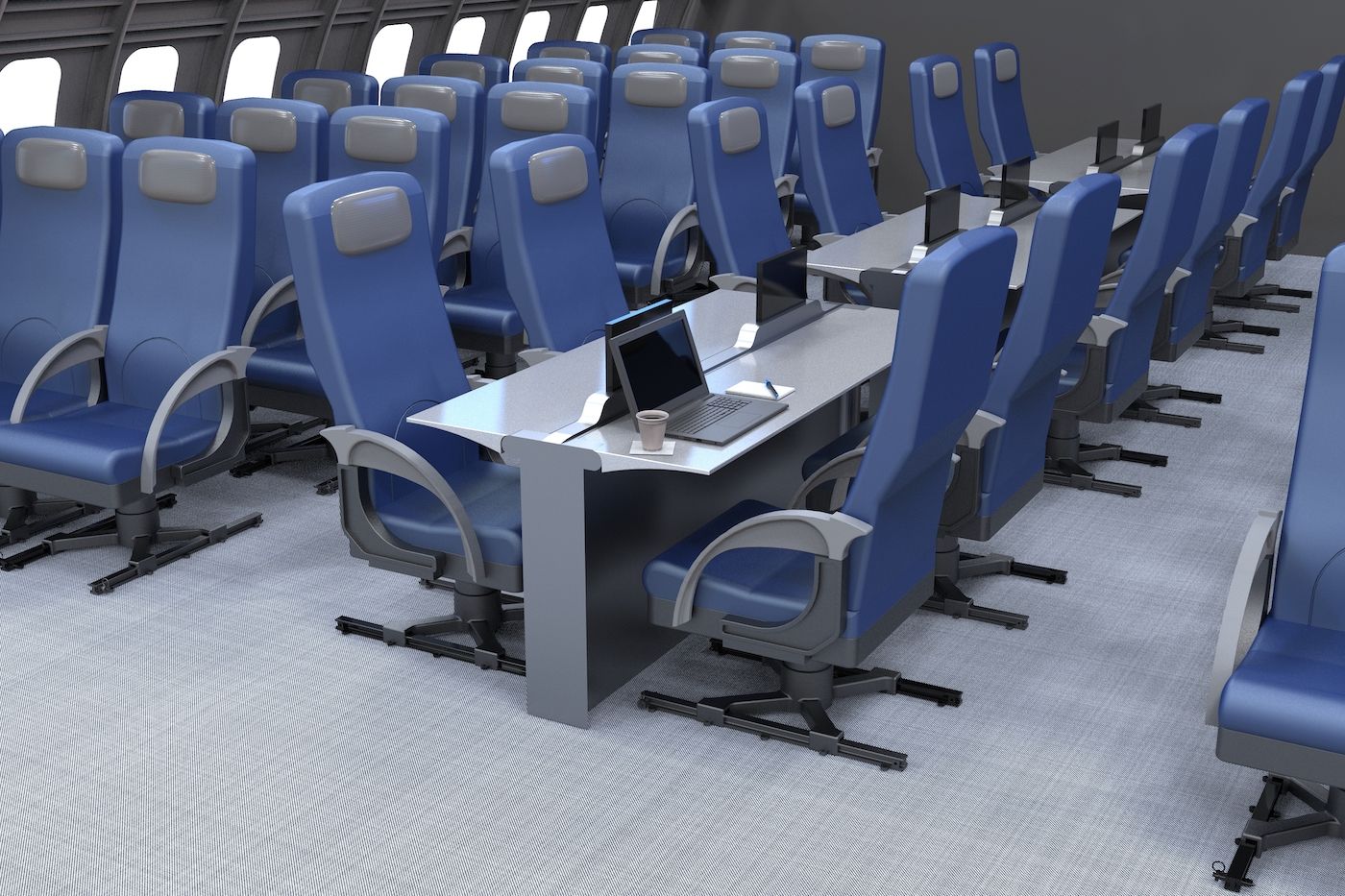 Workaholics can set up office at the large desks, with ample space for laptops and paperwork, complemented by charging ports. The work stations feature two double-sided retractable high-resolution screens for IFE, messages and inflight services, which also provide a physical partition from the passenger seated opposite. If co-workers are travelling together, a 'quad' could be booked in the Coffee House so that employees can communicate with one another during flight.
Of course, the angle of the seats would create issues for taxi, takeoff and landing, so they are forward-facing during those flight phases, with the table wings folded down and secured. During the cruise phase, crew slide and rotate the seats toward the tables to create the Coffee House Cabin.
Visionary Concepts
The eighth and final category is Visionary Concepts, an exciting prize which looks to the aircraft cabins of tomorrow.
AIM Altitude, Arca Galley System
The Arca Galley System is a meal-service innovation designed for sustainability and the efficient use of cabin space. Designed by AIM Altitude, Arca reformats the aircraft galley to make optimal use of the area, with the space required for onboard meal stowage reduced by using meal packs instead of trays. Arca embraces the upcoming trends towards alternative service models, customised meals and more sustainable practices. By eliminating the tray and consequently full-depth carts, ARCA revolutionises the possibilities for the galley in the first real shake-up of this area over the last 60 years.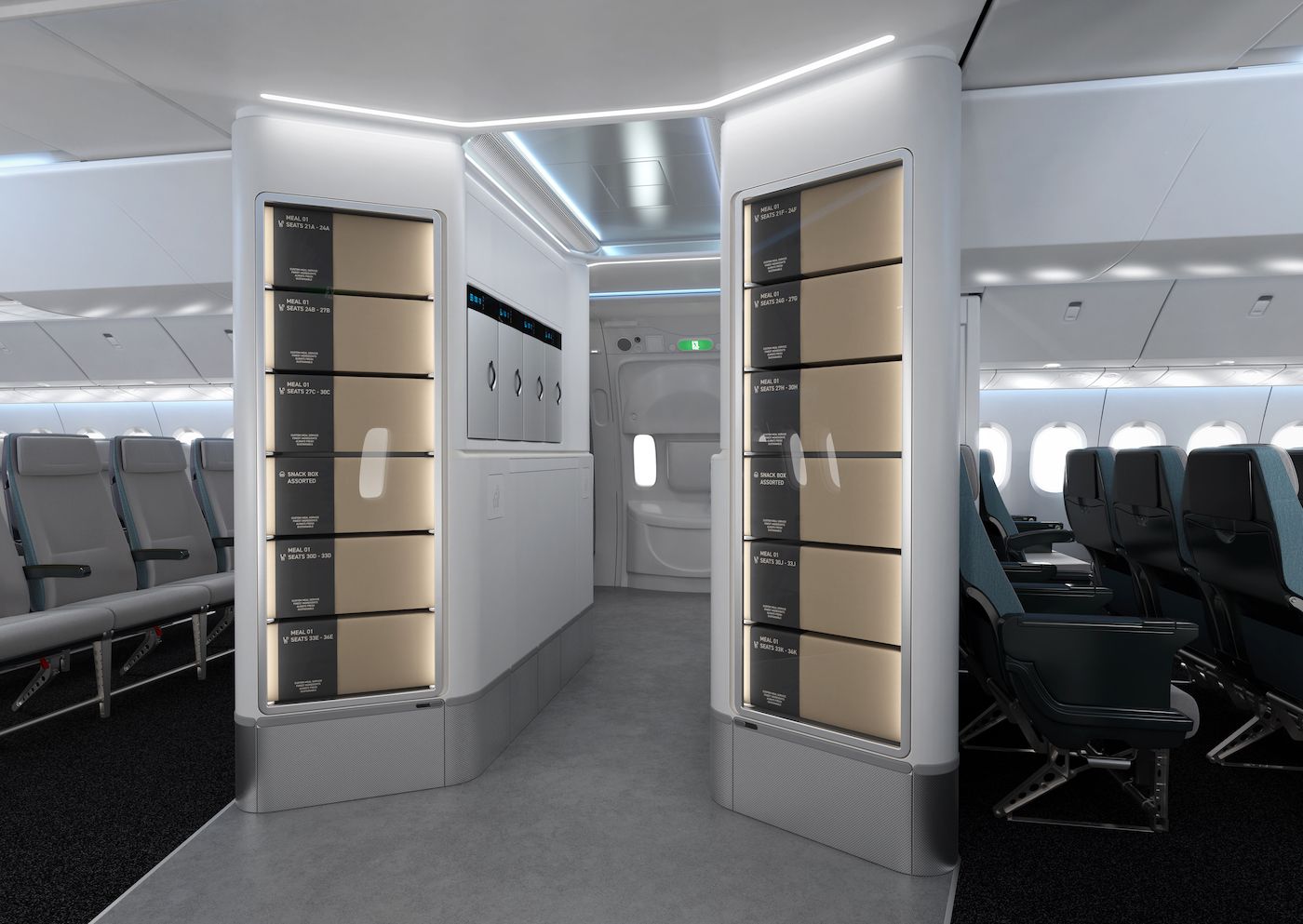 With Arca, meals are stored in aesthetically pleasing full-height fridges. Boxed in sets of 16, the meals can be easily moved to a reusable folding cart for meal service. Repurposed into waste containers, the carrier boxes can be used for recycling collection and separated compacting, enabling zero-landfill flights. The galley area and even the boxes themselves are fully customisable.
The space savings achieved are the equivalent to a destination monument or an extra row of seating. 
Airbus,
 

Airspace Cabin Vision 2030

Inspired by airlines, technology companies from Silicon Valley and start-ups, Airbus has brought to life a future flying experience – the Airspace Cabin Vision 2030. The vision sees cabin layouts boast more flexible seating and sleeping configurations, as well as inflight lounges with transforming modules. Passengers will have more choice and the flexibility to select a personalised flight experience based on their individual needs, whether they are travelling for business or leisure, alone or with family. Crews will work in a digitally enabled environment, allowing for more efficient operations and more time spent with passengers.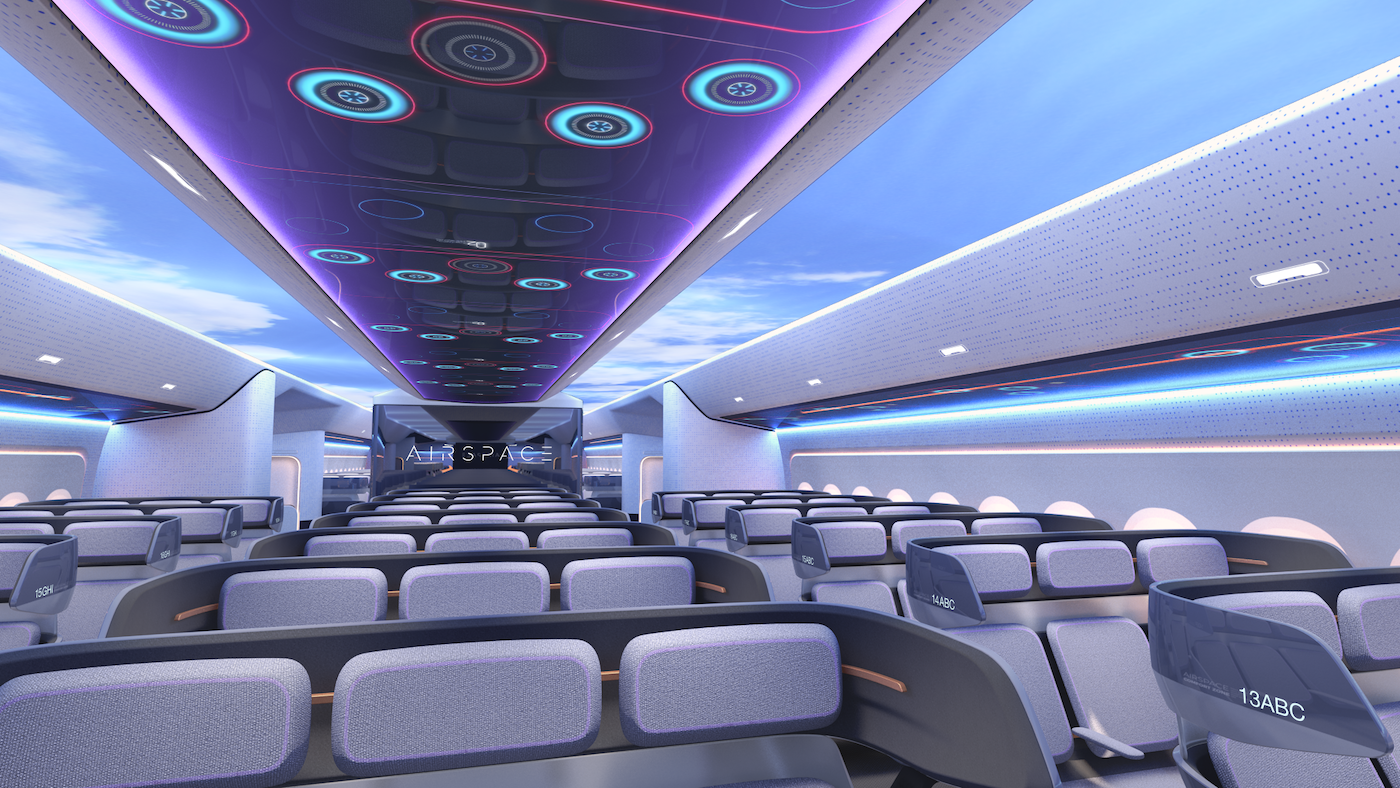 Unique cabin ambiences will be created through the use of surface lighting, OLED screens and artificial outside views, as well as individual ambience settings for the in-seat space. Everything will be seamlessly connected as it would be on the ground, bringing the Internet of Things (IoT) to the cabin and enabling big data services. The Airspace Cabin Vision 2030 is the next step in personal travel experiences. 
AirGo Design,
 

Galaxy

Galaxy is a space-efficient seating arrangement that replaces typical recliners on narrow-body aircraft with flatbeds. The configuration does not reduce seat count compared with today's typical layouts, and with a minimum seat pitch of only 27.6in, the Galaxy design enables long-range single-aisle aircraft such as the A321 to achieve their full potential for airlines.

The Galaxy cabin has some seats targeted at family travellers and couples, having a shared wall that can be lowered via a two-way authentication integrated into the inflight entertainment system. A passenger can send a request to the neighbouring seat to lower the wall, and they have the option to refuse temporarily or for the duration of the flight. If and when they accept, they have the choice of lowering only the top portion of the wall, or the whole dividing panel. Lowering the wall completely would essentially turn the adjacent seats into a queen bed for couples, or even a larger shared area for families with children.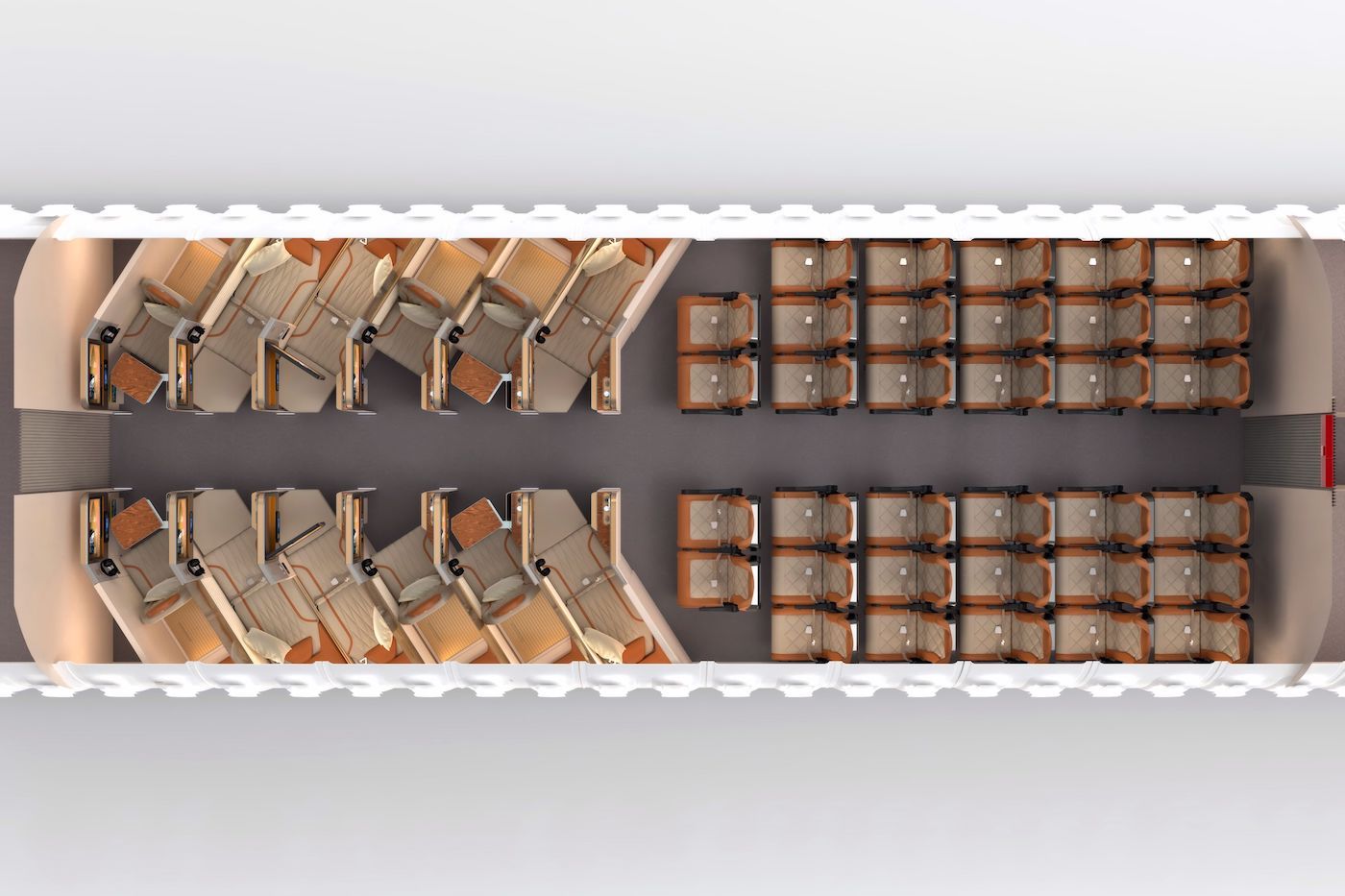 Galaxy is highly modular, and AirGo has also developed a unique seating arrangement for wide-body aircraft.  On a Boeing 777 for example, the layout would offer eight more seats as compared to the densest LOPA that is in operation today (United Polaris).
Galaxy achieves this impressive level of density by using every inch of available space on the aircraft. In many current seating arrangements, the tapered shape of the fuselage creates wasted space as the aisle is generally wider at the front and becomes quite narrow at the back of zone A. Using a careful placement of seats, Galaxy avoids the tapered part of the cabin altogether.
You can read more details of the Airgo Galaxy layout HERE.
How the Crystal Cabin Awards work
The Crystal Cabin Award, an initiative of the Hamburg Aviation cluster, is presented in eight categories: Cabin Concepts, Cabin Systems, In-flight Entertainment and Connectivity, Greener Cabin, Health, Safety and Environment, Material & Components, Passenger Comfort Hardware, University and Visionary Concepts. For each category, the 27 expert members of the jury select three finalists.
The finalists get to pitch their concepts to the jury in person on 30 March at the world's leading trade fair for aircraft cabins, Aircraft Interiors Expo (31 March – 2 April in Hamburg). The winners of the 2020 Crystal Cabin Award will be announced at a gala dinner in the trading floor hall of the Chamber of Commerce on the evening of 31 March.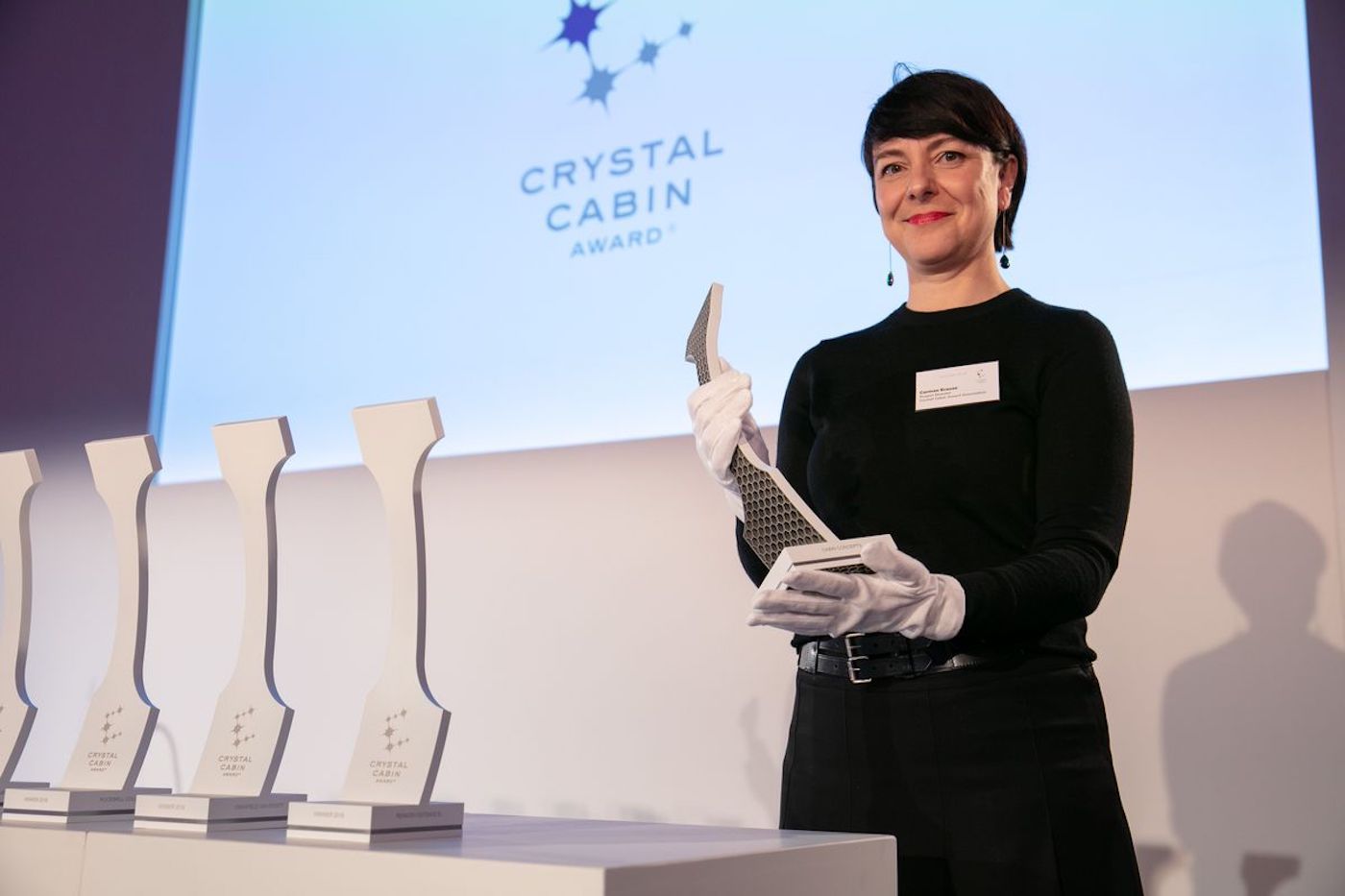 Respected industry award — respected industry support
Several sponsors and media partners support the Crystal Cabin Award: Airbus, Aircraft Interiors International magazine, Aircraft Interiors Expo (Reed Exhibitions), AIME 2020 (Aircraft Interiors Middle East), Ameco Beijing, APEX, Bluebox Aviation Systems, Boeing, Boltaron, Burrana, Collins Aerospace, Diehl Aviation, Ferchau Aviation, Fit AG, Flightchic, Flightglobal, Future Travel Experience, Hamburg Invest, Handelskammer Hamburg, Jetliner Cabins, Jetlite, Lufthansa Technik, Panasonic, RedCabin, Runway Girl Network, Sekisui SPI, TSI Seats, Vartan Aviation Group and The World of Aviation.