"As an airline symbolising Japan, the interior as a whole depicts 'hospitality, Japanese-style'." These are the words of Yuichi Akutsu, a design director at GK Industrial Design, which worked for Japan Airlines (JAL) and with Boeing on the interior design early in the development of the 787. JAL took delivery of its first 787 in March 2012, second only to launch customer All Nippon Airways (SEE HERE), and is the first to run 787s with General Electric GEnx engines (ANA's have Trent 1000 engines).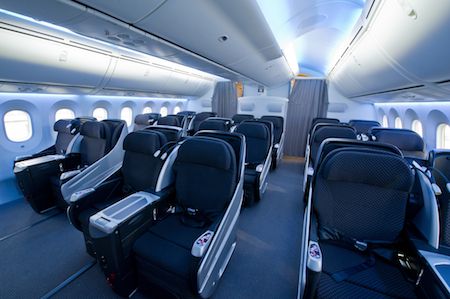 JAL's 787 Japanese experience starts with the new seasonal lighting scheme, which shows the 787's full-spectrum LED lighting at its best and is perhaps the most obvious way the carrier is taking advantage of the composite aircraft's unique cabin features.
"For the overall lighting of the cabin during boarding and disembarking, there are six colours to reflect the seasons in Japan, or to reflect those of the country at which the aircraft is departing or arriving," explains Koichiro Fujishima, JAL's director of marketing and branding, product and service strategy development.
Board in February or early March and you'll see momo (peach), for early spring. Late March and April bring sakura (cherry blossom), followed by wakaba (young leaf) in May and June, natsuzora (summer sky) in July and August, minori (harvest orange) in September, October and November, and 'JAL red', inspired by the airline's corporate colour, in December and January.
"JAL often reflects the seasons in our service offering, such as the use of seasonal ingredients in our inflight menu," continues Fujishima, "and we are able to enhance this with the LED lighting."
"An original colour temperature and lighting intensity were set for Japanese cuisine," explains GK's Akutsu, "which values not only real taste but must also look pleasant."
Or, as Fujishima puts it: "The mealtime lighting serves to make food look even more appetising than it already is." This is enhanced further by new surface materials and finishes that better reflect the LED lighting.
At bedtime, lights change from 'Relax' mode, with a warm hue, to 'Night' mode, aimed at inducing sleep. Wake-up lighting moves from 'Awakening' mode up to a cool hue and higher intensity. Fujishima explains that these changes help passengers transition from one mood to another "gradually and comfortably".
The lighting is one way that JAL "aims to demonstrate hospitality from the heart in all customer-contact points in the cabin" and is in line with the universal design concept the carrier has been integrating into its products and services for several years. The idea is to make things easily usable by as broad a range of the population as possible.
"It may be a challenge for elderly people to use something that younger people find easy to use," a JAL official notes. "What is comfortable for a right-handed person to manipulate may be very awkward for a left-hander. There are many things around us that are convenient for some to use but pose barriers to others. Making things even a little simpler and easier for everyone to use is the goal of universal design."
JAL's universal design includes: airport terminal floors with black and white tiles to help the visually impaired, and with no raised bumps to reduce risk of tripping; the option to check in online, at kiosks and at counters; and aircraft toilet locks that turn lights on and off.
The 787 also employs universal design features, including overhead bin latches that open by pushing or pulling the top or the bottom part of the latch; lavatory occupancy indicator lights that passengers can easily see from their seats; and a toilet supporting handle bar placed in a natural position for people of various heights.
The 787's composite fuselage enhances the passenger experience by allowing larger windows, pressurisation to a lower altitude and higher humidity than is feasible on aluminium aircraft. In addition to the full-spectrum LED lighting, all 787s also have a dramatic main entry with a door-to-door archway across the width of the aircraft, a multisetting electronic dimming system in place of window shades, and high ceilings and larger stow bins.
It's just as well that Boeing worked with airlines to develop the 787 interior, given that it uses a catalogue approach that limits customisation more than on other aircraft. "A strategy was required to ensure that the characteristics of the airline are embodied despite limited alternatives of design resources [that are the result] of the advanced standardisation compared with conventional models," explains Akutsu.
As well as the lighting schemes, JAL added some other custom features not yet available in its other aircraft. For example, Executive Class lavatories feature a warm-water Toto Washlet, which is an electronic toilet seat with a water jet that's adjustable for gender and intensity; all seats have PC power outlets and USB and RCA sockets; and Sky Manga is billed as 'the world's first onboard electronic comic book'. These comics are available only in Japanese at the moment, although English versions are planned.
JAL has opted to outfit the 787 with two classes to match the demand on the routes the aircraft serves, putting 42 seats in Executive Class and 144 seats in Economy. There is no news yet as to whether it plans to put First Class sections on any future 787s.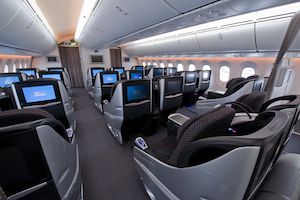 Executive Class seats are in a 2-2-2 configuration, putting each passenger by a window or aisle. The seats are JAL's Shell Flat NEO seats, a new generation Shell Flat based on B/E Aerospace's MiniPods, which are 21.3in wide between the armrests (2in wider than the seats on the airline's 777s), have a pitch of 60.2in and recline to 171°, just short of a true lie-flat position. The seats have controls for 'Upright' and 'Relax' as well as the bed position. There's also variable lumbar support and the seats are clad in slip-proof covers.
The seats also feature a 15.4in touchscreen (up from 10.4in) that runs the Thales i8000 IFE system (JAL is the launch customer of the TopSeries-based system); and places to keep books and documents, magazines, plastic bottles and small items such as spectacles.
The Executive Class cabins feature Japan Airlines' new "Sky Gallery," which is an area with a wall of photos directly opposite a bar counter where customers can serve themselves snacks and beverages.
In addition to the 787, Japan Airlines has installed Shell Flat NEO seats on some 777-300ERs, serving routes from Tokyo Narita to New York, Chicago, Los Angeles, Jakarta, Boston, Moscow and Delhi. The Shell Flat seats are on some 777-300ERs and 777-200ERs, flying from Narita to London, Paris, Frankfurt, Sydney, Bangkok, Jakarta and Delhi; and from Tokyo Haneda to San Francisco and Paris.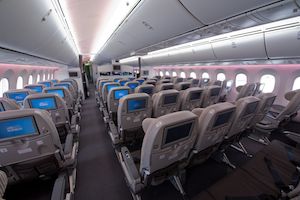 Economy Class has seats in a 2-4-2 configuration. The Recaro CL3510 seats have a pitch of 31in and are 18.5in wide, with a 10.6in touchscreen.
JAL has ordered 25 of the initial 787-8 model and 20 of the stretched 787-9 version. The 787 is designed to enable secondary routes that larger and less efficient aircraft couldn't profitably serve. JAL has shown this by launching the aircraft on the first ever non-stop service between Boston and Asia, flying to Tokyo Narita Airport.