Blended Wing Body aircraft concepts are often considered for the 2030 timescale, with the latest being the MAVERIC concept by Airbus, However, to get some real insight into the cabins of such aircraft and how their spaces enable designers to think 'outside of the tube' let's look back to 2004 when Werner Granzeier, professor of automotive and aeronautical engineering at Hamburg University of Applied Sciences (who is still affiliated with the institute and is active across the global aerospace industry) shared his expert insights:
Despite recent challenges [Granzeier wrote this in the wake of 9/11], the global commercial aviation market is expected to continue growing at a steady 5% per annum. With finite air traffic and ground-handling resources, the industry continues to invest a great deal of time and effort into researching and developing new technologies and innovations capable of enabling it to better answer the ever-increasing demand for air travel.
In terms of today's technology, the Boeing 747 and Airbus A380 represent the limits of what is possible regarding size and performance within currently applied fuselage/wing concepts. However, a quantum leap into entirely new parameters could be achieved with the realisation of Blended Wing Body (BWB) aircraft, also known as 'flying wings', which are capable of transporting more than twice as many passengers as today's largest aircraft. They would also be able to better serve the need for improved comfort and safety on long-haul flights that are expected to average a daunting 16-18 hours.
Of course such an aircraft would present aircraft engineers and interior designers with a number of new challenges. Society itself must also consider the economical and ecological implications of such an aircraft. But with a predicted world population of 9.3 billion by the middle of the 21st century, it is clear that both the aviation industry and society at large has to at least begin to consider the best means to proceed to meet the challenge of developing products that answer the needs of tomorrow's travellers. The industry will clearly have to work hard on the wider issue regarding the acceptance and necessity of such a transport system and its related infrastructure.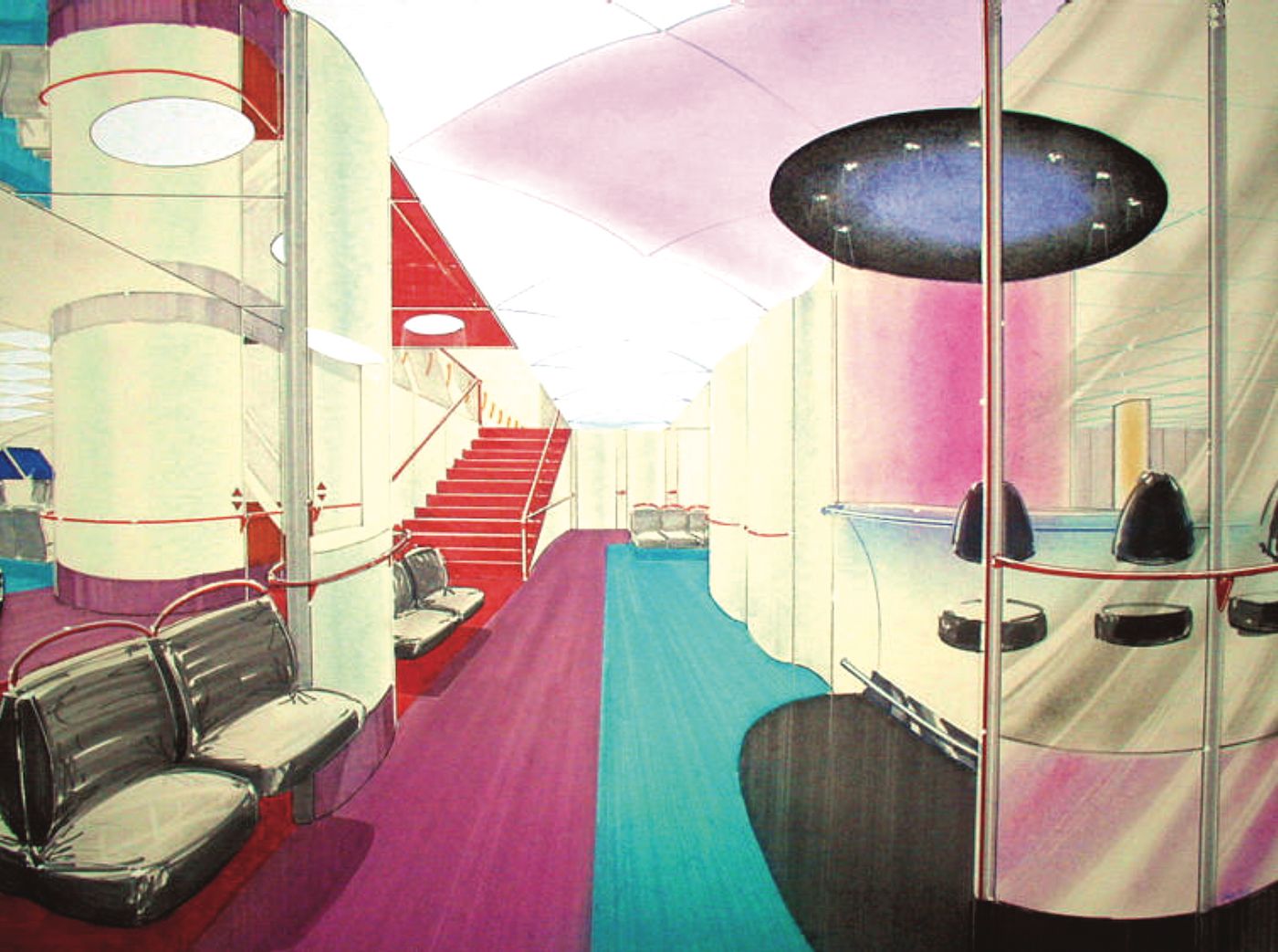 Research:
A number of research programmes into future BWB aircraft concepts are underway at the major manufacturers, as well as at a number of universities in Europe and the USA. Within Germany, the universities of Munich and Hamburg, supported by DaimlerChrysler and Airbus, are conducting studies into new cabin concepts and respective systems analysis. In fact students from the University of Applied Sciences in Hamburg have gone so far as to develop an aircraft model able to fly. The new concept, named 'AC20.30', is now being used to prove theoretical aeronautical concepts and take part in a number of practical experiments.
Supported by a number of sponsors including Comtas Aerospace (tooling), iDS (cabin design support), Silence Aircraft (production), OBO Company (materials) and the alumni support group of Hamburg's University of Applied Sciences, the model successfully demonstrated good handling during its maiden flight in December 2003. The university team is now working hard to envisage the cabin requirements of such an aircraft design, with entirely new thought processes and ideas required to solve boarding/de-boarding, passenger comfort, security, safety, catering, logistics, lavatories, entertainment and communications issues.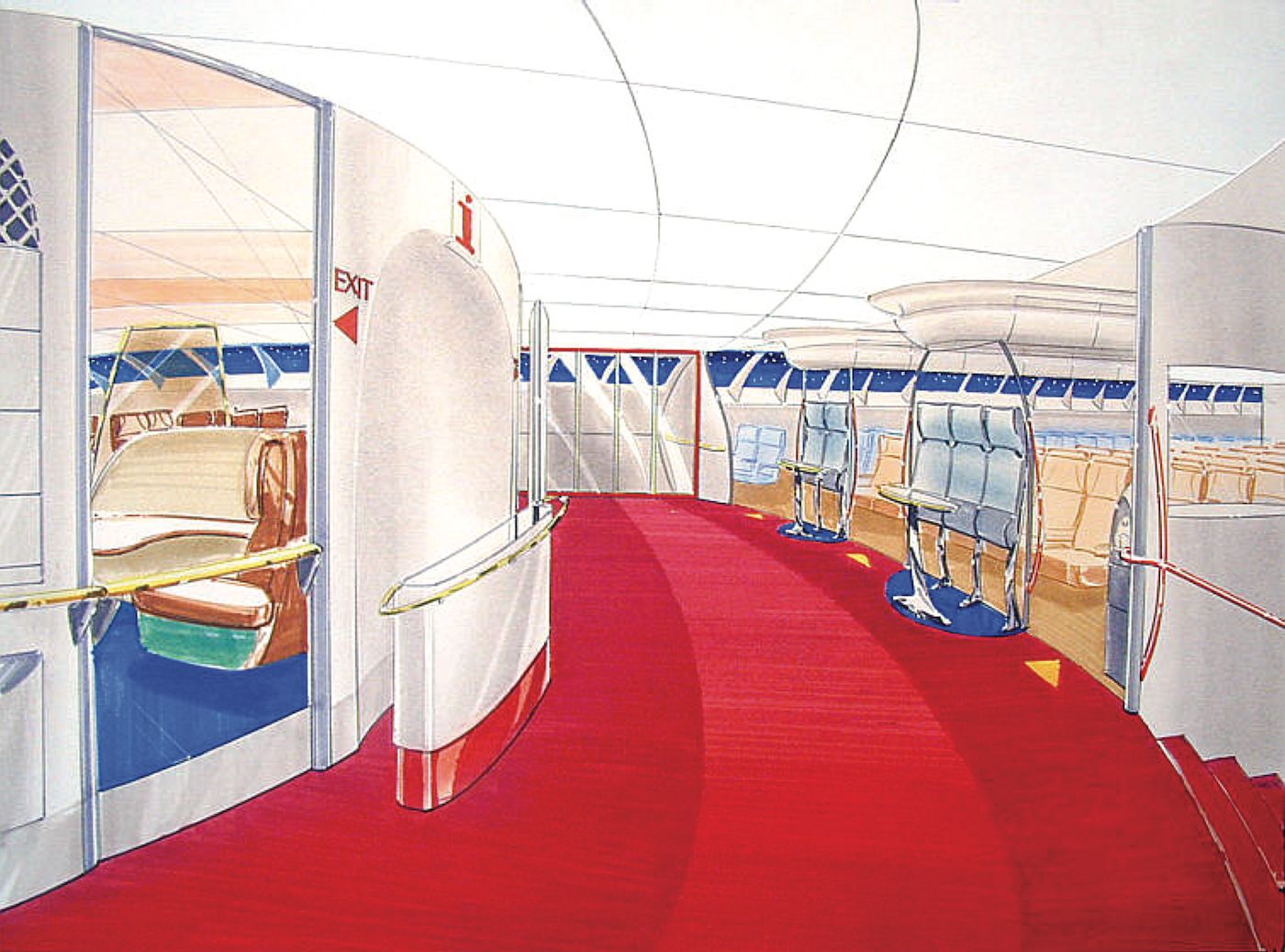 To help them in this task, the students have been divided into a number of detailed scenario workshops that focus on some of the key questions surrounding a BWB design. The first of these concentrates on the impact of such a design to ground processing and passenger handling. A number of new check-and-control concepts, improved communications, traffic management and individual passenger handling solutions are being investigated.
A second workshop is studying the exterior possibilities of such a design, exploring new aerodynamics, technical structures and propulsion systems (hydrogen, etc). Structural engineers are also working with the group to help them place entrance and exit doors, windows and emergency exits. Airline requirements such as corporate identity, appropriate colouring and graphic design concepts are also being considered.
The interior challenge:
A third workshop is focused on the interior, which represents a huge challenge for any industrial designer. To begin with, an advanced flight deck design will require cooperation between ergonomic specialists, designers, aviation authorities and manufacturers. Meanwhile the passenger cabin's size, shape and overall dimensions present a multitude of questions. If first-time passengers are to be convinced, these questions will need to be answered using the correct combination of space, light, colour and surface finish, as well as offering adequate functionality and communications possibilities. New solutions for lavatories, bathrooms, showers, playgrounds, health spas, medical support rooms and entertainment and communications will also have to be sought.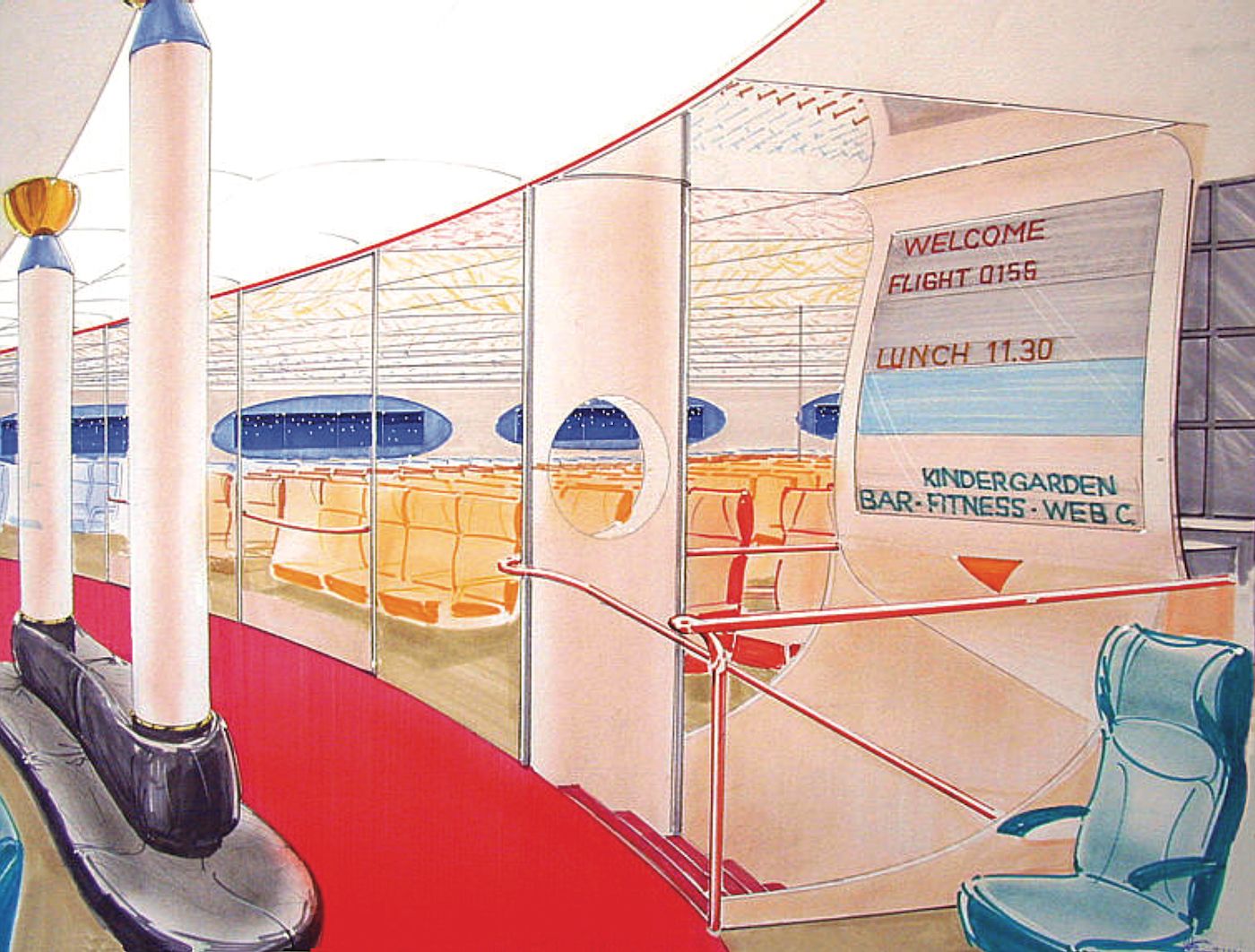 The cabin design will also have to answer the needs of a wide range of passenger groups, including children, women, seniors, religious and ethnic groups and other special interest parties (groups travelling on pilgrimages or to sporting events such as the Olympics).
Perhaps the biggest challenge posed by the project is the need to ensure passengers can exercise and move freely throughout the cabin.
Cabin layouts:
Any future aircraft will have to consider the demands of its passengers if it wishes to gain their acceptance, especially their comfort and security, as well as their entertainment, service and ability to communicate with the ground. See below for plans of the various proposed configurations.
The following design criteria have therefore been identified for a BWB cabin capable of housing up to 900 passengers.
Entrance and exit: An enlarged entrance and exit door will help produce a very positive 'first impression' to the passenger. To answer the requirement of a 90-second deboarding time during an emergency situation, it will also be necessary to include much wider main aisles and an additional eight emergency exits. An intelligent navigation system combined with a number of help-desk counters would help avoid 'traffic jams' during boarding. It is also proposed to combine the boarding process with several security and safety inspections.
Seat layout: The seating layout of such a large cabin is particularly challenging because the needs of different passenger groups must be considered. Passenger behaviour and demands on a very long-distance flight require the cabin area and seating plan to include a high degree of modularity and flexibility.
Potentially new classes or separate zones need to be defined to better answer the needs of families, the elderly and disabled passengers.
Catering and waste management: Even low-cost carriers will need to consider the questions and problems arising from the provision of satisfactory catering and waste management services on board such a large aircraft.
Lavatories and bathrooms: The development of separate lavatory facilities for men and women would also have an important role to play in enhancing comfort. Further gender-specific facilities, for example leisure and refreshment areas and first-aid and medical zones, would also recognise the needs of cultures that can no longer be viewed as 'minorities'.
New media: It's hard to imagine what the future holds in terms of information and entertainment technology, but the general trend is for more interactive, personalised services.
Whether aircraft will include holographic multimedia cinemas or virtual reality booths remains to be seen, but the emphasis should be on state-of-the art leisure and education.
Visibility and recognition: A BWB cabin will leave most passengers without a direct view outside. Its sparsely separated windows could handicap the flying public's acceptance of such aircraft, as their sense of safety is likely to be affected by a lack of visible 'fix points'. This could be remedied artificially through the use of sidewall-mounted video screens showing outside views, while information on the aircraft's speed, altitude and position would also help ease the lack of visual cognition.
Fuselage support: The aerodynamic concept of a flying wing will create a fuselage with a wide and large cabin. However the fuselage will require a supporting structure. To build a clever cabin concept around these structural elements represents both an opportunity and a challenge to designers. This could result in the development of cabin segmentation concepts and structures that go a long way beyond what we know today.
Twin decks: Typically a BWB aircraft would have a double-deck configuration. Services comparable to an ocean liner will be expected by passengers and promised by the provider. With this in mind, it is likely that the main deck will be designated as the 'traditional' passenger cabin, while the lower deck will house restaurants, leisure and recreation areas, and business and entertainment zones.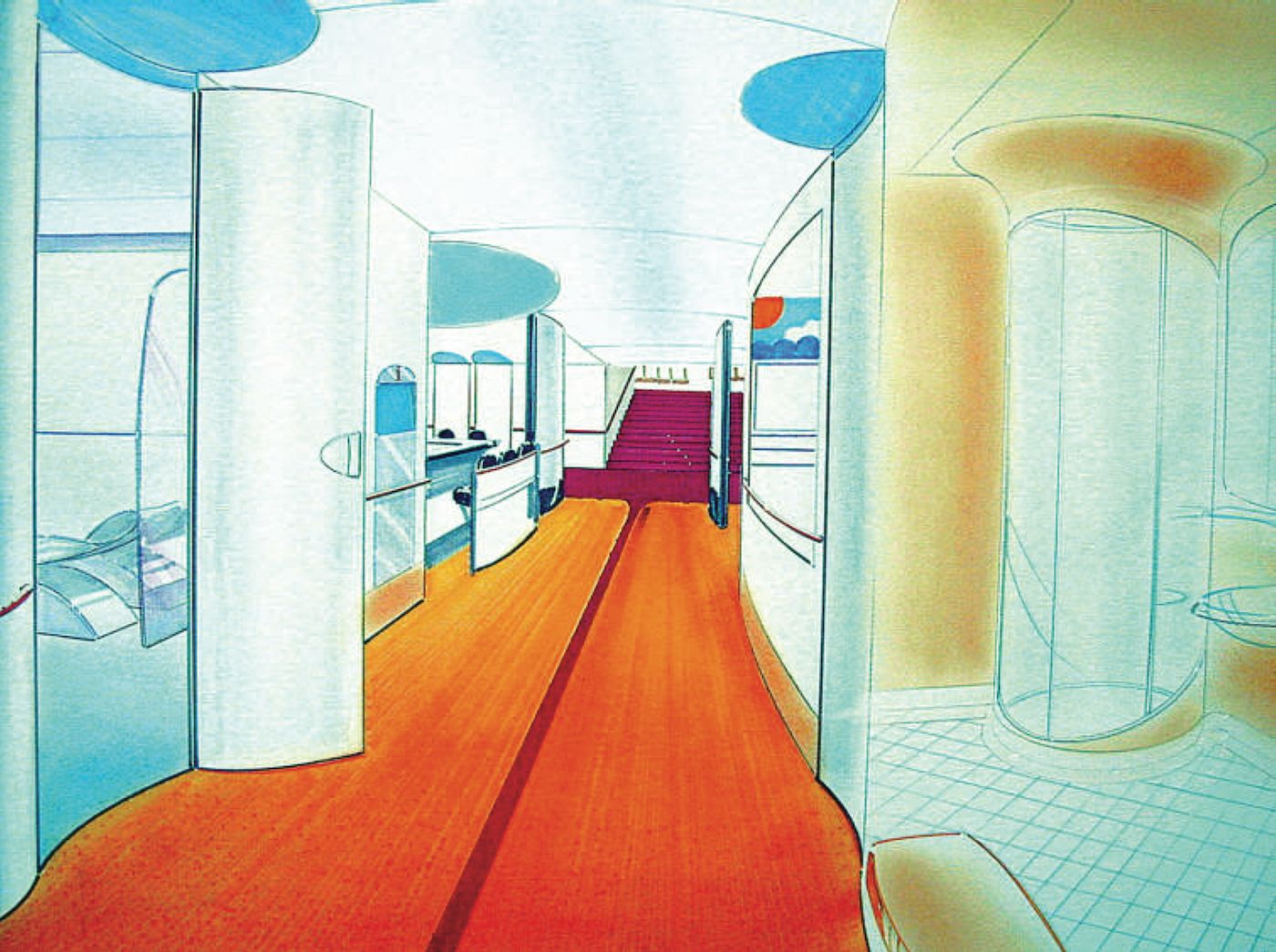 Cultural aspects: Ever-increasing passenger volumes and travel frequency, especially within Asia, will require aircraft interior designers to consider issues surrounding cultural diversity to a much greater extent.
Luggage: Currently luggage continues to remain an unpopular topic of discussion among passengers fed up with delays and expensive losses. This has led many travellers, especially those making the trip for business purposes, to carry as many bags as possible on board as hand luggage, leading to dangerously congested overhead bins. In a 900-seat cabin, the problem is all the more acute. However, it should be remembered that a BWB aircraft is unlikely to operate on regional routes popular with business travellers, but answers still need to be found regarding stowage concepts for carry-on-luggage.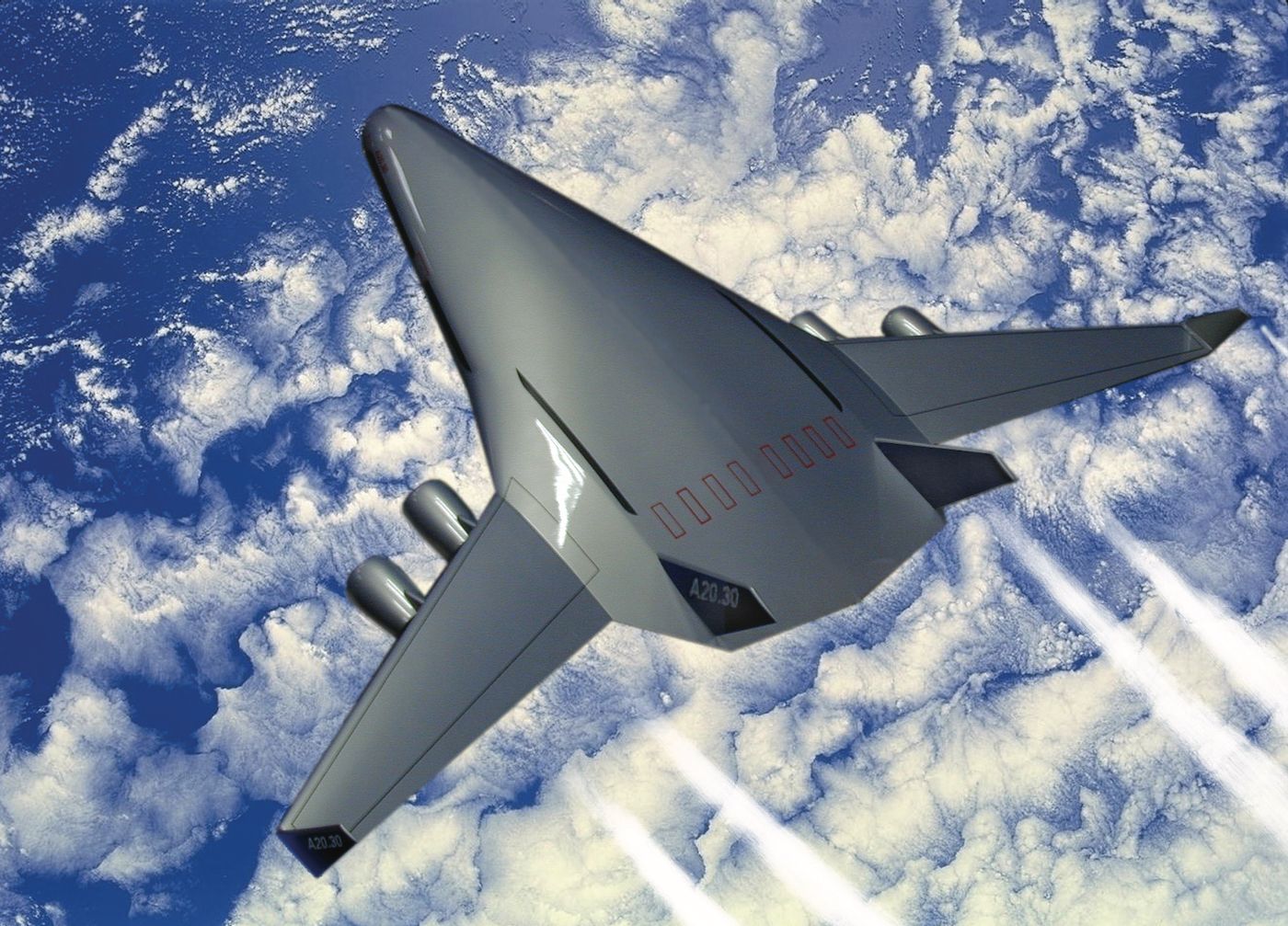 Conclusion:
Airlines, designers and manufacturers, together with the regulatory authorities and a number of universities and research establishments, will continue to explore the huge potential of a BWB aircraft design. Predicting the future for the new 'A20.30' passenger aircraft is an exciting task, and one that continues to be governed by the desire to exceed all future passenger needs.
Q&A with Werner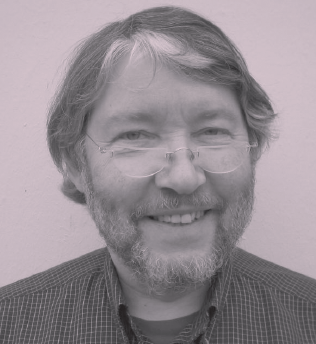 What is your opinion of existing aircraft interiors?
Too often they are driven by certification and concentrate too much on the technical rather than the personal.
What would you most like to change about them?
I'd like to improve seat pitch and challenge the conservative nature of current seating configurations. I also think there should be more effort made to counteract the 'tube' effect of current cabins.
What are the biggest challenges presented by a BWB interior?
There are three in particular: passenger acceptance of artificial computer-generated 'windows' [something already experienced by passengers in the centre first class suites on Emirates' B777s]; the emergency procedures requirement to evacuate a 900-passenger aircraft in 90 seconds; and the development of a completely new design language to prevent the cabin from looking like a huge cinema!
What are some of the more amusing ideas your students have suggested?
Some of the more inventive include a children's 'fantasy' zone, complete with artificial turbulence, a 'sunshine' beach for elderly passengers, punch bags to relieve frustration and provide exercise, and an in-seat football game to prevent DVT!
How do you think our lives will be different in the future?
I think three key themes – safety, security and health and wellbeing – will drastically change our approach to travel and life in general.
Cabin configurations